2005 40 Under 40
The Best And Brightest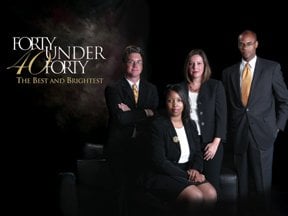 For almost a decade, Georgia Trend has been identifying the state's most outstanding resource – its emerging business, cultural, government and academic leaders.
Each individual recognized in this section plays an integral role in weaving the tapestry of our state's future, from entrepreneurs whose sales have made record jumps in recent years and political aides and advisors who have the ears of our elected officials, to social workers dedicating their lives to preventing abuse and crime and civic leaders working to help Georgia's cities and counties reach their full potential.
Georgia Trend's editors select these leaders, aided by nominations from readers. This year's nominations, again, eclipsed those of previous years (for details on nominating individuals for the class of 2006, see page 40).
Individual profiles were contributed by Carol Carter, Jerry Grillo, Jennifer Hafer, Terrell Johnson, Karen Kennedy, Ed Lightsey, Bobby Nesbitt, Patty Rasmussen and Rick Woodall.
Appearing on these pages are, from left, Langford Holbrook, Lee County Administrator; Veronica Brinson, founder, Law Office of Veronica Brinson; Meg Smothers, outgoing president of the Georgia League of Women Voters and Harold Melton, Georgia's newest Supreme Court Justice.
HAROLD MELTON
Justice, Georgia Suprem Court
Atlanta
Age: 39
In June, Harold Melton became the first Georgia Supreme Court justice appointed by a Republican governor since 1868. When Gov. Sonny Perdue installed his former executive counsel on the court, there was a chorus of hallelujah from Republicans across the state who praised Melton's conservatism and adherence to party dogma as he donned the robes and became the third African American among the seven judges on state's highest appeals court.
Then Melton showed up for work and all bets were off. One of his first decisions was a dissent to the court's 5-2 decision not to stay the execution of convicted murderer Robert Conklin. It was a somewhat startling "nay" vote by the new justice, whose nomination was supported by prosecutors and death-penalty advocates.
"I'm striving to be a justice who reads the law and applies it, and though that sometimes seems easier said than done, I'm bound by that," Melton says. "It takes some degree of intellectual honesty, and I would hope to have a degree of courage. I have an aspiration to call it like I see it, and the application of law is not a popularity issue. It's based on legal principles and fairness, and being bound by those things keeps me grounded."
Melton, the first black student body president at Auburn University, was hired by Georgia Attorney General Mike Bowers in 1991. Since then, he's almost continuously immersed himself in high-profile affairs. In 1998 Melton was Georgia's primary counsel in the national tobacco settlement. He also was Georgia's primary contact in the tri-state water negotiations with Alabama and Florida and acted as Gov. Perdue's ethics officer.
The father of three, Melton stays active in Southwest Christian Fellowship, where he heads the teen ministry. He also sits on the board of Atlanta Youth Academies, a private Christian school designed to give inner-city kids the prep school experience. – J.G.
MEG SMOTHERS
Former Executive Director
League of Women Voters of Georgia
Atlanta
Age: 26
Meg Smothers is fast becoming a familiar name on television and in newspapers. As the first full-time staffer for the League of Women Voters of Georgia, Smothers took league issues to the airwaves, testifying on C-Span before the U.S. Commission on Civil Rights, offering sound bites on Fox News and debating Georgia's new voter ID law on Atlanta television.
Not shy about offering opinions, she became a national go-to figure on election issues. The 26-year-old has entered law school but remains on the league's board. "I want it [law school] to be the next step in furthering my own skills in understanding and influencing policy," she says. On the state's new voter ID law, she says: "Every citizen of our state should be worried that Georgia has become the toughest place in America for eligible, registered voters to cast their ballots."
When Smothers took the league's helm two years ago, the organization was slumping. Since then, the group has quadrupled its reach through its Voter Guide, is capturing more and more funds from private foundations and corporations and is recruiting younger members as a foundation for the future.
Smothers got her first glint of interest in the political system accompanying her mother to the polls and her grandmother to political fund raisers to help register voters in North Carolina, her native state. Smothers says the league was a good match for her restless intellect. "I was attracted to the league because it truly is multi-issue," Smothers says. "In addition to working on election related issues, such as the advancement of Georgia's election system, reapportionment and campaign finance and ethics reform, I have been able to learn more about and advocate in support of protection of our state's natural resources, women's health and right to privacy, public education and a responsible state budget." – E.L.
VERONICA BRINSON
Law Office of Veronica Brinson
Macon
Age: 33
Veronica Brinson, 33, is a municipal court judge, a practicing attorney with her own firm specializing in family law, criminal and appeals cases, and a single mom with two teenage sons.
She also founded Success Matters For Us, Too, an organization that, among other things, reaches out to teenaged moms like she once was. "I tell them not to quit," Brinson says. "I talk to them about perseverance using my own life as an example." She has a lot to say.
A product of Macon city schools, Brinson attended Mercer University and Mercer University Law School. After briefly working in Albany and Atlanta, she returned to Macon, intent on making a difference. "I want to make sure the [legal] process works for everyone," she says. "I hope that everyone – judge, jury or appeals court – sees that there are two sides to every story."
Brinson puts that philosophy into action as she sits on the bench, a role she doesn't take lightly. "I hear mostly criminal misdemeanors, traffic cases like DUIs," says Brinson, who used to prosecute DUI offenders as a part-time county solicitor. "We sometimes have to wear different hats as attorneys," she adds. "Again, we must have the ability to see the two sides to every case and, no matter what the circumstances, ensure that everyone is aware of their Constitutional rights."
Giving a voice to the disenfranchised was a major motivation for Brinson when she entered the legal profession. "I've always supported the underdog," she says. "I saw the law as a mechanism for those people without a voice to have access to justice. Sometimes all it takes is a well-placed phone call to make something happen."
Though she claims to have "laid down the superwoman cloak a long time ago," Brinson belies the statement by juggling the needs of her sons, Ryan and Bryant, whom she calls "my biggest cheerleaders," and those of her clients, profession and foundation. – E.L.
LANGFORD D. HOLBROOK
County Administrator, Lee County
Leesburg
Age: 38
When the pressures of his job grow heavy, Lee County Administrator Langford D. Holbrook likes to get wet. "My wife and I are members of the Albany YMCA," he says, "and we swim two or three times a week to try and handle the stress."
In Holbrook's case, the stress is the best kind – managing rapid growth associated with thousands of new upper income families pouring into his county. Lee County was once a farming community that lost population for most of the mid-20th century. Then growth accelerated and from 2000-2003, Lee was in the top 10 fastest growing counties in one of the nation's fastest growing states.
Lee County's growth has measured about 1,000 new residents a year and its populationnow stands at 30,000 with another 5,000 transplants expected by decade's end. Holbrook's job has been to keep the infrastructure moving on pace with new arrivals. So many new subdivisions were popping up that Holbrook asked his county government leaders to stop and evaluate the direction of growth, getting a moratorium on some new construction this year.
"We are just pausing to catch our breath and make sure the things we have in place are adequate to deal with [growth] issues," Holbrook says. "One of the key reasons people are coming to Lee County is its natural beauty. We have lots of open farmland, beautiful bodies of water and other natural resources that attract new residents. The idea is to maintain some of that rural character even in some of our fastest developing areas."
To do that Holbrook has led an effort to create conservation subdivisions that set aside up to 25 percent of developable land for greenspace. Developers and residents are waiting to see how Holbrook juggles growth and asset preservation. So far, he hasn't dropped the ball. – E.L.
EMILY C. BAGWELL
Partner
Whelchel & Dunlap, LLP
Gainesville
Age: 38
TINA BONIFACIO
Vice President of Workforce &
Economic Development
Savannah Area Chamber of Commerce
Savannah
Age: 38
PAM CARNES
President/CEO
Cherokee County Chamber of Commerce
Canton
Age: 37
DAWN CARTEE
Vice President for Academic Affairs
Southeastern Technical College
Statesboro
Age: 37
DION DELOOF
Co-Founder and President
Anteo Group
Atlanta
Age: 35
AMY DORRILL
Development Director
University Health Care Foundation
Augusta
Age: 34
JODI DOSS
Owner/Entrepreneur
Jodi's Accessories
Valdosta
Age: 30
J. TILLMAN DOUGLAS, JR.
President and Founder
Douglas Sales Co.
Atlanta
Age: 38
WARRICK DUNN
Running Back, Atlanta Falcons
Philanthropist, Warrick Dunn Foundation
Atlanta
Age: 30
REBECCA FERGUSON
Regional Project Manager
Governor's Entrepreneur and Small
Business Office, Georgia Department of Economic Development
Griffin
Age: 35
J. BENJAMIN FINLEY
Lawyer and Co-Founder
Finley & Buckley, PC
Atlanta
Age: 39
BRITT FIGUEORA
CEO/Founder
Monkey Love Dessert Bar & Gallery
St. Simons Island
Age: 38
LOUIS FORDHAM
Vice President HR & Facilities
J&J Industries
Dalton
Age: 39
PAULA GLOVER
Executive DirectorRANDY GRAVLEY
Owner and Managing Partner
Tri-State Communications
Canton
Age: 32
RANDY GRAVLEY
Owner and Managing Partner
Tri-State Communications
Canton
Age: 32
TEE GREEN
President and Chief Operating Officer
Greenway Medical Technologies
Carrollton
Age: 33
DERON HICKS
Partner
Page, Scrantom Sprouse Tucker & Ford PC
Columbus
Age: 37
KATHRYN HUTTON
Attorney
King & Spalding LLP
Atlanta
Age: 39
PAMELA GREEN-JACKSON
Founder, Youth Becoming Healthy
State Coordinator
Georgia on the Move
Albany
Age: 39
SEAN KAUFMAN
Director of Programs
Center for Public Health Preparedness and Research, Emory University
Atlanta
Age: 32
RODDRICK MARSHALL
Community Activist/Volunteer
Savannah
Age: 31
CEASAR MITCHELL
Attorney
Thomas, Kennedy, Sampson & Patterson
Atlanta City Councilman Post 1 At-Large
Atlanta
Age: 36
DARRELL MOORE
President, Moultrie-Colquitt
Chamber and Economic Development Authorities
Chair, JDA Brooks, Grady Mitchell, Thomas and Moultrie Counties
Moultrie
Age: 36
BARTOW MORGAN
Chairman/CEO
The Brand Banking Co.
Flowery Branch
Age: 32
DAVID NOUR
Founder/Managing Partner
The Nour Group
Atlanta
Age: 37
KELLY AHL PAUL
Founder
The Marketing Department
Advertising & PR
Savannah
Age: 37
B. ANDREW
"DREW" PLANT
Writer
Atlanta
Age: 39
CARMEN QUEZADA
Director of Community Outreach Centers
Catholic Social Services of Atlanta
Atlanta
Age: 37
SHYAM REDDY
Attorney, Kilpatrick Stockton LLP
Atlanta
Age: 30
MARK ROUNTREE
President & CEO
Landmark Communications, Inc.
Duluth
Age: 39
CARLEN SELF
Manager
Avaya, Inc.
Macon
Age: 36
GABRIEL STERLING
Sterling Seasonal Home, Inc.
Sandy Springs
Age: 34
URI VAKNIN
Real Estate Agent
The Condo Store
Atlanta
Age: 35
JOHN WATSON
Chief of Staff for Gov. Sonny Perdue
Atlanta
Age: 36
ROBERT WEBB
Director of Corporate Communications
Mohawk Industries, Inc.
Dalton
Age: 35
GREGORY ZARUS
Mayor, Pine Lake
Team Leader, CDC Strike Team
Pine Lake
Age: 39
HAROLD MELTON
Justice, Georgia Supreme Court
Atlanta
Age: 39