Enduring And Prevailing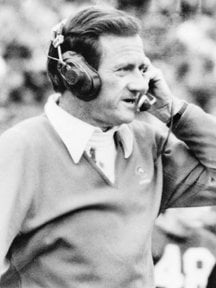 Decatur native Frank Broyles keeps on going – and going. What does 80-year-old Frank Broyles have that 73-year-old Vince Dooley does not? Answer: A new, five-year, rollover contract as athletics director.
What does Dooley have that Broyles does not want? Answer: University of Georgia President Michael Adams.
John Franklin Broyles, legendary Georgia Tech quarterback of the 1940s, has been at the University of Arkansas the past 49 years, 16 as head football coach and the past 33 as athletics director.
Broyles has no plans to retire, at least not in the next decade. And when word leaked out that Chancellor John A. White suggested Broyles should consider retirement, one prominent alumnus told White not to bring the matter up again or he would be the one retiring.
Broyles said, "The retirement age ought to be 92, and I will do the best I can to reach that age as A.D. I will stay on as long as I am healthy and as long as the people want me.
"When Dr. Adams forced Vince Dooley to retire at age 70 it broke my heart. How do you force out an athletics director whose teams have won 19 national championships, 77 conference championships and had more than 100 of his student athletes win first team, academic All-American honors? This was a case of pure jealousy, nothing else."
Dooley now serves UGA as a fund-raising consultant. Could Dr. Adams, if he were at Arkansas, force Broyles out? The answer is unequivocally "no." According to Welch Suggs, writing in The Chronicle of Higher Education, "Broyles has built a network of fans, donors and political loyalists who support him unconditionally." Throughout the state of Arkansas it's Broyles, first, last and always.
If there's one word that best describes Broyles it's "legendary." He was a legendary quarterback at Decatur High School and at Georgia Tech and a legendary football coach – and now athletics director – for the Razorbacks.
This magazine is not large enough to run a list of all the honors Broyles has won, but among them are Decatur High School Hall of Fame; Georgia Tech Hall of Fame; College Football Hall of Fame; Cotton Bowl, Orange Bowl and Gator Bowl Halls of Fame; Arkansas and Georgia State Halls of Fame; Distinguished Citizen Award for the state of Arkansas and "Most Influential Person in Arkansas Athletics for the 20th Century."
In the 1945 Orange Bowl, he established a new passing record with 304 yards. The record stood for 55 years. He was an All-Southeastern Conference choice six times at Tech, three in football and three in basketball. As an assistant coach in charge of quarterbacks, he produced three All-Americans, Cecil Isbell at Baylor, Heywood Sullivan at Florida and Wade Mitchell at Georgia Tech. He was Darrell Crawford's coach at Tech when Crawford quarterbacked the Jackets to an undefeated season.
In 16 seasons as Arkansas head football coach, Broyles' Razorbacks posted a 144-58-5 won-lost-tied record, won one national championship, seven Southwest Conference titles and made 10 major bowl appearances. He produced 20 All-Americans and 88 all-conference players. Under Broyles' leadership, in its first 13 years in the Southeastern Conference, Arkansas teams won 27 national championships and 40 SEC crowns.
Broyles grew up in Decatur where he played football, basketball and baseball. He won statewide honors at Decatur High in each sport. Decatur was a UGA town, and Broyles claims to be the first Decatur High athlete ever to play for Tech.
He married his childhood sweetheart, the former Barbara Day. She died last October. They would have been married 60 years last May.
"I have led a charmed life," Broyles said. "I was married to an angel for 59 years. I have overcome prostate cancer and heart problems, I am in excellent health. I play golf, I walk two miles five times a week. I don't think I have worked a day in my life."
Although he never has taught a class, the University of Arkansas School of Education gave him the rank of full professor. He is held in such esteem by citizens throughout the state that he was a natural to be named chairman of the university's $900 million 21st century fund-raising campaign.
Gene Asher is a veteran sportswriter and businessman