Magic Men
Sam and Bubba Wyche excelled on the field and sidelines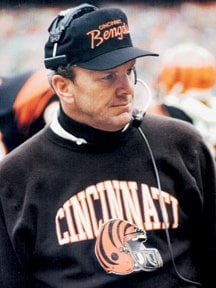 Magic anyone? How about the Wyche brothers? Sam can make articles of your clothing disappear, find silver dollars in your ears and make small sponge rabbits drop from under your arms.
He entertains at churches, on stage, at civic clubs and most everywhere else. But his greatest feat was in 1988 when he coached a not-so-gifted Cincinnati Bengals team to a winning season and a berth in Super Bowl XXIII. For that accomplishment, he was named both AFC and NFL Coach of The Year.
Bubba Wyche limited his magic to the gridiron, but oh, what tricks he could play. In 1968 his University of Tennessee Volunteers were trailing the University of Georgia 17-9, with one second left on the clock. Wyche threw a 21-yard touchdown pass as the clock registered 00:00. Then he threw for the two-point conversion, snatching certain victory from the Bulldogs with a 17-17 tie.
"This kid Wyche has more acts than a Vaude-ville show. If he were sight-seeing at Niagara Falls, he would be compelled to go over it in a barrel," wrote the Atlanta Journal's Furman Bisher.
So was he magic or just plain good? He is the only quarterback ever to beat coach Paul "Bear" Bryant's Alabama teams two consecutive years (1967 and 1968). He halted Bryant's winning streak at 25 games.
In 1967, against Georgia Tech, Wyche — a third string quarterback, warming the bench — wasn't even expected to play. But starting QB Dewey Warren was injured early in the first quarter and backup Charlie Fulton went down a few minutes later.
Enter Bubba. All he did was direct the Vols on four touchdown drives and wreck Tech 24-13. In 1968, he beat the Yellow Jackets again, 24-7, and took out UCLA, hitting on 17 of 24 passes.
Wrote the late Atlanta Journal football analyst Harry Mehre, "Wyche is the finest T-formation quarterback in the history of the game."
I have known the Wyche brothers since their football, baseball and basketball days at Atlanta's North Fulton High School and I never have met men with more integrity. They come by it naturally from their parents, Joe, Sr. and the late Sara Wyche.
Ask Bubba where he played college football and he'll tell you he was a third string quarterback for the Vols — not that he was an All-SEC quarterback. Ask brother Sam about his achievements and he'll tell you he was a walk-on quarterback at Furman University, not that he was a starter and led the Paladins in every passing department.
In 1958 Bubba also equaled the Little League world record for strikeouts when he set down every player he faced –18 — in a regulation six-inning game.
After a stint in the Canadian Football League where he was constantly plagued with knee trouble, Bubba came home to Atlanta and opened Uptown Greenery, a plant business that serves, or is readying to serve, such giants as Coca-Cola, Georgia-Pacific and BellSouth.
Bubba is now 59 years old. He grew up in Buckhead but now lives in Smyrna with his wife, Linda, and his three dogs. Sam Wyche is one of the few coaches who played and coached in the Super Bowl. He played for the Washington Redskins in Super Bowl VII. After 23 seasons as a player and coach, he went home to Pickens, S.C. where he served as volunteer head football coach at Pickens High School.
Today, at age 60, he's back in the game as quarterback coach for the Buffalo Bills. Despite a heart ailment and major throat surgery, if the opportunity arose to become a head coach again, Wyche says he would "go for it in a heartbeat."
Wyche is married to the former Jane Underwood; they have two children, Kerry, 32, and Zack, 34.
No article about Sam Wyche would be complete without a mention of his care and concern for the underprivileged. In Cincinnati he spent as much time as an inner-city activist as he did performing magic.
He founded a non-profit organization that provided food, clothing and services for the homeless. His idea of a good time on Saturday night was to drive down to the depressed area and speak with as many people as he could. He distributed more than $200,000 worth of clothing and raised $200,000 more for the physically impaired.
Now, in Buffalo, he heads the heart and leukemia fund-raising drives and serves on the board of the family crisis center. That's magic indeed.