Good Shepherds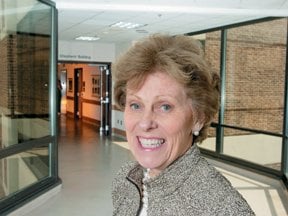 Seventeen-year-old Ashley Gambino is lying on an exercise mat, her dark hair swept beneath her head, her right arm lying limp at her side, fingers slightly curled. An occupational therapist slowly lifts and lowers her left arm. Music pumps with a steady beat in this therapy gym, as other teens "work out" on nearby mats.
Ashley cannot breathe on her own. She's attached to a ventilator. She doesn't have full control over her neck. She has some feeling in her arms and legs but can move only her left foot. And yet there is a glimmer in her eyes.
"Somehow, I could possibly get everything back," says Ashley, who can't remember the moment a year ago when she was shot in the mouth, the bullet grazing her spinal cord near the base of her skull. "It would just take years. I'm going to have to go through years and years of physical therapy."
She has been working to regain strength in her diaphragm so she can breathe without the ventilator. Hers is an "incomplete" injury, which means she has sensation and movement below the level of damage. For hours each day, occupational and physical therapists stretch and stimulate muscles she hopes to reuse one day. They guide her in breathing exercises.
But whatever her future holds, there is something more vital she's learned at the Shepherd Center: How to live again.
She remembers the first time Shepherd staff took her on an outing. She cried, terrified of strangers gawking at her in her sip-and-puff wheelchair, which she maneuvers with her breath. Now she loves going out with other teens to the mall, the movies, for pizza. Shepherd Center offers adventure outings, too, such as water skiing, canoeing, even scuba diving.
"That's what Shepherd is all about," Ashley explains, "trying to make you independent."
An able-bodied person walks into the Shepherd Center with some sense of foreboding, sharply aware of the fickleness of life, of how easy it must be to have one slip off a ladder, one skid on a slippery road, one dive into the wrong waters, one moment that can never be taken back. So there is an unconscious assumption that the people here are grappling with the darkest despair.
The poster-sized pictures in a main hallway reveal what the Shepherd Center is really all about: A diver with a spinal cord injury who is back in the water; an injured hockey player now standing on a Segway scooter; a smiling young woman hugging the dog that was with her when she suffered a serious brain injury in a car accident.
Surely, in the privacy of patients' rooms, desperate moments are played out. But no one here lets them wallow too long. The center is surprisingly cheerful and optimistic. This is the place people come to put their lives back together.
The atmosphere emanates from the relentless optimism of its founding family, the Shepherds. Every day, James Shepherd, 54, the chairman of Shepherd who gets around on a red scooter, greets patients and rallies their spirits. His mother, Alana, 75, a woman of regal bearing and quick wit, cajoles a major donor one minute and holds the hand of a new patient the next. She is recording secretary for the board of directors, and her husband, Harold, now retired from the Shepherd Construction Company he founded, also serves on the board. (James also serves as chairman and CEO of Planned Improvement, a real estate company that is one of the family's businesses.)
Alana exudes the determination of a mother seeking a cure for her injured son mixed with a shrewd, innate business sense. In other words, she finds a way to get things done – just as she did 30 years ago when she spearheaded the opening of the Shepherd Center in six leased beds at a now-defunct Buckhead hospital.
"I'm just somebody's mother," Alana remarks, greatly undervaluing her status as she recounts the hospital's history. "I can say what I want to – and often I do."
Today, the Shepherd Center treats more spinal cord injury patients than any other rehabilitation hospital in the country. It has embarked on its second major expansion, which will almost double its space with new therapy gyms, treatment rooms, expanded outpatient services and 20 more patient beds.
The 100-bed facility holds a designation as a Model System of Care for spinal cord injury from the National Institute on Disability and Rehabilitation Research (NIDRR). It treats people with spinal cord injury, acquired brain injury, multiple sclerosis and disorders such as Guillian-Barre? and post-polio syndrome.
And it lies at the center of the search for a cure. The Shepherd Center is part of a research project to test whether injecting macrophages, a type of white blood cell, at the injury site can spur some regeneration and allow patients to regain function.
In January, Alana Shepherd received the Shining Light Award from Atlanta Gas Light, which honors civic leadership. She placed her ever-burning gaslight on Peachtree outside the center. Inside, she continues to radiate a sense of hope to patients trying to mend their bodies and lives.
One Family's Story
The Shepherds have their own near-tragic story, a moment of freedom and adventure that turned suddenly into panic, pain and fear. It is a unique story, but at the same time not so different from the tales that many patients could tell.
In 1973, James was bodysurfing off the coast of Rio de Janeiro when he felt himself in the undertow. I need to kick up and get out of this, he remembers thinking. But he couldn't kick. Maybe I broke my legs, he thought. As he felt the next wave rush above him, he tried to push with his arms. His arms didn't work, either. Maybe I broke my arms, too, he thought.
"And then you realize something's real wrong, and I'm going to drown. You keep holding your breath, holding your breath, and finally the body just takes over and your mouth opens, and you choke and you throw up once or twice until your lungs fill with water. Then it's very peaceful.
"It's the fear of it in that first choke, [until] your lungs fill with water. I can still remember the water going down with the sand down my throat. It doesn't bother me. It's a memory; it's very peaceful and quiet. Once you were breathing, you breathe the water going in and out just like air and you go to sleep."
James washed up on the beach, his body limp, blue and breathless. The lifeguard, accustomed to the occasional surfing fatality, abandoned him for dead. His friends saw a crowd gathering, recognized his swim trunks, and rushed over to pump life back into him.
When the phone rang on a Sunday morning in Atlanta, a friend was standing at an aid station on the beach, telling Alana that James was paralyzed and near death. Within hours, she and Harold were on a plane to Brazil, ready to do whatever they could.
James was in traction in a Rio hospital for six weeks. He developed stress ulcers and infections and needed transfusions with 22 units of blood. The Shepherds finally were able to arrange for him to be airlifted to Piedmont Hospital in Atlanta. But despite the medical care, after three-and-a-half months his weight had dropped to 87 pounds on his lanky, 6-foot frame.
Alana learned of the Craig Hospital in Denver, which specializes in spinal cord and brain injury treatment and rehabilitation. She knew James needed something more, and he was sent to Craig. "Five months later, he walked out of [the Denver hospital] with a leg brace and a crutch," she recalls.
Back at home, a family friend commented that there ought to be a place like that in Atlanta. Those words sparked a mission for Alana. People here were missing out on needed care. "If they don't get the right care, they're never going to reach their potential," she says.
Leap Of Faith
By 1975, Alana had rented empty space at West Paces Medical Center, convinced David Apple, Jr., an orthopaedic surgeon, to leave his private practice and serve as medical director, and opened the Shepherd Center with six beds.
It was a leap of faith, but not a difficult choice a surgeon who fervently believed in the power of rehabilitation. "In my training I'd seen what was available in other areas of the country. I knew what could be done if the right people and the right resources were concentrated," says Apple, who retired from the Shepherd Center this year.
For seven years, Alana struggled to raise money to make her dream come to fruition: "We wanted an 80-bed hospital attached to a wonderful not-for-profit hospital in a location that was on a MARTA line."
A friend, Scott Hudgens, sold the Shepherds 5.6 acres on Peachtree Street next to Piedmont Hospital for $800,000 – throwing in a $200,000 donation at the closing. But raising money wasn't the only challenge. Alana was appalled that the center had to struggle to get a certificate of need, facing a challenge within Atlanta's hospital community. "I've never seen such politics in my life," she says.
In 1982, the hospital opened with 40 beds – and a pent-up demand for services. Within a year, the center had a waiting list of 40 to 50 people. Shepherd was able to complete an unfinished floor and begin planning for an expansion. Support from Billi Marcus, wife of Home Depot founder Bernie Marcus, enabled the center to double in size to 250,000 square feet and 100 beds. That includes a Multiple Sclerosis Center and a 20-bed acquired brain injury unit.
The Marcus Foundation also funds Shepherd's Bridge Program. Staff members follow up with patients for a year after their discharge, helping them cope with the transition and resolve problems such as arranging for community services or fixing a faulty wheelchair.
Over the years, the center added new facilities and services. Shepherd Pathways in Decatur provides ongoing residential and outpatient care for brain-injured patients. The Shepherd Center maintains 25 condos for out-of-town families to stay in while their loved ones are receiving care, and it's a catalyst for special housing for spinal cord injured patients who want to live independently.
As many as one-third of the Shepherd Center's beds are "scholarship beds" for patients who either don't have insurance or have limited coverage. Shepherd also absorbs much of the cost of state-of-the-art wheelchairs, adapted computers and other assistive technology.
"We have a sense of sadness for all the people in the country who are not getting this opportunity," Alana says.
She stands in the small Intensive Care Unit and looks across the room at a patient who has been isolated for infection control purposes. "Wink?" she says loudly, and he obliges. "That's a good one."
Increasingly, Shepherd takes patients soon after their injury to begin specialized care as quickly as possible. Alana proudly shows a visitor how, even here, they usher patients toward independence. Quadriplegics who cannot move their arms can change the channels on their TV by sipping or puffing into a tube.
Spinal cord injuries have trapped some patients into an unyielding body, but "assistive technology" sets them free. They can send e-mails with a computer that recognizes their voice – or even one that can detect the gaze of an eye. People who can't speak or move their arms can still send instant messages or e-mails. They even have devices that convert the messages into synthesized speech.
Technology is ubiquitous here. In the "seating clinic," patients sit on a special cushion while a computer maps the pressure points of their posterior, helping them select a wheelchair seat that could reduce the risk of pressure sores. Next door, paralyzed patients are strapped into a harness that is suspended over a treadmill, while staffers help steady them and move their legs. They are exercising muscles they hope will one day regain the ability to walk.
Shepherd also is working with the Georgia Institute of Technology to apply mobile wireless technology to the needs of the disabled – such as enabling a BlackBerry device to help someone talk.
Research Center
Meanwhile, with some 30 clinical trials under way, 10 federal grants and a $5 million research endowment, Shepherd has become one of the world's centers for spinal cord research. Once, it was just a dream of spinal cord patients to walk again. Today, it is a research goal.
The ProNeuron study uses the patient's own macrophage cells – white blood cells that trigger regeneration of skin or tissue when your body has a cut or bruise – to stimulate repairs in the spinal cord lesion. Shepherd was preparing to begin its first treatments in May.
Shepherd also will be one of the first research centers in the country to test the use of stem cells derived from bone marrow – cells that may have the capability of generating new neurons – in spinal cord treatment.
"Really, it is an exciting time," says Mike Jones, Shepherd's vice president for research. "We'll probably see a new therapy coming into [research] trial every six months or so."
Even if researchers figure out how to coax the body into regenerating neural connections, patients will still need a heavy dose of rehabilitation. In fact, that nuts-and-bolts work of the Shepherd Center will be even more important.
"You can reestablish the circuit for walking, but now you have to re-teach walking," Jones says. "A lot of it is just reestablishing the neuro-circuitry that's established over a lifetime."
Rehabilitation itself helps patients gain the full extent of their potential mobility while they gain the confidence to rejoin the world outside the hospital. From its earliest days, recreational therapy was a way to motivate patients. Former quadriplegic patients have configured powerboats or even a deer rifle with sip-and-puff controls.
"Initially, the recreation was diversionary," Apple says. "You'd give the patient something to do. Take them on outings. The recreational therapists are pretty creative people. They'd keep pushing the envelope to do more and more different things."
Shepherd once cheered and celebrated when patients were able to return to work. Now, that's an expected part of their recovery. Patients return to their hobbies, and even to competitive sports. Shepherd was a founding sponsor of the 1996 Paralympic Games, and Alana served as secretary of the 1996 board of directors. Hospital-sponsored teams include basketball, soccer, fencing, swimming, kayaking and even rugby.
Former patients return to Shepherd as peer supporters to assure the newly injured that life will go on. "You can tell when the patient decides there's hope," James says. "I can go in the gym and tell by the eyes. They're the gateway to the soul to me. The sparkle has returned."
Shepherd gave Ashley Gambino back that sparkle. After about three months at the hospital, she was ready to leave, and is now living with her cousin in New York, where she continues to receive physical therapy.
At night, in her dreams, she is able-bodied, walking and running and moving her arms. Then she awakens, immobile, and remembers. "You want to be where you were in your dreams," she said wistfully.
With therapy and treatment, with hope and optimism, maybe one day she will.