Above And Beyond The Call
How D.L. Claborn became a household name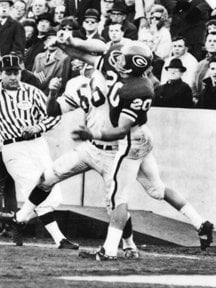 Who ever associated the name "Domino Lee" with one of Georgia's greatest sports legends?
Now, if you said, "D.L.," or more specifically, "D.L. Claborn," that, my friend, is decidedly different.
You name it and D.L. Claborn has done it: football official for 46 years, 26 in the Southeastern Conference; winner of the George Gardner Memorial Award, presented to an outstanding football official whose contributions are above and beyond the call; Peach Bowl ticket seller for 34 years, seven consecutive years as the bowl's number one ticket seller. Claborn not only sold tickets to the game, he officiated it. Today, the leading Peach Bowl ticket seller receives the D.L. Claborn Award.
And that's just a drop in the bucket: he's also past president of the Metropolitan Atlanta Automobile Dealers Association; president of the Georgia Automobile Dealers Association; operator of one of the nation's most famous Buick dealerships and the world's largest Opel dealership. D.L. owned six automobile dealerships, not all at one time, mind you; three of them he farmed out to his sons.
During his 39-year run, D.L. sold more than 200,000 cars. He was honored by the American Salesmaster as "Salesman of The Year," an award he could have received several times.
You want more? How about All-City football player at old Atlanta Tech High School, varsity end at the University of Miami, president of the Touchdown Club of Atlanta, volunteer executive director of the Touchdown Club for 10 years and winner of the Sam Burke Award for outstanding contributions to high school football in Georgia.
Talk about rags to riches, Claborn and his wife of 61 years, the former Kathryn Brooks, live in fashionable Sandy Springs outside Atlanta. But the living was not always easy for D.L. He grew up at near-poverty level, in a run-down area off Memorial Drive in Atlanta. His parents divorced when he was 8 years old, and he helped his mother with the family income by picking up empty bottles and selling them to the neighborhood grocery store. The Coke bottles brought D.L. a penny apiece and the milk bottles two cents each.
Television made D.L. Claborn's name a household word – and jumpstarted his ultra-successful business career. Beginning in 1957 he began appearing on WSB-TV live at 7 a.m. during the "Today" show on behalf of Boomershine Pontiac Dealership. Every weekday for the next 32 years (either live or taped) there he was, standing beside a sleek new Pontiac and telling the world that, "I got mine at Boomershine" or "Boomershine Traded My Way."
D.L. got his own Buick dealership because Frank Leigh, the regional Buick manager, told his boss, "Give Claborn the new dealership. His face is worth a million dollars."
Customers flocked to his Campbellton Road dealership. In his first year he sold l,540 Buicks. In 1969 he acquired an Opel dealership and led the nation in Buick and Opel sales.
In time, D.L. brought his sons into the business. Gary, a former quarterback for Sylvan High School, ran the Toyota dealership; Lee, the Jeep/Renault operations and David, the Isuzu dealership.
At one time, D.L. and his children had eight dealerships. The question D.L. cannot answer is how he found time to be Atlanta's "Mr. Automobile Dealer," officiate football games on Friday nights and Saturday afternoons, be the Peach Bowl's leading ticket seller, direct charitable golf classics and serve as executive director for one of the largest touchdown clubs in America.
"Doing what you like is not work," D.L. says, "it is a joy." Today, Claborn is retired. He is 81 years old and looks 10 years younger. Claborn is known for his intestinal fortitude as well as his sales ability, as any Tech High or Miami Hurricane football opponent would tell you. He could lay a block on you that would not only take you out of the play, but in some cases out of the game.
The Claborns have five children. Gary, 60, is a cattle farmer in Brooks; Andrea, 56, an administrator with the state agriculture department; David, 52, a teacher in Portland; Lee, 50, an automobile salesman; and Kathy, 47, a Delta flight attendant based in Atlanta.