Lords – And Ladies – Of The Rings
Is the time right for a boxing resurgence in Atlanta?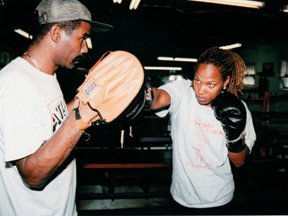 I have known my share of world champion prizefighters. I did road work with Rocky Marciano, played cards with Carmen Basilio, interviewed Beau Jack and Archie Moore and took a playful swing (and missed) at Max Baer. All were great fighters but Baer. And he could have been the greatest of them all if it were not for wine, women and all-night partying.
My favorites of the professional pugilists were heavyweight Joe Louis, a/k/a "The Brown Bomber" and welterweight and middleweight king "Sugar Ray" Robinson, not because of their fistic skills, although they had no equal in their divisions, but because of their love for their fellow human beings, and in Louis' case, especially for his love of country.
At the outset of World War II, Louis did not wait to be drafted. He enlisted in the Army. He continued boxing in the United States, donating purse after purse to Army and Navy Relief Funds; he then went overseas to fight exhibitions for all branches of the armed forces.
Pound for pound, Robinson is considered the best of the best. But what impressed me most about him was his willingness to undergo additional stress in order to help a worthy cause.
It was 1960. He had long retired from boxing and become a professional tap dancer of note. He was doing two one-hour shows a night at Chick Hedrick's Domino Lounge at the Imperial Hotel in Atlanta.
It was Thanksgiving week when I met him backstage at the Imperial. How much time, I asked him, did he have between shows?
"Exactly two hours," he said.
"Thanksgiving Eve," I told him, "there is going to be a banquet at a downtown private club for University of Georgia and Georgia Tech freshman football teams who would clash Thanksgiving Day to benefit crippled children."
"What can I do to help?" he asked.
"Between your shows," I said, "you can fit in another show for the football players. My friend (Dwight Blanton) and I will pick you up and bring you back in time for your second Domino show."
Robinson not only agreed but he put on a one-hour show that left the Bullpups and Baby Jackets screaming, "More, more, more!" Sugar Ray gave them more and barely made it back to the Domino where he went directly on stage for a third show.
The reason for all this reminiscing is that Ya Ya McLain, a California boxing promoter and the husband of Laila Ali, daughter of Muhammad Ali, wants to promote boxing in Atlanta. He already has staged one bout – with his wife beating up on Gwendolyn O'Neal. The fight drew an estimated 5,500 fans to Atlanta's Philips Arena.
McLain wants to bring Ali back for a Valentine night card against an as yet unnamed opponent. If McLain succeeds in reviving boxing in Georgia, a great deal of thanks will belong to Johnny Gant who is developing both amateur and professional talent at his Spring Street gym.
Among his pupils are former World Boxing Council welterweight champion Vernon Forrest and Women's International Boxing Association ranked middleweight, Janaya Davis. A city of Atlanta firefighter, Davis is undefeated in four professional bouts.
Due to poor matchmaking, boxing has been a failure here since World War II. If McLain is going to make the matches he must profit from the mistakes of matchmakers past. Please, Ya Ya, no more Janiro-Pachecos, no more Vejar-Leaches and no more Basilios and Fosters fighting club fighters and sparring partners. Atlanta and Georgia need the real thing.
What might have been a bona fide contest but was not was the Muhammad Ali-Jerry Quarry bout in Atlanta. On May 9, 1972, a federal grand jury indicted world heavyweight champion Ali on the charge of failing to submit to the Selective Service draft. The New York Boxing Commission and the World Boxing Association stripped Ali of his title and barred him from fighting anywhere in the country.
Somehow, state Sen. Leroy Johnson and Atlanta insurance executive Jesse Hill got around the ban and staged a non-title Ali-Quarry bout in October 1972 at Atlanta City Auditorium. Ali flattened Quarry in the fifth round.
Twenty years later, along came Evander Holyfield. In May 1992, he fought Bert Cooper, a substitute for Mike Tyson, and knocked him out in the seventh round.
Although never a hotbed of professional talent, the state of Georgia has spawned its share of great fighters. There was Beau Jack of Augusta, who was working at the Augusta Golf Club when Bobby Jones discovered him fighting in a Battle Royal at the Augusta City Auditorium. Jack became a world lightweight champion as did Ike Williams of Brunswick.
Ezzard Charles, born in Lawrenceville and named after the medical doctor who delivered him, Dr. William P. Ezzard, won both the light heavyweight and heavyweight championships. Fayetteville's Holyfield is the only world champion to win the heavyweight title four times. Larry Holmes, one-time heavyweight titleholder, hails from Cuthbert; Tiger Flowers, onetime middleweight champ, came out of Ocilla.
Although he never won the world crown, Young Stribling, born in Bainbridge and raised in Macon, was a No. 1 light heavyweight contender and fought the champion, Mike McTigue, to a draw. At age 29 and the peak of his career, Stribling was killed in a motorcycle accident.
Except for Holyfield, Charles and Holmes, the great Georgia fighters competed before and during World War II. Although he was born in the state of Washington, Pete Rademacher was living in Columbus when he fought champion Floyd Patterson in Seattle for the world heavyweight title in 1957.
It was the most unbelievable match – no, make that mismatch – in boxing history. Rademacher, an Olympic champion, was an amateur making his pro debut against the world champion. Such things should not happen, but this did.
Rademacher was counted out in the sixth round. He was down four times in the fifth, once in the third and once prior to the final count in the sixth. The amazing thing about the fight was not that Rademacher knocked Patterson down once but that the match actually took place.
But when it came to courage, desire and determination, the man with the most came along in the 1940s. His name was Freddie (Red) Reeves, the pride of old Atlanta Tech High School. For four years he was one of the best amateur boxers in the city of Atlanta. Not bad for a boy who had only one leg.