Atlanta – College Town, USA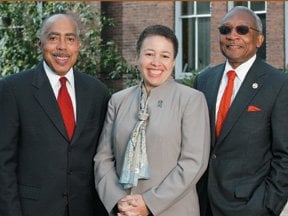 You know Atlanta the commercial center, Atlanta the transportation hub, Atlanta the economic engine. You may even know Atlanta the music epicenter, dominating hip-hop and R&B with a staggering roster of hometown talent that includes artists and producers such as Jermaine Dupri, OutKast and Usher — names familiar even to aging Baby Boomers.
But Atlanta stakes a strong claim to the "College Town, USA" title. Look out, Boston and Berkeley, Atlanta's population of 133,000 college students is studying everything from fine arts to high tech at more than 45 area colleges, universities, technical schools and training centers. This adds up to one of the largest concentrations of higher education in the country and packs a multibillion-dollar annual wallop.
Pretty impressive, but what Atlanta has that no other city in the country can even come close to is the diversity of its students and the long-standing reputation among African Americans of the institutions that make up the Atlanta University Center (AUC): Spelman College, Morehouse College, Clark Atlanta University, Morehouse School of Medicine and the Interdenominational Theological Center.
The increasingly international community can claim diversity as a calling card. Even if Atlantans and Georgians haven't quite taken all this in, the business world has. Says Hans Gant, vice president of economic development for the Metro Atlanta Chamber of Commerce, "There is very little we do that does not involve the colleges in some form; they are so much a part of the fabric of what we do. The university story of Atlanta is always a part of our message."
He cites the relocation of pet pharmaceutical giant Merial's national and global headquarters to the metro area three years ago as an example. The 1,000 jobs that came with it, Gant says, are a direct result of the Bioscience Initiative created by the Atlanta Regional Consortium of Higher Education (ARCHE), representing 14 of the area's institutions of higher learning.
ARCHE President Michael Gerber estimates that higher education in Atlanta has an annual economic impact of $10 to $12 billion, and that's not even factoring in student spending on everything from pizza to auto maintenance to clothing to concert tickets — or the effect schools have on the area's workforce, including health care.
And for all that, Atlanta doesn't have a reputation as true college town. "Atlanta still does not enjoy the reputation for quality and variety of its academic institutions warranted by reality," says Dr. Walter Massey, Morehouse president.
"It was only when I moved here three years ago," says Clark Atlanta University President Walter Broadnax, "that I learned that Atlanta had the second or third largest concentration of universities in the country."
Certainly, Atlanta's top colleges and universities, including Emory, Georgia State, Georgia Tech, Agnes Scott, Kennesaw State and the Atlanta College of Art, as well as the Atlanta University Center schools, have solid academic reputations and distinct individual identities. But it may be time for a more united approach that would leverage their collective intellectual power and economic clout.
This point was made quite effectively last spring when a group of Atlanta civic leaders that included Mayor Shirley Franklin and GSU President Carl Patton traveled to Boston for the annual LINK trip organized by the Atlanta Regional Commission. One of the invited speakers was Ira Jackson, senior fellow at Harvard University's Center for Public Leadership.
Jackson, who spent some time in Atlanta as head of the Arthur M. Blank Family Foundation, drew enthusiastic applause when he suggested to the group that Atlanta should leverage its status as a center of higher education. "Transfer Atlanta into a college town," he suggested. "You're leaving money on the table. Atlanta has the largest concentration of black talent in higher education of anywhere in the world. Why not link that with Emory and other institutions of higher learning?"
Ironically, some of Atlanta's top institutions may be better-regarded outside of the city.
Morehouse and Spelman have long had a national cachet as places that educate the black elite. The schools were, respectively, numbers one and two on a list of best colleges for African Americans in a poll conducted by Black Enterprise magazine this year. Georgia Tech and Emory University regularly place high in national rankings; and Georgia State, one of the country's premier urban universities, graduates more African-American students than any other public institution in the United States.
Traditionally, Atlanta lacks any real social or cultural network connecting its colleges to other local schools and institutions beyond their surrounding communities; there is no common flavor to their separate identities. But that is changing. For one thing, colleges are doing some real community outreach.
"During the Olympics, and right after, if you asked me about community relations then, I could not have characterized them as I do now," says Morehouse's Massey. "When we put the presidential residence on campus, and made it a meeting center for community groups six years ago, it demonstrated in a real way that Morehouse is a good citizen to the community, not just this place on the hill."
Spelman has also reached out, through programs such as an annual joint dialogue with Agnes Scott College via the Women's Studies Research Center where students discuss their differences, and greater community involvement through the arts.
"We're very excited about the renaissance of arts here at Spelman in the 21st century," says President Beverly Daniel Tatum. The Spelman Museum of Art's "One Planet Under A Groove: Hip Hop and Contemporary Art" exhibit last year, organized by new Museum Director Andrew Barnwell, made a splash with some of the best art Atlanta has seen in years, bringing many to the school's beautiful campus for the first time. Barnwell, says Tatum, has a "vision of school buses lined up outside [the museum] every day."
Clark Atlanta's Broadnax faced a community relations crisis early in his tenure when budget problems forced the school to announce it would close Paschal's, which it owned. The historic restaurant, which played such a key role as meeting place for civil rights leaders for many years, is a local icon.
The uproar resulted in a sea change in the relationship between the school and its West End neighbors. Clark Atlanta was forced out of its "ivory walls," Broadnax says, and a new alliance with the city of Atlanta helped re-open Paschal's as an anchor for West End development (Westside Village, a mixed-use development, is already going up across the street). It may even have saved Clark Atlanta. "Had the city not gotten behind it, it would have been our heads," Broadnax says.
Highlighting Diversity
Atlanta's diversity is a big draw for many students, even outside the Atlanta University Center. "To operate in the real world, you have to be ready for a setting that's different, and GSU is perfect because most students aren't like you," notes GSU President Carl Patton. "Of course, we make [Atlanta's diversity] a selling point."
In addition, GSU's business reputation and location attracts students anxious to work. At GSU, Patton says, students, nearly all of whom work part time, "get their hands dirty." But while the universities may market themselves, Patton believes "the true marketing needs to be done by someone else — the mayor, the chamber or the governor."
"Our cultural elements are undersold," adds Deanna Hines, GSU university relations director, who thinks the Atlanta Convention and Visitors Bureau (ACVB) needs to "step it up."
ACVB Executive Vice President Carey Rountree says ARCHE institutions play a large role in coordinating conventions, but do not factor as highly in the city's overall tourism picture. "We work with respective colleges, arranging attractions by areas of the city, to coordinate information relative to where visitors are going," Rountree says, "but there's not a specific tour linking the institutions, nor is the demand big enough to suggest planning around [one]."
The sense of under-recognition spreads across town to affluent Druid Hills, where Emory leaders are reformulating the university's mission around aggressive community outreach. "We're keeping our lamp under a bushel," says President James A. Wagner. "We need to be more visible about what Emory does. We've put $1 billion into Crawford Long Hospital." He calls the school's relationship with the Grady Health Systems — Emory and Morehouse medical schools provide residents for Grady — "a national treasure . . . The inner-city's indigent population gets cutting-edge health care — what a model!"
Emory, Wagner says, needs "investment from people who have never been to Emory, and who aren't aware of our AIDS and cancer research. Those two fields have immense international impact, along with our growing relationship with the Carter Center." The Carter Center, which monitors human rights conditions and free elections around the world, operates as a little-recognized partner of Emory with potential to build on its existing international reputation for research and medicine. "There is a moral problem with being this good, and not being accessible to a broad number of people," Wagner says. "It would be interesting to imagine Emory as a place the world comes to learn about the Third World."
As Emory seeks to branch out internationally, it must also "sink its roots," Wagner says. The opening of the Schwartz Center, a concert hall on par with Clayton College and State University's Spivey Hall, GSU's Rialto Theater and Georgia Tech's Ferst Center for the Arts, will boost Emory's presence in the fine arts community. And like Georgia Tech at Home Park and AUC at West End, Emory addresses community concerns beyond campus borders, where traffic pressures will soon be multiplied by an expanded Centers for Disease Control and Prevention. "We recently reset our timetable to incorporate more community groups," says Wagner of traffic improvement studies conducted by Emory. "We're not growing, but our neighbors are."
There is a similar pattern to the AUC's efforts to coordinate development coming down Northside Drive, bringing gentrification with it. "It's an exciting time to be on West End," says Broadnax. "The population's about to explode."
Beyond The Campus
Georgia Tech and GSU have been rightly credited with spurring downtown residential growth. But the role of public institutions as economic stimulators and mediators could be in jeopardy.
Georgia Tech President Wayne Clough speaks to the budget constraints that threaten his school and others in the state university system. "We've grown by 2,000 students in the last four years, but our budget has remained the same," he notes. "Tuition hikes of up to 10 percent wouldn't come close to covering what we need. The wiser heads in this state need to get together and come up with a solution, because we can't keep doing what we're doing without undermining the quality of our universities, particularly at Tech and University of Georgia."
It was Georgia Tech, largely through Clough, that played a key role in plans to save Atlanta's crumbling sewer system; Clough also sits on the committee studying a proposed Peachtree Streetcar.
GSU's Patton is a former urban planner who is creating University Village, a student district on Decatur Street. He also chairs the city's Beltline Authority, designed to study the possibility of light rail circling the city's existing MARTA lines. Patton's leadership exemplifies higher education's selflessness and community spirit; there are no stops planned near Georgia State. "You do what the mayor tells you to," Patton notes.
In this sense, community outreach is connecting institutions beyond campus borders and neighborhood barriers. The Beltline, in addition to bringing more residents and character into blighted areas, could also prove beneficial to ARCHE efforts to unite the institutions through other opportunities, such as the Cross Registration Program, which allows students paying tuition at one college to take classes at any of the 13 other ARCHE institutions and achieve dual degrees at no additional cost.
"Crosstown traffic becomes a disincentive," Gerber says, "that prevents students from taking consecutive classes [at different institutions]." The same traffic likely prevents the city from effectively marketing its higher education cultural resources, which, in addition to the Spelman Museum, also include Clark Atlanta's Trevor Arnett Gallery, GSU's Art and Design Gallery and the Atlanta College of Art Gallery.
But Gerber also places some blame on local media for under-reporting significant events related to the city's development as an international mind center. Atlanta was recently selected as home for a new training center (Centre International de Formation des Acteurs Locaux or CIFAL) for the United Nations Institute for Training and Research (UNITAR). CIFAL Atlanta, the 11th such center in the world and only the second in this hemisphere, will focus on commercial diplomacy, information technology and telecommunications and public-private partnerships.
The selection gives the city much-needed global clout and helps in its bid for the Free Trade Association of the Americas secretariat, to be announced next year. But the event went unnoticed by the local media, he says. "The press would rather cover a fraternity party gone out of control, than the larger contributions the colleges make to the community," Gerber says. "That the U.N. recognizes this city as a global knowledge hub is mindboggling."
That UNITAR Executive Director Dr. Marcel Boisard invoked Atlanta's civil rights legacy in his announcement, says Gerber, demonstrates a chance to better build Atlanta's higher education reputation by linking it to the city's civil and human rights legacy. On the ARCHE Web site, he has constructed a huge civil rights database with components such as a photo gallery of protests and riots, which he hopes will eventually form the basis for a true museum exhibit.
The ACVB's Rountree says talks about a Civil Rights Museum are under way, and the reopening of Paschal's further positions Atlanta to promote its civil and human rights history beyond the King and Carter Centers.
"We all seem to agree that for a city like Birmingham — with a smaller population, less higher education and less civil rights history — to have a Civil Rights Museum and tour [which Atlanta doesn't have] is an interesting problem," Broadnax says. "There's little dialogue at the moment but I do expect more."
The Human Connection
The reputation of Atlanta's faculty and students may be first-rate; but the fact of the matter is tourism is a necessary anchor for the successful promotion of any higher education system. Whether it's based on sports, culture or history, it is the human connection people need to create more loyalty to these important resources.
"One thing about Spelman and Morehouse — people are faithful about coming back for reunions, and they bring their families and friends," Tatum notes.
"We know last year at Morehouse Medical College, the graduation of 50 doctors brought 3,000 people," Gerber says. "When you think that every spring, we have as many as 30,000 graduates in the Atlanta area, we could clearly do more to capitalize on tourism."
Individual institution heads are most concerned with the local communities to which they are connected — and rightly so. Clough bemoans having to end many high school partnerships at Tech because of budget cuts. Broadnax notes that community relations at AUC could still improve; he would especially like to reach more high school students. It will be interesting to see whether Emory leaders can convince Druid Hills residents of the need for better transit options in the area as congestion there continues to grow.
For Atlanta to truly take advantage of its college-town potential, government, civic and business leaders need to bring higher education into the forefront of their conversations. "It's all coming together but there has not yet been an 'aha!' moment," says Ira Jackson. "No one has said, 'Well, we have potential for being a great college and university town.'"
He believes the best way to market Atlanta's institutions of higher education collectively is by recognizing its concentration of African-American talent. "The retention of African-American talent in Atlanta may not be explicitly discussed," Jackson says, "but it could make Atlanta the envy of the nation."
Let the discussion begin.