Who's Who In Georgia Media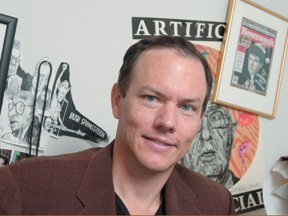 The hot gust of adrenaline blows through an 11th hour jam session, sparking the imagination of hunched over men and women playing monotone staccato jazz on little keyboards: storytellers writing the lyrics of hair-trigger history. The journalists are working under deadline pressure, oblivious to the collective sound around them, fingers focused on the information button, in a rush to deliver the who, what, when, where and why before happy hour. Most type furiously on laptop computers, but one is contemplating a blank sheet of paper, his Rapidograph pen poised to strike. His cell phone squeals. "Can you call me back?" Mike Luckovich asks. "I'm on deadline, and I don't have any good ideas yet."
The caller, who has been there – who lives there – totally understands. Later it is. Luckovich, the Pulitzer Prize-winning editorial cartoonist for The Atlanta Journal-Constitution, has a few minutes to make with the funny. The next morning's two-panel cartoon shows a GOP delegate telling a long-eared caricature of President Bush to "remind Americans of your actions on 9-11." In the next panel, Bush is at the podium clutching an open copy of My Pet Goat, and saying, "Once upon a time ?"
All in all, a productive first day at the GOP Convention for Luckovich. He manages to anger Speaker of the House Dennis Hastert who, unhappy with the cartoonist's questions, thumps Luckovich threateningly in the chest. It was a rare opportunity for Luckovich to get under someone's skin without using his pen.
Most of the people on this Georgia Trend Media Who's Who list haven't had the opportunity to be poked in the chest by the man second in line for the presidency. Still, for these folks, getting some kind of a reaction is one of the highlights of the job. Lots of Type A personalities, lot of high blood pressure in this business. And persistence helps. "Tenacity has been the one quality that has helped me most in my career," says Albany TV reporter Dawn Hobby, an award-winning investigative journalist. "Some call it stubbornness. But when there's an investigation to be done, perhaps an injustice to uncover, it will be anything but easy."
Some on our list are the best at what they do. They have the hardware and the respect of their peers to prove it. Some are known nationally, some are only important in their corner of the state. Some are self-made, and some were born into media families.
This list includes Indians as well as chiefs, some you've heard of, some you may not have until now. It is by no means an all-inclusive "best-of" list. There are, after all, at least 180 newspapers in Georgia, 175 radio stations, 35 TV stations and Lord-knows-how-many bloggers and Web sites originate here. The list is derived from gut instinct more than scientific research, and from the opinions of journalists, educators, politicians; generally those people who pay attention to who is saying what about whom.
So let this subjective list stand as a broad example of Georgia's gatekeepers, the people who determine what we read, watch, listen to, perceive, think or believe: publishers, CEOs, writers, editors, broadcasters, some driven by profit motives, others by a sense of fairness or sacred trust. And still others by a sense of self-preservation: It's all they can or want to do. Or maybe they were just awful at math.
"I thought I'd be an artist for Mad magazine," says Luckovich, who drew his first editorial cartoon at 14, tweaking Richard Nixon for his grandmother. "From then on, it was the only thing I really enjoyed. By the time I was a junior in college, I realized that I had no talent for anything else."
Who They Are
The media are people you love to hate. Radio talk-show hosts often jeer at "The Media" for the way it slants, reports, delivers the news, as if radio talk-show hosts don't swim in the same water. But the media are everywhere, in our collective face, mocking, criticizing, praising, condemning, glorifying, sensationalizing, informing or ignoring at high speed.
One of the most influential news hunters and gatherers on our list has been praised for what it does and slammed for what it didn't. CNN, invented by Ted Turner, changed the TV news industry and has done yeoman's work of covering the biggest stories of our time. Conversely, the station was ripped mercilessly last year for what it failed to do. Chief News Executive Eason Jordan became a target of news bloggers and media watchers when he admitted that CNN routinely stayed mum on stories of atrocities in Iraq in order to protect the lives of innocent people. The network was accused of maintaining an unholy alliance with sadistic leaders like Uday Hussein in order to keep reporters in Iraq.
The media is large monopolistic, international corporations. It's the weekly newspaper in a small South Georgia town, and the paranoid anarchist in his basement blogging about the evil liberal uprising on his personal Web site. It's people trying to make a point, to inspire and even aggravate.
Luckovich genuinely enjoys irritating some people. One of his favorite all-time subjects is former Speaker of the House Newt Gingrich. "Newt was great because he was very abrasive and sensitive, and if you hit him with a cartoon it made him angry," Luckovich says with nostalgic glee. "It's disappointing when a politician wants a copy of a cartoon." Ah, the good old days. It was during Gingrich's reign that Luckovich won his Pulitzer.
Last year Luckovich was pleasantly disappointed when he was invited to the Pentagon, because Defense Secretary Donald Rumsfeld, one of his biggest fans and favorite targets, wanted some original drawings of previously published cartoons. "My editorial cartoons are the way I view events and issues and try to get my point across. They can be mean-spirited because I'll try to use ridicule," Luckovich says. "But when I do something like visit the Pentagon, it was sort a fun thing. I wasn't making judgments about the politicians as much as experiencing what it was like to be around them, and trying to convey that to the reader. Like with Rumsfeld, I basically disagree with everything he's done politically, but on a more human level I kind of like his cantankerous, semi-arrogant sense of humor."
The honest reporter strives for fairness and accuracy, but as long as humans are doing the work, objectivity may fly out the window. And fairness often joins objectivity in the mangled mess on the sidewalk. "I try to stay away from the word 'fair'," says Rick McKee, editorial cartoonist for The Augusta Chronicle. "I consider myself a visual columnist, and my opinion isn't always fair. It's my opinion."
McKee's work appears on a mostly conservative editorial page, and he disagrees politically with many of his favorite cartoonists, like Luckovich. "I come from a different political philosophy, but I can't help but laugh at Mike's stuff," says McKee. "It's just so funny."
Most of the time it is. The hardest thing for any newsperson, whether he or she is writing, telling or drawing the news, is to report on major tragedies like Sept. 11. "People seem to remember those cartoons the most," Luckovich says. "But I really hate doing cartoons about people passing away or tragedies. It's uncomfortable."
For big media messengers, there are layers of insulation that the small-town editors and radio reporters don't have. Also, for the small-town information purveyors, the bottom-line syndrome is much more acute. If AJC columnist Jim Wooten writes something critical of Georgia Power's environmental practices, his publisher John Mellot wouldn't lose a second of sleep. Not so for the small-town editor, who often is the publisher, ad salesman and janitor.
"There are times when I cover something controversial concerning the county commission or school board, and these people are related to, or actually are my biggest advertisers," says Len Robbins, owner and entire news staff of The Clinch County News in Homerville. "They'll try to put pressure on me and I tell them, 'Look, I want you as a client, but I've got to stick to my first priority and tell people what's going on in their community.' My feeling is, if they want to leave, that's fine, it's happened before, I can always find another advertiser. But I only have five big advertisers, whereas in a place like Atlanta or Augusta, they have thousands. If I get the president of the bank mad at me, that can cost us a considerable amount of income."
Then there's the checkout line phenomenon that all small-town reporters have experienced. "I might write something that gets someone really mad at me," Robbins says. "Then I'll see that person at the store, because in a town this size we shop at the same place. Or I'll see him at church. You may write things that upset people, then you have to face them the next day."
Robbins, 36, has done a fine job of it. His paper was voted the best small weekly in the annual Georgia Press Association contest, and he won several personal awards for writing and photography. He grew up thinking, like every other budding young male journalist in Georgia, that he'd be covering the Braves or the Bulldogs for the AJC.
Peer Pressure
One small-town publisher's name kept coming up as we spun our web: Patrick Yost, who owns and edits the weekly Morgan County Citizen and produces a glossy magazine. "When I want my students to know how tough this business is, I want them to go to Rebecca Burns [Atlanta magazine editor], because she doesn't beat around the bush. But when I want them to understand there is publishing outside of Atlanta, I send them to Patrick Yost," says Leara Rhodes, a professor who teaches magazine writing at UGA's Grady College of Journalism and Mass Communications. "Here's a guy publishing a city-style magazine for a rural area, and doing a fabulous job of it."
Several other journalists came up again and again. Bill Shipp, until this year, a regular Georgia Trend columnist, is one.
"I like Bill Shipp's frankness," says Albany TV reporter Dawn Hobby. "He's not afraid to call it like he sees it." Shipp has been calling it that way for about 50 years and seems to have lost none of his touch. "He's still the very best political commentator in the state," says John Sugg, senior editor of Creative Loafing.
Creative Loafing came up as a big blip on a lot of the screens we scanned, mainly because of the paper's investigative stories. The weekly wins truckloads of regional and national awards every year, a surprise to casual readers who can't get past the ads for breast enhancement. AJC Metro Editor Bert Roughton says, "I confess I am a Creative Loafing reader, largely because it's fun to see what they can do with topics that we must cover within such tight conventions."
Don Schanche's name was on a lot of minds as well. He's one of those guys with family ties of a different sort. Schanche's father, Don Sr., was editor of The Saturday Evening Post. Don Jr. is a staff writer for The Telegraph, Macon's city paper, and considered by some of our sources to be the best state government reporter in Georgia. "He has a capacity for understanding and empathizing with people, all people, even the slimiest people," Creative Loafing Editor Ken Edelstein says. "That's what great, great journalists have."
Mark Aldren, executive producer, WGCL-TV, Atlanta
Ed Baker, publisher, Atlanta Business Chronicle
Tom Barton, columnist, editorial page editor, Savannah Morning News
Tom Baxter/Jim Galloway – The Atlanta Journal-Constitution political reporters
Richard Belcher, reporter/anchor, WSB-TV, Atlanta
Brett Bell, reporter, Savannah Morning News
Tom Bennett, writer/editor, The Atlanta-Journal Constitution
Doug Blackmon, The Wall Street Journal, Atlanta Bureau
Jay Bookman, columnist/editorial writer, The Atlanta Journal-Constitution
Neal Boortz, syndicated radio talk show host, AM 750 WSB, Atlanta
Mark Bradley, sports columnist, The Atlanta Journal-Constitution
Otis Brumby, owner/publisher, Times-Journal, Inc., Marietta
Gerald Bryant, managing editor, GPTV, Atlanta
Mike Buffington, editor, Mainstreet Newspapers, Jefferson
Bang Bui, publisher, Atlanta Viet Bao, Vietnamese-English newspaper
Rebecca Burns, editor, Atlanta Magazine
Ryan Cameron, radio morning show host, Hot 107.9 FM, Atlanta
Susanna Capelouto, production manager/reporter, Georgia Public Radio
Roy Chalker, Jr., publisher, The True Citizen, Waynesboro
Tim Chitwood, columnist, Columbus Ledger-Enquirer
Gary Clark, Associated Press, Atlanta Bureau chief
Jeff Dickerson, columnist, Atlanta Business Chronicle
Sonny Dixon, news anchor/reporter, WTOC-TV, Savannah
Lino Dominguez, publisher/editor, Mundo Hispanico, Atlanta
Ken Edelstein, editor/columnist, Creative Loafing, Atlanta
William Fleming, editor and publisher, Early County News
S. Richard Gard, editor and publisher, Fulton Daily Report
Walter Geiger, editor and publisher, andLaura Geiger, general manager, The Herald-Gazette, Barnesville
Sam Griffin, editor and publisher, The Post-Searchlight, Bainbridge
Millard Grimes, Grimes Publications, Inc., Athens
Dawn Hobby, news anchor/reporter, WALB-TV, Albany
Clark Howard, consumer reporter, AM 750 WSB and WSB-TV, Atlanta
Richard Hyatt, reporter/writer, Columbus Ledger-Enquirer
Sam Jones, publisher, The Times-Herald, Newnan
Eason Jordan, chief news executive, CNN, Atlanta
Monica Kaufman, news anchor, WSB-TV
James C. Kennedy, chairman/CEO, Cox Enterprises, Atlanta
Bill Kinney, columnist, Marietta Daily Journal
Hank Klibanoff, managing editor (news), The Atlanta Journal-Constitution
C.H. "Buff" Leavy, IV and C. Vance Leavy owners, The Brunswick News
Mike Lester, editorial cartoonist, Rome News-Tribune
Mike Luckovich, Pulitzer-winning editorial cartoonist, The Atlanta Journal-Constitution
Randy L. Morton, publisher, Statesboro Herald
Rick McKee, editorial cartoonist, The Augusta Chronicle
Waldo L. McLeod, editor/publisher, Donalsonville News
John Mellot, publisher, The Atlanta Journal-Constitution
Burgett Mooney, III, publisher, Rome News-Tribune
Charles Morris, owner/CEO, Morris Multimedia, Savannah
William Morris, owner/CEO, Morris Communications, Augusta
Dink NeSmith, President/CEO, Community Newspapers, Inc., Athens
Pierre-Rene Noth, editorial page editor, Rome News-Tribune
Jim Pinkerton, TV news anchor/reporter, WAGT, Augusta
DuBose Porter, editor/owner, The Courier-Herald, Dublin
Hyde Post, editorial director, The Atlanta Journal-Constitution
John Pruitt, anchor, WSB-TV, Atlanta
Otis Raybon, vice-president of operations, News Publishing Company, Rome
Kay Read, editorial page editor, The Albany Herald
Len Robbins, editor/publisher, The Clinch County News
J. Mack Robinson, chairman/CEO, Gray Television, Inc., Atlanta
Dale Russell, reporter, WAGA-TV, Atlanta
Mike Ryan, editorial page editor, The Augusta Chronicle
Kevin Sack, Pulitzer-winning reporter,
Los Angeles Times, Atlanta Bureau
Judith Sadri, editor, Atlanta Latino (newspaper and Web site)
Andrew Saltzman and Stephen Shapiro, co-presidents, Big League Broadcasting, Atlanta
Maria Saporta, business columnist, The Atlanta Journal-Constitution
Alexis Scott, publisher/editor, Atlanta Daily World
Don Schanche, government reporter, The Telegraph, Macon
Bill Shipp, political reporter/commentator, Atlanta
Frank Ski, FM radio morning show host, WVEE, Atlanta
Jay Smith, president, Cox Newspapers, Atlanta
Carvy Snell, editor and publisher, The Metter Advertiser
Barbara Stinson, editorial page editor, The Telegraph, Macon
Tuck Thompson, reporter, Savannah Morning News
Matt Towery, publisher, James Magazine
Robert Tribble, publisher/CEO, Trib Publications, Inc., Manchester
Cynthia Tucker, columnist, editorial page editor, The Atlanta Journal-Constitution
Doug Walker, radio news, WRGA, Rome
Julia Wallace, editor, The Atlanta Journal-Constitution
Richard Warner, Georgia Business Report, GPTV, Atlanta
Ron Wayne, editor, The Valdosta Daily Times
Dick Williams, TV commentator/columnist and publisher, Crier Newspapers, Dunwoody
Robert Williams, publisher, The Blackshear Times
Jim Wooten, columnist, The Atlanta Journal-Constitution
Patrick Yost, editor/publisher, Morgan County Citizen/The Madisonian
Martha Zoller, TV and radio commentator, WDUN and Georgia Gang, Gainesville