One Of The Finest
Champion and onetime playboy Doug Sanders turns over a new leaf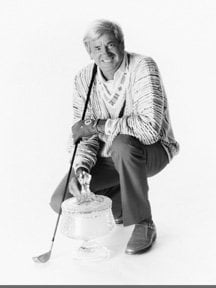 He beat Jack Nicklaus, Arnold Palmer and Tom Weiskopf. He won back-to-back professional tournaments in four different years, and when Ben Hogan introduced the 1967 U.S. Ryder Cup team as the "finest golfers in the world," he was among them.
"He" is George Douglas Sanders, winner of 20 official PGA tournaments and, native of Cedartown, now living in Houston. Doug Sanders was a swinger deluxe on the golf course and a genuine party guy off the course.
Asked if he ever stayed out all night and had a difficult time finding the first tee, Sanders replied, "There were a few days I had a hard time finding the golf course." But that was then, not now. He has not had a drink in 12 years. He is a born-again Christian and a regular attendee at Houston's First Baptist Church services.
From 1956 through 1975, Sanders was golf's most flamboyant, colorful player. He was the PGA Tour's flashiest dresser. He wore shocking pink, lime green and deep purple. His trademark was his wardrobe. At one time he had 40 pairs of shoes and countless sweaters, shirts and slacks of different hues. He even had colored golf tees to match the outfit he was wearing.
But don't get the idea Doug Sanders was just for Doug Sanders. He set up a scholarship fund for underprivileged boys. For 21 years he sponsored international golf tournaments for juniors. He was a major contributor to the United Negro College Fund and the Betty Ford Clinic.
Sanders has a story to tell and he is working on it in the form of a book. He came from a poor family in Cedartown. His father drove a truck and a taxi. Some days he never earned more than 50 cents. Doug said he was 8 years old before he had his first pair of shoes.
He started out caddying at Cedartown's nine-hole course. He and several friends his age owned five clubs among them. When the club pro was out to lunch they sneaked onto the course to play a few fast holes. A nondescript at age 16, he entered and won the LaGrange (Ga.) Open. The next year he won the Southeastern Amateur.
The University of Florida awarded him a golf scholarship, and as a freshman he responded by winning the National Amateur. As a sophomore he won the Florida State Amateur by 18 strokes and as a junior captured the National Jaycees tournament. The city of Cedartown declared a "Doug Sanders Day."
As a 22-year-old amateur, he won the Canadian Open and then decorated the PGA tour for the next 19 summers. He was second to Nicklaus in two British Opens, second to Gene Littler in the 1961 U.S. Open, runner-up to Bob Rosburg in the 1959 PGA Championship and fourth in the 1966 Masters. In 1970, he missed a 28-inch putt that would have given him the title at St. Andrews. He lost to Nicklaus in a playoff.
Asked if he still thinks about that putt, he said, "not more than every four or five minutes." In truth, he does not dwell on near misses; he prefers to count his blessings.
At age 60 he underwent surgery for "torticollis," an involuntary twitching of the neck.
He spent 10 days in a coma.
"I am alive," he said. "I have dined with four U.S. presidents, kings from several foreign lands and a host of Hollywood legends like Frank Sinatra, Jack Benny and Sammy Davis, Jr." His biggest enjoyment came when he was playing a tournament and would take time to kid with the crowd and flash his famous smile. "Smiles make people feel good. I felt if I could make someone feel good, then I did something worthwhile."
In his 19 years on the tour, he almost doubled his 20 championships. He finished second 21 times, third 18 times.
Sanders is 71 years old. Although he is no longer on the circuit, he has made a business of organizing and playing in corporate golf outings, putting on clinics, presenting trophies and telling his story. He lives on 2.3 acres just five miles from downtown Houston. He has one son, Brad, age 44.
"If I had it to do over again what would I change? I never would smoke, I would not party as much and I would make that 28-inch putt to win the British Open."