Friday Night Faithful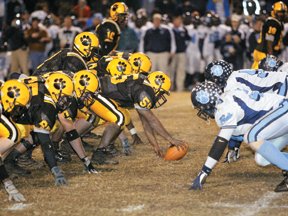 Nick Hyder lay at the center of a green field in a black and gold casket that wasn't intended for him. The earth absorbed a flood of sweat and tears as eight thousand ardent souls — politicians and educators, businessmen and clergymen, commoners and royalty, friends and adversaries — gathered in the blazing Valdosta heat to pay their respects not to a politician or philanthropist, but to a high school football coach. At the 50-yard-line of Cleveland Field, Hyder was cradling a football in his lifeless left arm.
Twice within the next few years Shawn Parrish, general sales manager of a local Dodge dealership, returned to the football stadium with newborn sons, en route from the hospital where they'd just begun their lives. "Much to my wife's dismay, we rode by the stadium, rode by real slow," says Parrish, who was there to see Hyder off on his final journey in May 1996. "I told my boys that this was a great place, where they would spend a lot of Friday nights, either watching or playing some great football games."
High school football is life and death, in Valdosta and all across this sports-mad state, for boys on the verge of manhood, for adults living vicariously through children. It's only a few, short, splendid years for the players, a moment of their lives really. As Gen. George S. Patton said, "All glory is fleeting."
For the avid fans, the days of the year not occupied by high school football season are restless hibernation. "It's hard to wait for Friday night to come around," says Kevin Weldon of the Valdosta Touchdown Club.
Estimates are that about 250,000 fannies are planted in high school football stadiums across Georgia on any given Friday night in the fall as 350-plus teams clash in five different school classifications (A to AAAAA). Thousands more fans listen to local radio broadcasts. Longtime traditional powers from South Georgia, like Valdosta and crosstown rival Lowndes County (which last won state titles in 1998 and 1999, respectively) have been countered by equally powerful, newer programs from Metro Atlanta. Parkview High, in Gwinnett County, won three straight championships (2000 to 2002) before Camden County returned the large-school state title to South Georgia last year.
The regular season usually kicks off in late August, ending in early November. Then statewide attendance dwindles gradually as the best teams knock each other off in the playoffs. State champions are crowned in December, and the season is over.
For the coaches football is often more than a profession. It's a calling. It's religious. The late, great Hyder was almost as renowned for his piety as he was for winning state championships. He has lots of company in the evangelical-soldier school of coaching. "Faith and love are the main ingredients you need to succeed," says Darrell Caldwell, head football coach at Mays High School in Atlanta. "Faith in what you believe, love for each other. All of the other things come with the territory. This is not a get-rich occupation for me, it's a passion, and I've always known that."
And yet, it is a business, actually several businesses — sports, education and religion. Many coaches are quick to thank the Lord for their success on the football field, quick to point out that it's all about the kids and preparing them for life, and quick to move on to greener pastures. "I figured out at an early age that the only way you're ever going to make any money in this business is to first be lucky to win a few games," says Charles Winslette, head coach at Stephens County High School at this writing. "Then, when someone wants to recruit you to their school, you should listen. And they should be willing to pay you because they think you'll bring the same success to their school. In my career, I've been fortunate and blessed."
And mobile. Almost every time a top head-coaching job opens up Winslette's name is mentioned and he listens. He has worked in every corner of the state: Cedar Shoals High School in Athens, Fayette County High School, Statesboro High School, West Rome High School, Greene-Taliaferro High School, Coffee County High School, Tift County High School and now Stephens County High in Toccoa. He has a large collection of regional championships and coach-of-the-year honors, and two state titles on his resume. Through the 2003 football season, after 30 years in the profession, he was ninth among Georgia's active head coaches with 228 wins, and one of the state's highest paid coaches, earning about $90,000 a year.
PAY TO PLAY
A 1998 report by The Atlanta Journal-Constitution found that the average football coach was paid 55 percent more than the average teacher, and that almost $80 million in state tax dollars went toward coaches' teaching contracts, while a third had minimal or no teaching duties. Look at the Georgia Department of Audits and Accounts' annual report of school salaries and it's easy to pick out the football coaches just by scanning down the "personal services" column, which lists salary. Other than administrators, it's usually the higher number, and it doesn't include the perks and bonuses offered by local booster clubs. Of course, Winslette and his peers counter that most of them work at least 60 to 70 hours a week in pressure-cooker conditions.
A former star baseball player for the University of Georgia, Winslette insists loyalty among coaches is key to his success, and is equally insistent that loyalty should be rewarded. His defensive coordinator at Stephens County, Marvin Barton, has been with Winslette for 27 years. Assistant coaches Ken Burnette and Jim Keith have been on Winslette's sideline for at least 14 years.
"You've got to hire good assistant coaches and you've got to pay them well enough so they won't go off looking for other jobs," says Winslette, whose words hint that he may be looking ahead to the next new thing after five years in Toccoa. "We've had a problem here lately, with state and local budget cuts and all. Football is a little different than most other high school sports in that you have got to work in June and July, and I've always paid my coaches for working those months, which is only fair.
"You can't tell somebody I want you over here in the weight room or working four days a week, but I'm not gonna pay you for it. That's basically what we've run into here lately. Our board of education here has told us they appreciate the work we do during the summer, and we want you to keep doing it, but we just can't pay you for it."
And yet, at Stephens County there is always pressure to keep winning. In five years there Winslette's teams won 46 games and qualified for the state playoffs every season. That success and the support of the community helped the school rebuild its stadium and other athletic facilities. The support has been good enough to easily afford the cost of suiting up a team at an average of $700 per player (helmet, pads, jerseys, pants, shoes).
In Valdosta, the capital of high school football, it's a moot point. The city boasts both Lowndes County High and Valdosta High, and both teams routinely vie for region and state titles, especially Valdosta High, which has won 813 games, a national record. The Wildcats' roster usually has at least 90 players, who train in a state-of-the-art weight room and will play this year on a new artificial turf field in revamped Cleveland Field at Bazemore-Hyder Stadium, where they will once again outdraw the local college team, Valdosta State, probably by a 7-to-1 ratio.
But in places like Glascock County High School, where the football team lost 82 straight games in the 1990s, just getting enough kids to play is a trick. "It's like pulling teeth," says Glascock's 28-year-old head coach, Chris Kelly. "We have a good participation ratio, but that isn't a lot of players when you only have 60 or 70 boys in the entire high school like we do."
In 2003 Glascock started out with 27 kids on the football roster. By the end of the season they were dressing out 20. Kelly, who graduated from Glascock during its infamous losing streak, remembers when the team had 12 players on the roster for its game against mighty Lincoln County and Georgia's all-time winningest coach, Larry Campbell. Still, the people of tiny Gibson (pop. 703) support the Glascock Panthers as best they can by providing a good turnout for most home games, and that money at the gate puts shoulder pads on next year's Panthers.
It helps that the Panthers are the only game in town, in the county for that matter. For Mays High School, which shares Atlanta's Lakeside Stadium with other schools, and proceeds with the other nine city high schools, it all starts with winning games. "It's the single most important recruiting tool," says head coach Caldwell, who led the Raiders to an 11-1 record in his first season last year. His recruiting base is Young Middle School, where departing eighth graders may choose from among several other city high schools.
The football parents at Mays, a Class AAAA school with a student population that is almost 100 percent African-Amer-ican, are pleased with Caldwell's results on the football field and off of it. The 37-year-old Caldwell is a good investment in a city school system that routinely pays its head coaches less than $60,000. Caldwell, who graduated from Mays, helped 24 players from last year's squad land college scholarships, a total that far exceeds mighty Valdosta High, where head coach Rick Darlington (who has a salary of about $90,000, plus a new Dodge pick-up truck that is provided by the Touchdown Club, along with other perks) had 14 players gain college scholarships.
WINNERSVILLE, U.S.A.
Many in Valdosta would argue that Cleveland Field at Bazemore-Hyder Stadium is the city's biggest and best church, based solely on the diversity of the congregation that worships there on Friday nights in the fall. "The rich man and the poor man stand side by side in this cathedral," notes former Touchdown Club president John Nitschke, one of the 2,500 or so Wildcat season ticket holders. "On one side of me is one of the best surgeons in the South, on the other is a sanitation worker. In this stadium we're all equal. One reason integration occurred here with so few problems is Wildcat football."
To hear some tell it, there never was a question of black and white in Valdosta, but rather who would wear the black and gold of the Wildcats. The year before integration, recalls Touchdown Club member Roy Mitchell, Valdosta's innovative head coach Wright Bazemore (268-51-7, 14 state championships, 3 national titles from 1941 to 1971, with time out for World War II) was a frequent visitor to football practice at Pineville, the local African-American high school. "He'd leave smiling ear to ear," says Mitchell, who played his football under Hyder.
If Bazemore is Valdosta's patron saint, then Hyder is its Holy Ghost. His record for the Wildcats was 249-36-2 with seven Georgia and three national titles from 1974 through 1995. Bazemore was the gruff, tough old-school coach. Hyder was more the Christian gentleman who raised a player's spirits. Bazemore, who had the black and gold coffin made for himself, donated it to Hyder, who collapsed and died suddenly in the high school cafeteria in May 1996. (Bazemore reportedly had another Wildcat-colored casket made for himself by the time he died in June 1999.) Hyder's friend David Waller, the former Valdosta school board president, donated a space in the Waller family plot at Sunset Hills Cemetery for the fallen coach. "He was my best friend in the world," says Waller, who played for Bazemore 50-odd years ago. "That was a tough time for all of us because everybody loved Nick. Even his bitterest rivals at Lowndes County and Colquitt County liked him. And he knew the Bible better than most preachers."
The Valdosta High football coach is one of the two most famous men in town. The Lowndes County coach is the other. When the two crosstown rivals clash every fall, they call it the Winnersville Classic, and at least 12,000 fans pack into one of the schools' stadiums. Darlington, who took Valdosta to the state championship game last season, his first at the helm (they lost to Camden County) has his own TV show during the season.
Like Hyder, he is a religious man. And his church, Bazemore-Hyder Stadium, is getting a $7.5 million upgrade, including new locker rooms, a football museum, new bleachers (including armchair seating for season-ticket holders and improved handicapped seating), press boxes, an elevator and artificial turf. All of this without disturbing the legendary ghost who roams the east end zone, where the new visitors' locker room is being strategically located. A Special Purpose Local Option Sales Tax is paying for most of it.
Valdosta's stadium seats about 12,000. Last year they averaged 7,500 in home attendance, and most of their games are home games because Valdosta "buys out" some opponents. That's the practice of persuading an opponent to switch a game from its field to your field — Valdosta pays those opponents $8,000 per game for the privilege. Valdosta football's ticket revenues for 2003 were $500,000, more than enough to accommodate the school's $350,000 athletics budget ($300,000 for football), with plenty left over for that new pickup truck for Darlington, coaches' bonuses and the reserve fund. When your touchdown club has 1,400 active, rabid members, these things happen.
"We always project revenue for at least three playoff games," says Terry Daniels, the business and ticket manager for the athletics department. "Anything short of that and we're cutting into our budget pretty heavily."
Nitschke says Valdosta High's football coach is more CEO than coach. Which would make Daniels the CFO. Daniels is overseeing the stadium project, handling every aspect of the athletics department financial management. He's the guy who sees that Darlington and his coaching staff get their $10,000 to $12,000 in audiovisual and computer equipment, that the players have uniforms and tape to wrap their ankles — 100 cases of tape a year, to be exact, and Darlington wants black tape.
The pressure to win — "and win the right way," Waller says — is intense at Valdosta. Mike O'Brien, a longtime assistant under Hyder, ascended to the head coach's post when the boss died. In seven years O'Brien won 70 games, including a state championship. But he was released following the 2002 season. "It was time for us to evolve," Waller says.
O'Brien, now the head coach at Woodstock High School in the suburbs north of Atlanta, says the Touchdown Club had a lot to do with his ouster. "There was a group that wanted more input into who the new coach would be after Coach Hyder died," says O'Brien, who ended Woodstock's 26-game losing streak last year and coached the team to a respectable 5-5 record. "There's a different sense of appreciation here [at Woodstock]. It's a young program, but I'd like us to reach the point where we have the same expectations we had in Valdosta."
So the beat goes on. O'Brien would like to build the same kind of rabid community support that helped lead to his ouster in Valdosta. "The more people get involved, the better situation for the kids, the better facilities, the bigger crowds, which pumps up the kids and keeps the fans coming back," O'Brien says.
In Valdosta, there's no problem keeping the fans coming back; but for the real die-hards, it's a long, long wait from the end of one season until the start of another.
"There's kind of an empty feeling after the last game of every season," Valdosta's Roy Mitchell says. "It's like, what are we gonna do now?"