Everybody's All-American
Marion Campbell soared as both a player and a coach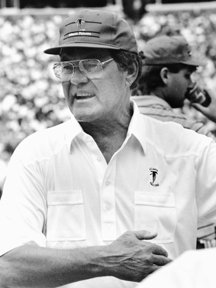 There was so much talent on the 1950 University of Georgia football team it was nearly impossible for anyone to stand out. Nine Bulldogs made it in the pros and six of these, ends Bobby Walston, Harry Babcock and John Carson; tackles Dick Yelvington and Marion Campbell and center-linebacker Art DeCarlo became All-Pro.
But if there was one superstar among them it was three-time All-Southeastern Conference, two-time All-American and one-time All-Pro Francis Marion Campbell, the "Swamp Fox" out of Chester, S.C. Campbell was big (6 feet, 2 inches; 238 pounds), quick and strong. He was a devastating blocker and such an immovable rock on defense that foes carefully avoided running plays his way.
The late, legendary Coach Wally Butts flatly called him "the best tackle I ever had."
A 60-minute man, Campbell was a two-way selection on almost everyone's All-America team. One All-America team selector, Stanley Woodward, said of Campbell, "When he gets his shoulder into a defensive lineman or linebacker and starts driving with his powerful legs there is no stopping him."
The late Ralph (Shug) Jordan, Campbell's line coach at UGA, said of him, "Not only was he the best defensive lineman I ever coached at UGA but he was a one-man wrecking crew against my first Auburn team. Georgia whipped Jordan's Tigers, 46-14, with Campbell carving out huge holes in the Auburn defense.
As impressive as Campbell was as a college player, he was equally noteworthy as a professional, first as a player and then as an assistant coach. He was a linebacker and defensive tackle for the 1960 National Football League champion Philadelphia Eagles and was twice selected to the NFL Pro Bowl. As an assistant coach in charge of defense he built two of the most successful defensive units in NFL history – the L.A. Rams' "Fearsome Foursome" and the Minnesota Vikings' "Purple People Eaters."
For the Eagles, he coached units that twice led the NFL in scoring defense during a stretch of four consecutive playoff appearances including a spot in the 1981 Super Bowl.
Said Dick Vermeil, Eagles head coach when Campbell tutored the defense, "There was no better football coach in America than Campbell. When we went to the Super Bowl, I got the credit because I was head man; but we never would have gotten there without Marion and his staff."
As a two-time Atlanta Falcons head coach, Campbell inherited and was stuck with a bunch of underachievers. In parts of three seasons (1974-1976), his teams posted a 6-19 record, creditable considering the team's acute shortage of talent.
Said Claude Humphrey, the Falcons' All-Pro defensive end under Campbell, "Honesty is something you do not find in this game, but Campbell was always a straight shooter. He was above board with me and everyone else." Campbell had 44 years with the pros, 36 as a coach and eight as a player.
Today Campbell is 75 years old and weighs no more than he did when he played for the Bulldogs. He lives in St. Augustine, Fla., with his wife, the former June Roberts. The Campbells, childhood sweethearts, have two children – a daughter, Alicia Johnson, and a son, Scott, who attended the University of Georgia on a football scholarship and now works for a Yellow Jacket, Pepper Rodgers, as personnel director of the Washington Redskins.
Campbell grew up in Chester, a town of 6,500, about halfway between Columbia and Charlotte, N.C. At Chester High School, he is remembered as the only football player in the school's history twice named outstanding prep player in the state, twice selected for the S.C.-N.C. Shrine prep All-Star game and the only South Carolinian picked on the first Wigwam Wisemen All-America team.
Campbell was sought after by most every college football coach in the South but picked Georgia "because line coach J.B. Whitworth told me I would be a starter on the freshman team and a starter on the varsity as a sophomore." Campbell not only started as a sophomore, he was named to the All-SEC team. He was named Georgia's most outstanding lineman as a junior and senior and was top lineman in the College All-Star game, the Blue-Gray game and the Senior Bowl.
Says Bulldog historian Dan Magill, "Regardless of position, Campbell was one of the greatest football players Georgia ever had."