Independent Counsel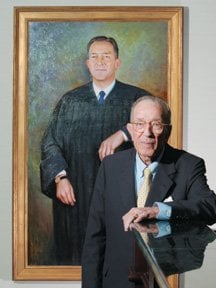 FROM WHERE GRIFFIN BELL SITS, rocking back in his desk chair in a 43rd-floor office looking out on downtown Atlanta, there are no sacred cows.
Bell's lifetime of public service and the private practice of law abounds with examples of legal acumen and uncommon wisdom overlaid with an unwavering integrity. Yet the man nearly everyone calls Judge Bell — a former appeals court judge, former U.S. Attorney General, former counsel to the elder President Bush, and longtime partner at one of Atlanta's most distinguished law firms — has scant interest in reflecting on past glories.
But he does love a good story. And, indeed, he is a master storyteller with an often wickedly irreverent way of skewering the mighty, yet not above offering up a laugh at his own expense with a deadpan delivery and a twinkle in his eye.
Near the end of his tenure as attorney general, Bell was asked by a New York Times reporter what advice he had for his political patron and president, Jimmy Carter, whom he had known since their childhood in Americus. "He ought to drink more," Judge Bell observed. Asked to rank his own performance on a scale of one to 10, without hesitation, the attorney general said 11 — "That's a 10 with no false humility."
Bell was regarded as a notable exception to the prevailing view in the Washington of the late 1970s that President Carter's inner circle of Southerners was an unsophisticated bunch of workhorses who took themselves far too seriously. One of Bell's best yarns is a tongue-in-cheek account of how he and close friend Charles Kirbo floated a rumor, reported in earnest by a Yankee press corps, that a down-home concoction they dubbed "rooster pepper sausage" had aphrodisiac qualities.
Capital Stories
There are many stories about the Carter years, and Bell does not flinch from recounting those that some consider unflattering, including one about a decision that infuriated the president in the early days of his administration. The case in question involved a 12-year-old Hispanic boy in Texas. A Dallas policeman investigating the burglary of a gas station soft-drink machine shot and killed the handcuffed boy while the two were in the officer's squad car — he was conducting a Russian-roulette interrogation with a .357-Magnum revolver held to the youth's head. The officer, who said he meant to scare, not kill, the boy, was given a five-year prison term. Many considered the sentence a miscarriage of justice.
Under considerable pressure, Carter asked his attorney general to scrutinize this particular case to see whether federal prosecution was warranted. It was a time when public outcry over lenient sentences in state courts had prompted re-examination of the Justice Department's prosecution policies in civil rights cases. After a full inquiry, Bell concluded that heinous as the crime and the inadequate punishment might be, the constitutional prohibition against double jeopardy meant that prosecuting the case again could not be legally justified.
Asked by Carter what recourse the president now had, Bell offered his customarily frank advice. He told the president that he could fire him and hire another attorney general who might reach a different conclusion. "He told me, 'I'll certainly consider that!'" Bell recounts with a laugh. "I'd brought great embarrassment upon him."
But Carter withstood the political firestorm over the decision not to launch a federal prosecution, and he also refrained from firing his fiercely independent attorney general.
"I always thought that was a high point in how government ought to operate," Bell says.
For Bell, what's instructive about this tale is that the rule of law is a principle that simply must not be breached. Not for politics, or friendship, or even for the sake of a 12-year-old boy who didn't deserve to die.
That profound faith in the Constitution motivates and explains many of the actions Bell has taken in his life. To him, endeavors on behalf of our government are a noble duty and a compelling obligation.
That is why, after relinquishing his partnership role at King & Spalding earlier this year in favor of a role as senior counsel, he accepted an appointment to the federal Military Commission Review Panel, a civilian advisory body that can review all verdicts and sentences in military trials of suspected terrorists.
New Challenge
At a time of life when he has earned the right to hunt quail and play golf whenever it suits him, the almost 86-year-old jurist now will be thrust into divisive debates over U.S. involvement in Iraq and Afghanistan, and concerns about the legality of detaining captives at Cuba's Guantanamo Bay without hearings or charges, some for almost two years. The four-person panel was appointed by Secretary of Defense Donald Rumsfeld; appointees serve two years with the temporary rank of major general in the U.S. Army. The panel will review cases and make recommendations to the defense secretary and the president, who have final authority in military trials. The body is advisory only; it has limited authority to override any tribunal.
A staunch supporter of President Bush, Bell scoffs at criticism that the review panel is mere window-dressing for the administration's troubling treatment of individuals tried as threats to national security. "That's why they're putting people like me on the panel who are independent-minded," he says with impatience at the suggestion he might render anything but impartiality.
Which does not mean he is unwilling to declare his political views on the war against terrorism, or anything else. "I think President Bush is doing a good job on this war. I do. It's hard to manage. It's almost like a religious war. It's a movement. It's worldwide, and you've got to find the people and stop them before they do anything. That's not the way wars are fought ordinarily. It's hard to keep the American people focused on that," he says.
With derision, Bell speaks of the difficulty in obtaining greater European support to stabilize Iraq, and he dismisses the United Nations as of little use to the United States.
"We have to look out for our own country," he declares. "Doesn't mean we shouldn't cooperate with other countries . . . We should get these more responsible countries — the ones that can afford to send people to participate in security. The Europeans don't like to have armies — they just depend on us. Britain's the only one with an army. The other people have parade soldiers."
A sometime golf partner of the current president's father, whom he served as counsel during the Iran-Contra investigation, Bell shrugs off those who would question his Republican allegiances after his many years working in support of Democrats.
"Even if Bush wasn't running, I wouldn't vote for Kerry. He's what I call an internationalist. He would turn every problem over to the United Nations, which is an ineffective organization. I think Bush will win. I am voting more for Republicans these days," Judge Bell says.
Although he came to the attention of the state, and then the nation, laboring on behalf of Democrats, Judge Bell actually cast his first presidential vote for Republican Wendell Willkie back in 1940, believing that two terms was enough for Franklin Roosevelt. The decision was not well-received in his hometown of Americus. "People said I was a German sympathizer," he recalls with a laugh.
There was a time, of course, when Judge Bell helped engineer one of the most memorable Democratic victories in the state of Georgia as co-manager of John F. Kennedy's presidential campaign. Kennedy carried Georgia by a larger percentage of the votes than he won anywhere else, including his home state of Massachusetts. When Bell reminded his mother of the religious affiliation of the candidate he had decided to support, her comeback was: "Better to support a Roman Catholic than a Republican."
President Kennedy subsequently appointed him as a United States Circuit Judge on the Fifth Circuit Court of Appeals, a key battleground in the struggle for civil rights in Deep South states.
In the decades since, Judge Bell has made sense out of many cases and controversies. In typically succinct fashion, he sums up his philosophy and expresses little patience for those in Washington and elsewhere who do not tackle problems head-on and solve them in short order.
"My way of practicing law — or doing anything–is to find out what the problem is and then set out to solve it. You don't need to study it to death. I never thought you ought to have a long lawsuit about everything. You need to be a quick learner. After you get the facts together, you start making sense of it."
Although he spends less and less time in his law office and more at a beloved Sea Island retreat, that "uncommon sense" of Judge Bell's, which was the title of Reg Murphy's 1999 book about his extraordinary life, still makes him a sought-after source of counsel.
He relishes the time with the family of his only son, Griffin Bell, Jr. After the death of his wife, Mary, to whom he was wed more than 50 years, Bell remarried almost three years ago. He and Nancy Kinnebrew Bell have known each other since childhood, and together they travel and play golf. Accepting congratulations upon his return to the office after the nuptials, Judge Bell said wryly: "It's always good to have someone around to call 911!"
Of late, he has found the wealthy and the powerful lining up to honor him. When the Atlanta Bar Association bestowed its Distinguished Leadership Award on him in February, three U.S. presidents sent letters of commendation to mark the occasion. Jimmy Carter, in remarks prepared for the award presentation, said, "Many of his notable qualities — intelligence, knowledge of and belief in the law, exceptional good humor and independence — that I so admired became known to the nation over the next two and a half years [that Bell served as attorney general]. There were times as president when I thought he may have taken his independence too far. . ."
As long as he possesses health and vigor, Bell intends to continue the work he loves. He has been involved prominently in advising the UGA Foundation in its battle with the University.
"I think I'll keep going for two or three more years, anyway," he says.
The answer to why he persists in showing up at his desk lies in his conviction that the law represents a high and noble calling. Over the course of a remarkable career brimming with achievement, Bell has found within his profession the fulfillment of his own personal values. Some of those values are as simple as self-deprecating humor and old-fashioned courtesy, others as profound as patriotism and justice. And always, the determination to remain independent — what he calls the duty to offer his best judgment, even if the people who pay him consider it unpleasant and unwelcome.
As Judge Bell is fond of saying, quoting the late Hughes Spalding, Jr., who brought him to Atlanta to practice law 50 years ago: "A lawyer ought to be more than a pallbearer."