The Goodness Of His Deeds
Juvenile Court Judge Aaron Cohn is a former Bulldog tennis standout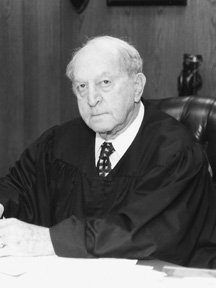 There is a passage in the Jewish prayer book that reads, in part, "only by obedience to Thy commandments, by faithfulness to our duties, by the goodness of our deeds, can we make our worship acceptable to Thee."
No one could live that passage more than 88-year-old Aaron Cohn, perhaps Columbus' most beloved citizen, the longest serving (40 years) juvenile court judge in America and one of the greatest Georgia Bulldogs of them all.
Judge Cohn, a competitive tennis player until age 85 and a former University of Georgia tennis team captain (1937), has given of himself to his city and his fellow human beings, not until it hurts, but until "it feels good."
Last year the Chattahoochee Valley-Fort Benning chapter of the U.S. Army Association selected Judge Cohn for the 2003 Cliff Livingston Citizen/Soldier of the Year Award. The honor is presented annually to a former member of the U.S. military who has achieved success in other areas of life, especially in the community.
In World War II, as a lieutenant colonel in the U.S. Cavalry, Cohn led his unit into the concentration camp at Ebensee, Austria. As a member of the Jewish faith, it gave him particular pleasure to liberate a death camp where thousands of Jews had been murdered. He was honored by the U.S. Holocaust Commission for his role in the liberation.
Cohn served as Combat Operations Officer for General George Patton's Third Army in four major campaigns: Northern Europe, Central Europe, the Ardennes and the Rhineland. He fought in the Battle of the Bulge. When the war ended he returned to his native Columbus, where he immediately joined an Army Reserve unit. After 30 years' service, he retired as a full colonel.
Eight years ago, Cohn received the Jim Woodruff, Jr. Memorial Award from the Columbus Chamber of Commerce for his "continuous service to humankind." Former Columbus Mayor Frank Martin says, "Of all the lawyers and judges I know in Columbus, Judge Cohn is the most well-liked and most respected. He earned the respect because he has always been honest and upright."
Cohn is a former chairman of the Columbus March of Dimes who organized the polio foundation board. He coached Little League baseball and Pop Warner football for 10 years and then served on the board of directors of both for another decade. He is an active member of the Columbus State University Athletics Board and rarely misses a home basketball game. Despite cardiac bypass surgery in 1983, he and his partner won a Georgia State Tennis doubles championship in 1984.
His actions have garnered much attention: He's been honored by the Georgia legislature (both the house and the senate) for distinguished service to the state of Georgia; UGA presented him with the Distinguished Alumni Merit Award; and the American Criminal Justice Association honored him for outstanding contributions to the Juvenile Justice System.
Although he was widely respected for his contributions throughout the Columbus community, he did not neglect his synagogue. The only home Bulldog football games he misses are those that fall on a Jewish High Holy Day.
Cohn was born in Columbus to a Lithuanian mother and a Russian father. He literally grew up at the Columbus YMCA, for which he won a state featherweight wrestling championship, state table tennis title (he beat his lifelong friend, Dan Magill, in the finals) and helped win 10 state volleyball crowns.
He received a tennis scholarship to the University of Georgia but lost it when the football coach took it away and gave it to one of his gridders. Cohn remained on the tennis team and lettered three consecutive years ('35-'37).
When Cohn was presented with the opportunity to become a Superior Court judge, he turned it down because he liked working with kids in the juvenile system. What words does he have for today's law students? "You must be caring about the people you represent and the community in which you live. Never take a client you don't believe in, and keep in mind that you do not have to be aggressive to be successful."
Judge Cohn is married to the former Janet Ann Lillenthal; this month they will be celebrating their 63rd wedding anniversary. They have three children and seven grandchildren.