Banking On A Sense Of Place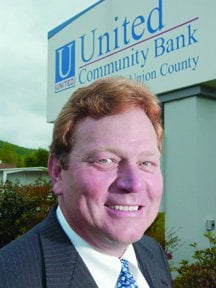 It would be difficult to find three more dissimilar banks than those featured in this section. One, of moderate size, is rooted in the inner city and endures for the sole purpose of serving a disadvantaged minority clientele. Another, based in a rural mountain community, has more than $4 billion in assets and tendrils that reach across region and state lines, absorbing other banks as part of its relentless, careful growth pattern. The third and oldest bank – and one of Georgia's smallest – has one branch and has lived in the same brick building in the same remote west Georgia village for decades. It will grow only as fast as its clientele grows.
But there is one thing that ties these three diverse institutions together: By their very nature, their very reason for being, they couldn't exist anywhere else.
Capitol City Bank and Trust grew out of its founder's interest in and advocacy for the urban neighborhood where he grew up. United Community Bank, Inc. was born in the Appalachian foothills 50 years ago as a small local bank and its CEO, a local mountain boy with large aspirations, won't live anywhere else. The Peoples Bank of Talbotton is only 30 minutes from burgeoning Columbus and massive Fort Benning, but it survives on the dollars of a poor community. "Other banks have tried to expand here," says Peoples Bank president Gus Persons. "But they couldn't find the customer base they required."
United Community Bank
Blessed With Tallent
Jimmy Tallent, president and CEO of United Community Bank Inc., has a large map of his known universe hanging on his office wall. It shows all of Georgia, parts of the Carolinas, eastern Tennessee. He has marked all of the counties United has expanded into with red ink, an ironic choice of colors considering United's astonishing growth. Since Tallent came aboard in 1984, the company has evolved from one small-town bank with $42 million in assets into a $4.3 billion colossus with 78 locations in three states.
Blairsville probably won't make anyone's list of major financial centers, yet that's what this northeast Georgia community has become. United is now the third largest bank holding company based in Georgia, behind only SunTrust and Synovus. "We've taken the resources of a large company and delivered them into a small community banking environment," says Tallent, 51. "And we've done that without cutting the heart and soul out of our banks."
United transformed into a holding company a few years after Tallent arrived and has evolved into 21 community banks, all bearing the United logo, run by local presidents and boards. "The customer walking into a branch office doesn't care how big our company is," Tallent says. "He cares about picking up the phone and talking with the lender he's been doing business with for 10 years, or walking into the lobby and seeing the teller he enjoys doing business with. It's a relationship. Even though we may be reasonably large as a company, we want to operate like we're still very small."
When Tallent talks about his growth strategy, he doesn't think in terms of one huge acquisition every few years. In baseball it's called "small ball." He merges with a high-performing bank, uses some of those profits to reinvest in another bank. "That becomes a strong-growth bank, then we take the earnings from two strong banks and reinvest in a third one," he says. "You're not gonna see this company hit a lot of triples and home runs, but we hit a lot of singles and, occasionally, doubles. What generally happens is we get the bases loaded and somebody scores on a regular basis."
Like a good baseball general manager, Tallent made it a priority to assemble a roster that would turn his good team into a powerhouse. United had eight banks and $2.3 billion three years ago. Then Tallent brought Chief Financial Officer Rex Schuette to Blairsville from Boston-based State Street Bank and Trust in 2001. Executive V.P.s Ray Williams (risk management) and Craig Metz (marketing) left BankSouth to join United in 2002. United has since added 13 banks, $2 billion assets and more red marks on Tallent's big map.
United's footprint has five distinct toes: rural north Georgia, western North Carolina, eastern Tennessee, Metro Atlanta and the Georgia coast. "We want to be located where people live, work, play and retire," Tallent says. United made its debut on the Georgia coast with a merger last year in Brunswick and opened in Savannah earlier this year. But the company's most rapid growth area is Metro Atlanta. The merger in March with Fairbanco Holding Company of Fairburn gives United more than $1 billion in Metro Atlanta alone, where its deposits have increased almost 500 percent in two years.
Part of Tallent's plan from the beginning has been to build a franchise in some of the country's fastest-growing markets. Of the 100 fastest-growing counties in the United States, for example, 20 are located in Georgia, and United has banks in 11. The growth rate in north Georgia from 1990 to 2000 was more than 33 percent, compared to a 13 percent national average.
Red ink or not, Tallent is leaving a golden footprint. Carolina Community Bank in Murphy, N.C., 25 miles up the road from Blairsville, had $55 million in assets in March 1990 when United acquired it. Today the figure is $930 million.
The proof of the pudding, Tallent says, is what United has managed to do for its 8,500 shareholders. Several years ago the company reached a milestone when it moved to the Nasdaq. "We needed a more efficient way for our shareholders to buy and sell shares," Tallent says. Since then, its stock has split twice. Last year United stock was up 35 percent. For 10 years earnings per share has averaged 17 percent. "If you invested $10,000 in 1993, it was worth $120,000 10 years later," Tallent says. "I call that job security."
Capitol City Bank
Appetite For Progress
There is just one bank in the Pittsburgh community southwest of Turner Field in Atlanta, and it's run by a bunch of kids. The Gideon Elementary School Bank is teaching 200 students financial literacy, accountability and job skills in a tough urban neighborhood known more to outsiders for its shootings, drug busts and razed houses.
"So many negative things happen in and around the community," says George Andrews, president and CEO of Capitol City Bank, and founder of Gideon's school bank program. "The crime rate in the African-American community is twice the rate of what you'll find in a majority community. The unemployment rate is two to three times higher and, this is very important, you have more African-American men between the ages of 18 and 29 in prison than you do in college.
"What we're trying to do is empower ourselves, make our communities better. It's important that we show responsible leadership and ownership in our communities, be role models for young people. I can't think of anything more vital than that."
Andrews, who grew up a few blocks from his bank's main office in the West End district, makes no excuses or apologies: Capitol City Bank is an African-American institution, first and foremost. "We accentuate that fact," he says. "We turn no one away, but we make no bones about it. We're an African-American bank serving an African-American community."
In 1994, after years of clocking in for Trust Company and the National Bank of Georgia, Andrews founded Capitol City Bank & Trust, specifically to help revitalize the economically-challenged, predominantly African-American neighborhoods in southwest Atlanta.
Before opening the bank, Andrews spent 18 months raising capital, "beating the bushes," he says. His initial plan was to approach three basic sources: corporate Atlanta, black professional athletes and the community itself. The first two, he figured, would provide a vast majority of the capital. But Andrews says the deep pocket sources refused to bite. "I struck out completely with them. I realized that if this bank was going to open and survive it had to be owned by the folks who live here, so we focused all of our attention on individuals within the community." That meant a lot of roadwork to track down a lot of $500 investors.
Today, the bank has 1,300 shareholders, $115 million in deposits, $130 million in assets and hasn't lost sight of its basic mission, which includes a good deal of creative lending to what is often the poorest segment of Atlanta. "We make a lot of commercial loans to individuals who have a wonderful opportunity to, let's say, do some major work on the fifth runway at the airport," Andrews says. "They need money because they'll have to carry the project for a while. So we get familiar with the work contract, get familiar with the individual. His balance sheet looks weak, there's very little collateral. It takes a lot of time and energy. But we feel if we can get these people to that next level, then the next time around they can get traditional financing. But you start out with the hand-holding approach. You have to have an appetite for that kind of lending."
On a busy Monday afternoon the main branch is filled with customers at teller windows, in line or sitting with loan officers. A man named Floyd is waiting to discuss a commercial loan for his start-up business. "They'll take the time to listen to me here, whereas the bigger banks . . . " he says, finishing his sentence with a punting motion.
Capitol City's creative financing has helped local churches and community centers grow in some of Atlanta's poorest census tracts. The bank has helped keep struggling Southwest Community Hospital up and running. But it's not as if Andrews is providing charity. Two years ago the bank foreclosed on a neighborhood church and homeless shelter after spending two years trying to find a workable solution. Business is business.
So Andrews stresses financial literacy and self-sufficiency in the community. Student banks in local schools are one example. The bank also offers free seminars in financial planning as well as free tax and accounting services.
Now Andrews has taken his community concept on the road, opening branches in Albany in 2001 and Savannah in February. In both cases, inner-city revitalization is at the heart of the plan. The Savannah branch used a vacant building in a corridor the city wants to revitalize. The Albany branch became the first new banking facility in the downtown district in 30 years and Andrews took the lead position in bringing together a consortium of mostly larger banks to participate in the $16 million hotel and conference center project now under way.
"George is, I think, a member of a disappearing breed of banker. He's got great vision and courage, understands his market," says Tommy Chatmon, a Morehouse graduate who was, for a time, Andrews' neighbor in the West End district and now leads Albany Tomorrow, a revitalization effort. "He really knows who his customer base is, and he feels what they feel."
Peoples Bank Of Talbotton
A Persons For The Peoples
The Peoples Bank of Talbotton managed to survive 80 years before anyone ever had the nerve to hold it up, and then it was robbed twice in one weekend in the spring of 1971.
On a Friday, two outlaws robbed the tiny bank at gunpoint, taking $12,000 that was soon recovered when the bandits were captured. That same weekend, another set of brigands tunneled under the bank vault and made a clean getaway with safe deposit boxes and assorted chattel.
In Talbotton, a tiny city 35 miles northeast of Columbus, two robberies within a few hours at the city's only bank represents more than a rare crime spree. It was bad manners. This is still the sort of place where every customer's family history is intimate knowledge and it's always, "Yessir" and "Thankee, ma'am."
After 112 years in business it remains one of the smallest banks in Georgia, with assets of $18 million and deposits of $16 million – and with a city population of about 1,200, it's not like there's a lot to keep track of.
"We know our customers, their children, their parents and in most cases their grandparents," says Peoples Bank President Gus Persons, whose family has owned the bank for the past 100 years. "We call you by your first name when you come though the door, get up and shake your hand and have a real conversation. The downside is, we don't have any technical services."
No Internet banking, no Internet. No ATMs, no credit or debit cards. Just the basics: savings, checking accounts, loans and a few other interest-bearing accounts. They open at 9 a.m., close at 2 p.m. every day of the workweek except Wednesday, when they're closed completely. They open until noon on Saturday. "But we're a 24/7 bank for the customers who really need it," says Persons, who has also served as Talbotton's mayor since 1986. "We're open by appointment after 2 p.m.
"We're an anomaly. You couldn't take what we do and do it anywhere else. We're specific to this county and the reason we're still here is the people who live here still want us to be."
Persons describes his customer base as mostly poor, with a few well-heeled older folks who prefer to continue dealing with the same family and same bank. "There's a lot of older people who really don't want anyone else to know how much money they've got."
For such a small bank in such a sparsely populated area, Peoples Bank and the Persons family has been ahead of its time in at least one way. This is an unlikely bastion of strong female leadership. Persons' mother Elizabeth served as bank president. His aunt Virginia Persons was the only female railroad president at the time of her death (the family also owned the Talbotton Railroad for a time). The bank's current board of directors is all women, in addition to Gus. Executive Vice President Bonnie Parker (a notorious name for a bank executive), an Emory graduate who has been with the bank for 25 years, was the first woman to head the Georgia Bankers Association Leadership Division. The bank's other officer is also a woman, Kelly Braddy, and six of the bank's seven employees are women.
Talbot County is poor, but its commercial ventures are gathering steam and gradually putting money in more pockets. In the past five years the county tax digest has doubled, thanks mostly to a $350 million Oglethorpe Power plant and a growing mining industry. Now at the edge of the coastal plain, Talbot was once at the ocean's edge, so the county has large deposits of white sand which supply about 90 percent of the golf courses in the U.S. with their bunkers.
The county also is rich in granite and ships about 15,000 tons a day of gravel used in road construction. More vital is the 16-inch water line being run along the Fall Line Freeway from Columbus. All of this is to say that Persons foresees some positive growth for his bank when the expected industrial growth hits Talbot County.
"It means more jobs, better paying jobs," says Persons, who sits on the board of the Valley Partnership, the regional economic development agency. "And that means more folks can afford to put more money aside."