Hard-Knuck Life
Phil Niekro's trip to the Hall of Fame was well deserved, but never easy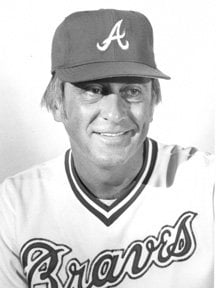 Nothing came easy for Philip Henry Niekro, better known as "Knucksie." At 19, he tried out for a pitching job with the Pittsburgh Pirates.
He was turned down. That same year (1958) he was signed by the Milwaukee Braves but he did not see major league action for the next six years. His pitching days were spent in the minor league cities of Wellsville (N.Y.) and McCook (Neb.).
After he ended his career as one of the finest pitchers in the history of the game, it took him five years to be elected to baseball's Hall of Fame. Never mind that he was selected to the major league All-Star team five times, won five Golden Glove awards and held almost every Atlanta Braves pitching record in the books.
As former Atlanta Journal-Constitution Braves writer I.J. Rosenberg wrote, "It took Niekro as long to reach the Hall of Fame as it did for his famous knuckle ball to make it to home plate." But the toughest obstacle Niekro ever had to overcome was being released by the Braves after the 1983 season.
"Being let go by the team that I had won 268 games for was the biggest downer of my life. I thought it was not only the end of my career, but the end of my life.
"I was 45 years old. Joe [Manager Joe Torre] told me he was going with the younger guys. That was it.
"I felt like I could still win. Fortunately the New York Yankees did, too. They picked me up and I had back to back 16-game winning seasons." Knucksie then spent two mediocre seasons with Cleveland and one with Toronto before the Braves brought him back for one last hurrah.
It was Sept. 27, 1987. The fans came early. They cheered Niekro when he walked to the bullpen. They cheered him when he walked to the pitcher's mound. They cheered him in his first at bat and again in the fourth inning when he was leaving the game with the bases loaded. Manager Chuck Tanner went to the mound to get him. He put his arm around Knucksie's shoulder and they stayed together as the matrix board came on with all 14 of Niekro's records. And then they headed to the dugout as the fans stood and cheered for more than five minutes.
And then there was the unveiling of the statute of Knucksie gripping his knuckler, right beside the statues of Ty Cobb and Hank Aaron.
What a career! He had a total of 14 consecutive years with 20 or more wins. Four times he pitched more than 300 innings in a season, with a career high of 342 innings in 1979.
He led the National League in innings pitched four times. In 1973 he pitched a no-hitter to beat San Diego.
Niekro holds or shares 14 Braves career pitching records, including most games pitched (689), most complete games (226), most innings pitched (4,533), most games won (268), most strikeouts (2,855) and most shutouts (43).
He clinched the 1969 division title for the Braves with a victory over the Cincinnati Reds and in 1982 he shut out San Diego and hit a home run to spark the Braves to their second division flag. Most of his 268 victories came while pitching for some lousy Braves teams.
Phil and his wife Nancy now live in Flowery Branch, 40 miles from Atlanta. Their home fronts on Lake Lanier. "It takes me 10 seconds to get to my dock," he says, "and in less than one minute I can be in the boat fishing."
Niekro grew up in Lansing, Ohio, a coal mining town. His dad had pitched in the sandlots and after he came home from the mines he took young Phil and his sister, Phyllis, in the back yard and taught Phil how to grip and throw the knuckleball and Phyllis how to catch it.
"When Braves scout Bill Maughn came out to our home and asked my dad how a $500 bonus sounded it was the biggest thrill of my life," Niekro said.
Today Niekro's biggest thrill is being with his family. At 191 pounds, he is only one pound over his pitching weight. Phil's brother, Joe, pitched 22 seasons in the major leagues. Together, the Niekros won 537 games, more than any other brother combination in major league history.