Moving Things Along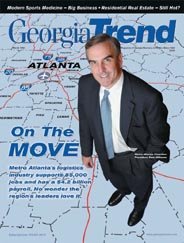 The southern end of Moreland Avenue is not a picturesque part of Atlanta. A divided six-lane road is lined with dilapidated tire shops, forlorn convenience stores and salvage yards. And as you near Interstate 285, landing lights approach the road and Hartsfield-Jackson International Airport roars just a couple miles to the west. But mainly it's a land of big trucks and big warehouses.
It's not scenic. But to local economic boosters, it's a beautiful sight. The sprawling low-slung warehouses, their attendant clusters of tractor-trailer rigs and Hartsfield-Jackson itself are hives of logistics activity – procuring, distributing and maintaining materials from auto parts to groceries and flowers.
The seemingly pedestrian business of logistics, of moving things around, is right now among the industries that Atlanta business boosters consider most promising and vital for the local economy. The city was founded as a railroad crossing and was once called Terminus because of its importance as a rail stop; transportation and distribution have been cornerstones of Atlanta's economy for more than a century.
"Logistics is why Atlanta was destroyed in the Civil War," says Sam Williams, president of the Metro Atlanta Chamber of Commerce. "So it is one of our oldest industries."
According to the Chamber, logistics accounts for 85,000 jobs paying an average annual salary of more than $50,000 in Metro Atlanta, which would add up to an annual payroll of about $4.2 billion. The Georgia Department of Labor does not compile statistics on "logistics" jobs, but it does list transportation, warehousing and utilities employment in the metro area at 108,776 as of September. Among the department's categories, that ranks ninth, behind sectors such as professional and business services – the biggest at 386,344 jobs – and government, retail, hotel and restaurant, and manufacturing jobs.
Still, logistics is clearly a linchpin of the local economy. Hartsfield-Jackson, the world's busiest passenger airport, is universally considered the most important economic element in the state. Atlanta, because of its extensive highway and rail system and central location in the economically vibrant Southeast and because of the presence of Georgia Tech's Logistics Institute and logistics leaders like UPS and Home Depot, is often ranked just behind New York, Los Angeles and Chicago among the nation's logistics hubs. Internationally, those cities plus huge seaports such as Singapore and Rotterdam are the top logistics hubs.
Cendian Corp., which handles logistics for chemical companies, is hardly a household name. But it employs 450 people worldwide and generates annual revenues of more than $1 billion. The privately held company, which ships chemicals in and out of 80 countries, is based in Atlanta because of the area's abundance of "knowledge workers," says CEO Mark Kaiser.
"We've got all the brainpower here to manage this all over the world," Kaiser says.
According to the Chamber, Atlanta ranks in the top five cities in the United States as a home for logistics software firms and third-party logistics companies, which help other companies manage their supply chain and logistics operations. What's more, Atlanta is one of only five major cities in the country served by three major Interstate highways – I-75, I-85 and I-20; and Georgia is crisscrossed by nearly 5,000 miles of rail system, the most of any state in the Southeast.
Finally, the metro area is a major commercial hub, home to some 4 million consumers and an array of world and regional corporate headquarters. All those factors tend to complement and feed off one another, explains John Langley, head of Georgia Tech's Logistics Institute.
That sort of mutual support has occurred in Atlanta to a certain extent, Langley says. "But because it's been successful so far without any central coordination does not mean we don't need any kind of guiding hand."
Guiding Hand
The Chamber is hoping to offer that hand through its Logistics Council, formed in 2003. After a study by Harvard professor Michael Porter identified logistics as one of four industries for which Atlanta had the makings of a successful concentration, or "cluster," the Chamber assembled a task force to study the area's strengths and weaknesses and devise a strategy to enhance its logistics profile.
The other industries identified as potential "clusters" in Atlanta were biotechnology, information technology and a push to attract the headquarters of the proposed Free Trade Area of the Americas. The Chamber is leading various efforts to focus resources and energy on those industries, although an earlier technology-centered push called Industries of the Mind petered out amid the IT industry's crash of 2000-2001.
"We need to put our energy into those [clusters] instead of putting full-page ads in Fortune magazine saying, 'Move your company to Atlanta,'" Williams says.
The Logistics Council aims to increase the metro area's logistics employment to 100,000 by 2010. One of the keys to doing that is to better link the state's seaports at Savannah and Brunswick with railroads, highways and Hartsfield-Jackson. The ports have been booming. The volume of container cargo – those big box cars that are stacked on huge ships – has been growing faster at the Port of Savannah than at any other U.S. port. And several big distribution centers have been opened in the past year near the port by the likes of Hugo Boss and Pier 1 Imports.
"We need to really create an infrastructure that will connect all of these things and use Hartsfield-Jackson as the focal point that drives this," says Tony Charaf, senior vice president at Delta Air Logistics, the freight-carrying arm of Delta Air Lines. "If you look at the weaknesses we have, we definitely don't have a very strong infrastructure and connectivity. We don't have an aggressive strategy to use our strongest asset, which is the airport."
Charaf, whose unit expects to generate about $500 million in revenue for Delta in 2004, figures better coordination among the modes of shipping does not require a lot of heavy capital investment and construction. Rather, he says, it's mostly a matter of more vigorous cooperation between the public and private sectors, a matter of government and business leaders coming together and making it a priority. He also thinks the fifth runway being built for $5 billion will increase cargo shipments between Atlanta and especially Latin America and Asia.
The Chamber's Williams agrees that bulking up Hartsfield-Jackson's cargo operations would require a "relatively insignificant" monetary investment. "We're talking about at most $100 million in terms of other facilities that could accommodate this kind of growth," he says. "At the most astronomical it'd be $200 million. That's a drop in the bucket compared to $5 billion." (The fifth runway that's under construction at the airport is a $5 billion project.)
More Cargo Wanted
The Atlanta airport is not among the top cargo handling facilities. Hartsfield-Jackson generally ranks between 10th and 15th among U.S. airports in the volume of cargo handled. Improving that standing is a primary mission for the Chamber of Commerce Logistics Council. It wants to push Hartsfield-Jackson into the top five cargo airports in the nation.
The airport has been built primarily as a place for passengers to fly in and out. And it is not a major hub for any big cargo carrier. UPS, for example, is headquartered in Atlanta but maintains its main air hub in Louisville, Ky.; FedEx's is in Memphis, Tenn. Meanwhile, Miami has over the years established a foothold as the primary cargo destination for Latin American goods bound for U.S. markets. Hartsfield-Jackson has a large perishables complex, where goods such as flowers and fruits and vegetables are processed, but it's not as big as similar facilities in Miami and elsewhere.
Overall, Hartsfield-Jackson has more than 1.2 million square feet of cargo handling space. Miami International Airport, by comparison, operates 1.4 million square feet of cargo warehouse space and has a $500 million expansion in the works to increase that to about 3 million square feet.
Increasing the cargo flow through Hartsfield-Jackson, Tech's Langley explains, is like building market share in many businesses: You have to take it from a competitor. The most obvious rival is Miami, he says. The South Florida city holds a couple of established advantages over Atlanta. It's physically close to Latin America, and it has for years been among the nation's leading cargo airports. Indeed, Miami International Airport has more scheduled nonstop cargo flights to Latin America and the Caribbean than Orlando, Houston, New Orleans, Atlanta, Tampa and New York's Kennedy airports combined.
On the other hand, those advantages are not insurmountable for Atlanta, Langley says. For one, a shipment from, say, Sao Paolo to Miami takes products only halfway to their final destination if they are bound for the Midwest, Upper South or farther up the East Coast. Atlanta, Langley reasons, is closer to many desirable markets in the United States and thus could potentially grab some of that business from Miami.
"I'd say the growth in air cargo for Atlanta could come from a very carefully conducted analysis of air cargo flows," Langley says, "and determining what's the most desirable kind of product to be moving through Atlanta, and then marketing Atlanta's capabilities to the companies moving that product."
Technology, specifically the distances cargo hauling planes can fly, could work in Atlanta's favor. Kaiser of Cendian says that the main reason Miami became the air trading hub for Central and South America is because in decades past, planes could not fly any farther. Now, the increasing range of cargo planes should inherently offer opportunities for Atlanta to bring more goods through Hartsfield-Jackson.
It's not as if Hartsfield-Jackson handles no cargo. Delta is part of a joint venture with five other airlines which has its U.S. base, with 150 employees, in Atlanta. Delta carries cargo such as electronics, perishables, jewelry and animals in the belly of its passenger planes, a business that figures to generate about $500 million in revenue in 2004. The Atlanta-based airline is also one of the biggest contract carriers for the United States Postal Service.
More than 100 licensed customs brokers and 200 domestic and international freight forwarders operate at Hartsfield-Jackson and more than 100 motor carriers provide ground transportation for air cargo shipments. The airport's leadership is also working with the carriers to formulate a master plan and long-range strategy for cargo operations.
"This is big," Charaf says. "It's like when we started the airport, and look what it has done for the city."
Highways And Sewers
Improving Hartsfield-Jackson's cargo handling muscle is not the only challenge local logistics promoters face. One other issue is the metro area's clogged highways. Trucking companies carefully calculate how many cents per minute it costs them to deliver freight. The more time their trucks are snarled in traffic, the more expensive it is to carry goods.
And manufacturers today aim to minimize costs by keeping a minimum of raw materials, spare parts and other inventory on hand. Therefore, if it takes longer to receive those materials, precise schedules are fouled up. "Ultimately, it's time and money that the congestion does impact for all the users," says Bob Pertierra, vice president of Logistics Industry Devel-opment at the Metro Atlanta Chamber of Commerce.
A less obvious headache is the city of Atlanta's pressing sewer system problems. The city needs to spend about $3 billion to repair its decaying wastewater processing apparatus. Besides the damage to the city's image and credit rating, the availability of infrastructure is a critical concern for logistics operators deciding where to locate. Georgia Tech's Langley points out that a large distribution center, a 500,000- to 1 million-square-foot building, requires four or five times as much land. And much of that land will be covered with asphalt, creating a lot of water runoff that needs to be processed by the sewers.
Atlanta's unique problems aside, working in its favor is the huge role that "supply chain management," the handling of all raw materials, inventory and finished goods has assumed in all industries in the past several years. Logistics is a big part of that relatively new science. Ruthless focus on logistics and supply chain discipline has made companies such as Wal-Mart Stores and Dell Computer industrial juggernauts of the late 20th and early 21st centuries.
This concept is critical in all businesses because amid brutal competition, any way to save money is prized. Take the chemical industry. Cendian's Kaiser says a rail car that hauls chemicals generally costs more than $100,000. Those cars typically sit empty about 40 percent of the time. Keeping them full more often can save a shipper or manufacturer millions of dollars. Reducing that empty time to 20 percent or 30 percent, Kaiser says, is "a home run."
"In today's world, speed is critical so that you are driving down the overall cost of your entire supply chain," says Wayne Gibson, former logistics chief at Home Depot and now a business strategy and operations consultant. "It's not just transportation cost; it's total company cost."
It might not be a subject most people know anything about. But since logistics has become one of the fulcrums on which big business pivots, Atlanta business boosters think they are onto something.