Beach Music
Sea Island Company CEO Bill Jones III is helping bring the world to Georgia's door.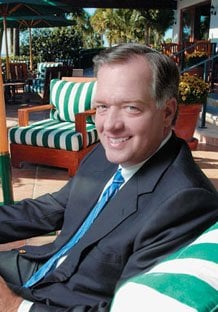 For coastal historians, it is easy to believe the arrival of the G-8 summit later this year is a natural part of a manifest destiny. When the leaders of Canada, France, Germany, Italy, Japan, Russia, the United Kingdom and the United States come together for their discussions on Sea Island in June, they will continue a tradition begun 300 years ago when successive Scottish, English, Irish, Norse, Welsh, French and Spanish seafarers landed there for provisions, or stayed to build settlements. Once again, the island will renew its connections to the rest of the world.
No one on the coast better understands the interplay of the region's history and its promise better than Alfred W. "Bill" Jones III, regarded as the most important figure in bringing the three-day meeting of seven foreign heads of state and President George W. Bush to Georgia.
For his role in securing the G-8 summit for the state, Bill Jones III is Georgia Trend's Georgian of the Year for 2004.
The G-8 summit will provide the state an unmatched opportunity to make history in economic development and promote stronger international relationships. In addition to heads of state, another 7,000 staffers, diplomats, trade representatives and journalists will descend on Georgia's coast. Their arrival will see the kind of beach landing unique to the Golden Isles – an invasion whose reconnaissance platoons are already ashore.
"But it is a friendly invasion," says Jones, chairman and CEO of the Sea Island Company, whose famed resorts will host the formal G-8 meetings. "Still, the media attention is going to be like nothing we've ever seen before." Jones says his company will play the key role in organizing the logistics of the meeting. Setting the table for visits from presidents, royalty and fickle celebrities is nothing new for the Jones family. "We've been doing it for 75 years," says Jones. "Beginning with a visit from President Calvin Coolidge."
It was Howard Coffin who envisioned the Cloister and then enlisted the help of his young cousin, Alfred William Jones Sr., Bill's grandfather, to make it a reality. The resort opened in October 1928 and quickly became a favorite refuge of wealthy industrialists, high government officials and celebrities, who prized it for its luxury and its privacy.
Connecting With History
It is likely that old connections may have combined with history to give Sea Island an edge in securing the summit. Hosting privileges for the G-8 rotate among member nations; the final authority on selecting the 2004 location was President Bush, whose parents honeymooned on Sea Island and have returned many times since. The Walker Cup, a prestigious international golf event, was held on Sea Island in 2001 and attended by former President Bush. The event is named for his grandfather, George Herbert Walker.
Was the Sea Island location a foregone conclusion? "No," says Jones. "It all began when I was talking with two close friends of mine from Washington who are involved in the administration and were here last fall. I asked if there might be a good opportunity to do anything that might showcase Sea Island. G-8 was mentioned and they asked if that was something that might be of interest and I said, 'Absolutely.' We were notified in early 2003 that we were on the list." But when the government's site-selection committee members visited the island, they expressed concern that the island's signature hotel, the Cloister, would be under reconstruction during the summer.
"We assured them that it would in no way impact our ability to service that group," says Jones. "We were able to answer a number of logistics questions and the next thing we knew, we had it." That sounds too easy. "Well, I think that at least the inspection team liked what they saw," says Jones. "That includes security, it includes the fact that we have a Republican governor, we have military bases nearby and we have a reputation for service. When you put all that together, I believe we were their No. 1 choice and they recommended us to the President. The President probably got some input from his father, though I have no reason to know [whether] that happened. I like to believe that [the former] President Bush would have been supportive."
Jones' assertion that the G-8 leaders will be part of a "friendly invasion" is not entirely correct. Protesters have accelerated their presence at these meetings and the threat of violence has increased. At the 2001 G-8 summit in Genoa, Italy, a protester was shot and killed by police and 184 people were injured, including 10 journalists. But Jones is confident protestors will not disrupt the proceedings. "Protesters are a natural part of any meeting of any global organization," he says. "That comes with the territory. The protesters certainly have a right to protest whatever they want. That's a part of the American way. We will rely on security to keep those protests under control."
The host can also rely on geography to keep protesters from disrupting the meetings. Sea Island is accessible only by bridge, boat or air, a part of its charm for the rich and famous who frequent it. "We are fairly remote, easy to secure, we have hosted world leaders and put on world-class events," says Jones. "We have the assets and the experience to do the job." The job will bring world interest and financial rewards to Sea Island and coastal Georgia, but that is only part of the picture.
For the 45-year-old Jones, the G-8 summit should be more than the sudden infusion of $300-$500 million into Georgia's hospitality and tourism industry. "We will see improvements in infrastructure on the coast that will be years ahead of their time, and that infrastructure will remain," he says. "And this is an opportunity to [promote] Georgia and all its assets to foreign companies. We hope to see lasting benefits in economic development for the entire state."
Jones has the right idea, says John Kirton, director of the G-8 Center at the University of Toronto, a research facility that tracks the summits. "The G-8 in Georgia could be worth billions of dollars to the state," says Kirton. "Most people miss the fact that the government leaders attending are the most powerful economic development figures in the world and they will be covered by the most respected journalists in the world. The G-8 activities will be well documented daily. There will be stories about Georgia sent throughout the world. It only takes one CEO in Tokyo who is reading about Georgia and who is asking the question, 'Where do we put our next plant?'"
Kevin Langston, director of communications for the Georgia Department of Industry, Trade and Tourism, has been discussing the economic development impact of past G-8 summits with officials from previous host cities. "We will be trying to do some things that haven't been done before," says Langston. "Our view is that while we welcome the immediate boost the meetings will bring to the state's tourism industry, the greater benefits lie in the long range possibilities."
Respecting Privacy
The Sea Island Company's reputation for guarding the privacy of its guests extends to Jones himself. A man of quiet demeanor whose idea of an emphatic gesture is a raised eyebrow, Jones' reputation for reticence is well known to friends. He is just as stingy with details of his professional activities. "He's a cool planner with great intuition," says former U.S. Senator Mack Mattingly, a St. Simons Island resident who has known the Jones family for almost 40 years. "He is also the top salesman in the United States when it comes to G-8," says Mattingly, who attended two such summits as the assistant secretary for defense support at NATO. "[Jones] did one terrific selling job," he says. "This is his site. Can you imagine the government having the whole country to choose a site from and they selected Sea Island?"
After graduating from Valdosta State University with a degree in education, Jones worked in a number of jobs, including the laundry room at the Cloister, and assumed a succession of leadership roles in the Sea Island Company, beginning as president in 1993. He became CEO in 1995 and was named board chairman in 1997, the two posts he currently holds. Jones and his wife Sally live on the island. Jones is a relaxed, casual and decidedly informal man who wants everyone to call him Bill. In more ways than one, Jones seems the right man at the right time to lead a company that prides itself on casual elegance.
A decade ago, when Jones took over, the Sea Island Company's crown jewel was the Cloister, a long-time playground for America's business nobility, but an aging beauty badly in need of a new roof, plumbing and wiring. Under his reign, the Sea Island Company purchased 40,000 acres of woodlands and marshes along the Atlantic, a tract that features 41 miles of coastal edge. Jones has begun a $350 million master development plan centered on construction of a new and improved Cloister. Another development, Frederica Township, is an $800-million project on 3,500 acres at the north end of St. Simons Island. Jones also presided over the construction of the Lodge, a 41-room resort, and the Ocean Forest Golf Club.
Along the way, the Sea Island Company has become the largest private employer on the Georgia coast, with 1,700 people on the payroll. Jones glosses over his role in his company's successful growth. "All I've done is take Howard Coffin's 1928 vision and reinterpreted it," he says. Gross revenues last year totaled $300 million.
Last October, Bill Jones stood in the solarium of the Cloister before a group of economic developers from the coastal region and Atlanta who had gathered to hear about the summit. He opened his remarks by sharing the news that the Lodge at the Sea Island Golf Club had just reclaimed its title as a Mobil Five-Star restaurant, one of just four in Georgia. Another bit of serendipity for Jones – a world-class restaurant awaiting the world leaders. With quiet confidence, Jones told his luncheon mates, "The summit will be a success." He offered a slight smile and raised both eyebrows. He was clearly excited.