End To Sheriffs' Party Affiliations?
Inside Politics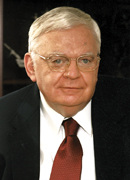 Georgia sheriffs are banding together to push for a measure that would allow them to run as nonpartisan candidates, just as judges presently do. Past efforts to make sheriffs' posts nonpartisan have been met with stiff opposition from Democrats, including former Speaker Tom Murphy. With the Democratic grip weakening on the Capitol, lobbyists for the law enforcement officers believe they now have a better chance of winning.
From the Washington Post: "In Georgia, the retiring [Sen. Zell] Miller, who often votes with Republicans, probably could have won another term with ease. But now Republicans are favored, although not certain, to pick up the seat."
House Natural Resources Chairman Bob Hanner, D-Parrott, has agreed to remove a section of his water-regulatory bill that would allow holders of free state-issued water permits to sell their permits to others, even out-of-state interests. Allocation of the state's water resources is expected to be among the most controversial items on next year's legislative agenda.
From a report in The Post-Searchlight (Bainbridge), on the tri-state water dispute: "Rep. Richard Royal of Camilla, chairman of the Georgia House Ways and Means Committee and member of the House Natural Resources Committee, said, 'The Governor came out and said he'd resolve it and then he didn't resolve it; just a little later it all fell apart. I guess the courts will have to resolve it now. We can't force Florida to the table. I have grave concerns about Southwest Georgia agricultural and commercial interests. What do we do about water policy meanwhile?' . . . Columbus Mayor Bob Poydasheff said, 'If Columbus doesn't take a leading role to protect the cities below Atlanta, then who will? We're fortunate to have a powerful legislative delegation and we're the largest city downstream. If we don't stand up, who will?'"
From a speech at Mercer by Gov. Sonny Perdue: "When the Legislature convenes in January, I will again ask them to pass my ethics reform package. It will include those important provisions I submitted in last year's bill to increase financial disclosure by candidates and clamp down on conflicts of interest, gifts and nepotism. This includes banning candidate-to-candidate transfers of campaign funds. We will also better regulate professional lobbying through enhanced lobbyist registration and disclosure requirements and closing the revolving door with a one-year cooling-off period before public officers can lobby. We will also streamline the cumbersome process for filing disclosure reports and finance reports to make them more accessible to the public. All of these proposals come down to that simple, yet powerful, goal of giving our citizens the knowledge and confidence that Georgia's state government is serving the people of Georgia first . . . the people of Georgia second . . . the people of Georgia and no other!"
Lt. Gov. Mark Taylor has asked Gov. Sonny Perdue to organize an independent review of the governor's recent transportation package. Perdue recently unveiled his $424 million transportation-bond package, only 22 percent of which was allocated to traffic-congested Metro Atlanta. The governor is not expected to comply with Taylor's request.
A leading African-American legislator has called Gov. Sonny Perdue the most racially divisive governor since Lester Maddox, citing Perdue's removal of black department heads, his stand on the state flag and a proposal to tie HOPE scholarships to SAT scores. Sen. Vincent Fort, D-Atlanta, said Perdue's record on issues of concern to black lawmakers shows the new Republican governor "does not believe that Georgia is a place for all people." Fort was the principal author of a predatory-lending law that was watered down and signed by Gov. Perdue last spring.
From syndicated columnist John Leo: "Georgia Democrat [Congressman] Jim Marshall says negative media coverage is getting our troops in Iraq killed and is encouraging Baathist holdouts to think they can drive the U.S. from Iraq. Marshall, a Vietnam vet, said there is 'a disconnect between the reporting and the reality,' partly because the 27 reporters left in Iraq are 'all huddled in a hotel.'"
From Roll Call: "Departing from his customary practice of staying out of intra-party battles, Sen. Saxby Chambliss (R) endorsed the 8th District Congressional campaign of state House Minority Leader Lynn Westmoreland (R) this week."
Thirteenth District Rep. David Scott has joined more than two dozen House members to introduce the Tobacco Reduction, Accountability and Community Enhancement Act (TRACE Act). This bill represents a compromise among lawmakers who had previously written three separate tobacco buyout bills. The TRACE Act will eliminate the guaranteed-buyer tobacco system, the last remaining New Deal agriculture program. It provides transition assistance for producers and creates a free market system. Sens. Zell Miller and Saxby Chambliss are sponsors of similar bills in the Senate.
State Sen. Steve Henson, D-Tucker, has called on Senate Ethics Chairman Mike Crotts, R-McDonough, to investigate Senate Majority Leader Bill Stephens, R-Canton, for potential improprieties in personal bank loans and profits on loans that he made to his campaign. "As a member of the Senate, I believe there should be a full and fair investigation of these allegations. While I am not filing a complaint at this time, I do think the Ethics Committee should look into this matter," Henson said.
Six Georgia public schools have received the Blue Ribbon Schools Award, an honor given only to America's most successful schools. Among the 219 outstanding schools to receive national recognition for their efforts to raise student achievement are DeKalb County's Meadowview and Vanderlyn Elemen-tary Schools (Principals Zandra Sherwood and Charlene Burger, respectively), Atlanta City's Morris Brandon Elementary School (Principal Karen Evans), Cobb County's Dickerson Middle School (Principal Melba Fugitt), Richmond County's Johnson Magnet School (Principal Dorothy Gandy), and Fulton County's Mountain Park Elementary School (Principal Aaron Moore).