Brothers In Arms
A UGA memorial honors student athletes who died in this country's wars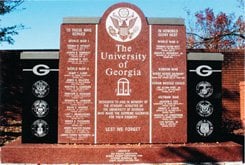 Of all the structures on the University of Georgia campus, none is more touching than the War Memorial monument in front of the Student Athlete Academic Center. The handsome red and black monument, made of Georgia granite, honors 21 student athletes who died in wars.
The first Bulldog to die in World War II, Marine Corps Captain Henry T. Elrod of Thomasville, was posthumously awarded the Medal of Honor.
Elrod, who lettered on the 1932 football team, single-handedly attacked a fleet of 22 enemy planes, shooting down two. Then he attacked a fleet of Japanese warships, sinking one, despite a hail of enemy anti-aircraft gunfire. When his plane was destroyed, he organized a handful of ground troops on Wake Island and set up a beach defense that repulsed an overwhelming number of Japanese marines. In the face of withering enemy machine gun and mortar fire, he led his vastly out-numbered Marines until he was killed.
In his honor, the modern guided missile frigate the U. S. S. Elrod was commissioned and one of the main streets on the Marine Corps Base, in Quantico, Va., was named "Elrod Avenue."
First Lieutenant Lacy F. Mangleburg of Athens, a star prizefighter at Georgia, was posthumously awarded the Distinguished Flying Cross. The University of Georgia named its student American Legion Post for Elrod and Mangleburg.
Elrod died December 23, 1941, 16 days after the Japanese attack on Pearl Harbor and Mangleburg died a day later.
Marine Corps First Lieutenant Howard W. "Smiley" Johnson was awarded the Silver Star for "conspicuous gallantry" during the Saipan operation and was posthumously awarded a Gold Star for actions during the Iwo Jima campaign, in which he was one of more than 6,000 Marines who lost their lives in battle.
Johnson played fullback and guard (1937-1939) for three different UGA coaches, Harry Mehre, Joel Hunt and Wally Butts. The Peach Bowl annually presents the "Smiley Johnson Award" to the game's outstanding lineman.
It was 59 years ago this month that Army Master Sergeant Walter "Chief" Ruark was leading a five-man patrol to locate and eliminate a German sniper position. In doing so he took a direct hit in his chest. He was awarded the Silver Star. He was a two-time All-Southeastern Conference guard in 1941 and 1942 and was one of the standouts in the '42 team's Rose Bowl victory over UCLA.
Army Captain James Skipworth, Jr., a native of Columbus and captain of the 1940 Georgia football team, was killed while leading his troops in General Douglas McArthur's triumphant return to the Philippines. He was awarded the Silver Star for gallantry.
Silver Star winner Jack Cox of Waynesboro, a lieutenant in the U.S. Marines, played tackle on the 1959 Georgia football team. He was killed by a sniper in Viet Nam.
The list of all honorees and the wars in which they died and sports in which they participated are engraved on the monument.