Walls To Lead Georgia Lottery
Inside Politics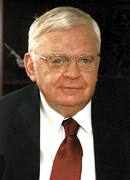 Cathy Walls has stepped into the role of interim president of the Georgia Lottery after the departure of Rebecca Paul. "I knew late that Rebecca was in the running for the Tennessee Lottery Corp. position," Walls, formerly senior vice president of the Georgia Lottery Corp., says. "My first thought was, what's going to happen to us? I didn't think I'd be considered for the job, so the appointment came as a very big surprise." Walls was named interim president after members of the lottery corporation board held a closed meeting by phone. Gov. Zell Miller appointed Paul in 1993 to organize and manage the Georgia lottery, which she quickly turned into the most successful and prosperous state-gaming operation in the country.
From The Washington Monthly: Republicans have been salivating over the Georgia Senate seat up for grabs in 2004 ever since quasi-Democrat Zell Miller announced that he would not run for re-election. Now Democrats are giving them even more cause for hope. Andrew Young – former mayor of Atlanta and ambassador to the United Nations – has indicated he intends to run for the position. But the 71-year-old says he won't advertise, use polls or listen to consultants. Party insiders, who had been recruiting former Georgia Sen. Sam Nunn's daughter, Michelle Nunn, to enter the race, are exasperated with Young's old-time approach to campaigning. But they're even more frustrated that Nunn, the 36-year-old founder and director of a national volunteerism program, City Cares, based in Atlanta, has vowed not to run as long as Young remains in the campaign. (Note: In October, Young decided to forgo a race for the Senate and Michelle Nunn, along with former Sen. Max Cleland, considered making a democratic run for the Senate seat.)
"If this is a national party, sushi is our national dish. If this is a national party, surfboarding has become our national pastime. These people leading our party and those asking to lead our party are like a bunch of naive fraternity boys who don't know what they don't know." So writes Georgia Sen. Zell B. Miller, in a new book suggesting the national Democratic Party is on the brink of suicide. Entitled A National Party No More: The Conscience of a Conservative Democrat, Miller's tome is already stirring a firestorm of controversy.
Georgia sheriffs are banding together to push for a measure that would allow them to run as nonpartisan candidates, just as judges presently do. Past efforts to make the sheriff's post nonpartisan have been met with stiff opposition from Democrats, including then-Speaker Tom Murphy. With the Democratic grip weakening on the Capitol, lobbyists for the law enforcement officers believe they now have a better chance of winning their way.
From The Bainbridge Post-Searchlight: "Ultimately, efforts to reach a satisfactory agreement be-tween Georgia, Florida and Alabama for sharing the resources of the Apalachicola-Chattahoochee-Flint river system failed because – despite perpetual protestations to the contrary – the State of Georgia was from the beginning inalterably committed to one goal: Unlimited water for metro-Atlanta's unlimited growth at any cost. Period. In a process marked by the state's continuous promises of openness and public input, just as continuously broken, the final days of negotiation revealed the transparent truth. Navigation, irrigation, hydro-power, recreation, flood control, downstream economies – Georgia negotiators were willing to sacrifice all of these things to achieve that one goal." – Sam Griffin, publisher
Gov. Sonny Perdue announces that Perkins Engines Company Limited, a Caterpillar Inc. (NYSE: CAT) company, will open a new small engines manufacturing facility in Griffin in summer 2004 with approximately 25 employees, ramping up to an expected 100. In addition to this new Perkins facility and an existing facility in Griffin, Caterpillar also has manufacturing operations in Alpharetta, Jefferson, LaGrange, Thomasville and Toccoa. The company operates a financial products facility and a logistics services operation in Atlanta.
For the second year in a row, Georgia ranks No. 50 among the states in SAT scores, considered the best indicator of comparative education achievement in the nation. State School Superintendent Kathy Cox tried to put a positive spin on the bad news by saying Georgia scores were up slightly. But national scores were up much more. Georgia even ranked last among the states in which more than 50 percent of students take the test. Gov. Sonny Perdue blamed the low scores on Gov. Roy Barnes' school-reform plan. "It's going to take time to recover from the previous administration," he said.
Former 4th District Rep. Cynthia McKinney is reportedly considering running for Congress in Georgia's 12th District, against GOP incumbent Max Burns. The district, which includes Augusta, Athens and Savannah, was drawn as a sure-fire Democratic enclave. But Burns scored a stunning upset in the 2002 election against political neophyte Champ Walker, son of former state Senate Majority Leader Charles Walker.
The largest female and minority classes ever have begun their three-year pursuit of a Juris Doctor at the University of Georgia School of Law. Out of an entering class of 257 students, 128 (49.8 percent) are women and 62 (24.1 percent) are minorities, 38 of whom are African American. The class of 2006 has a median grade point average of 3.6 and a median Law School Admissions Test score of 162. In addition, the top quarter of the entering class scored a 164 or higher on the LSAT and achieved a 3.82 or better undergraduate GPA. Rebecca H. White, interim dean of the law school, said she is pleased with the composition of the entering class. "Each year the institution strives to enroll a talented and diverse student body. With this year's application pool being the largest on record at 2,701 applications, the school's admissions team had their work cut out for them."
Heckler & Koch has announced that it will build a new factory in Columbus to manufacture firearms for the U.S. military, law enforcement and commercial markets. "We will initially create about 200 American jobs in Columbus," said company Vice President Peter Simon, "and forecast additional growth as some of our U.S.-based design and development projects mature into production." Current military design and development programs include the U.S. Army's XM8 assault rifle and the Special Operations Forces Combat Assault Rifle programs.
Sen. Saxby Chambliss has announced that Georgia will receive $130 million in loans and loan guarantees from the U.S. Department of Agriculture to help improve the availability and quality of local utility services and help spur the economy in rural Georgia. The following project dollars are approved for Georgia: $101,338,000 to Sawnee Electric Membership Corp. in Cumming; $18,982,000 to Jefferson Energy Cooperative in Louisville; and $10 million to Planters Electric Mem-bership Corp. in Millen. USDA statistics show that 23 jobs are created for every $1 million of federal investment in electric infrastructure. The loans could help create nearly 3,000 jobs in the state.