The Best And Brightest
Young Georgians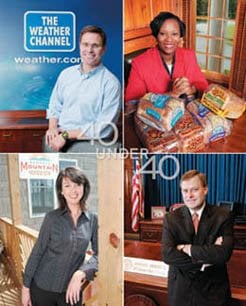 Our 2003 roster of Georgia's young superstars, the seventh such list we have published, includes representatives from business, government, academia and the arts. This year's 40 Under 40 include an award-winning poet, a hospital administrator, an environmentalist, the state's youngest legislator, the man responsible for processing all student grant and loan disbursements in the United States, a pair of urban pioneers and a genuine hero.
The editors of Georgia Trend made the selections, aided by nominations from readers. Individual profiles are the work of writers Jerry Grillo, Ben Young, Shannon Wilder, Patty Rasmussen and Karen Kennedy.
Appearing on the cover and on the opposite page are, clockwise from top left, Weather Channel President Bill Burke, Flowers Foods' Stephanie Tillman, Gov. Perdue's legal counsel Robert Highsmith and economic developer Carolyn Wills.
Bill Burke
President,
The Weather Channel Companies
Atlanta
Age: 37
It's no surprise that Bill Burke should find himself presiding over The Weather Channel (TWC), the 20-year-old Atlanta-based network that's a trusted source of information for some 84 million American households.
After all, Burke, whose father Daniel ran ABC and whose brother Stephen is CEO of Comcast, has TV in the blood. And what he didn't learn at home, he picked up from none other than Ted Turner, who tapped him at age 29 to run the TBS Superstation after watching him successfully launch Turner Classic Movies.
"Ted was an inspiration to me in that he built something from nothing and was always trying to see the next new thing," says Burke.
Burke brought that quest for the next new thing with him to The Weather Channel. Regular viewers will note that the weather weenies, among whom Burke now officially counts himself, are focusing on more than just predictions. This year TWC launched "Storm Stories," a cutting-edge documentary series, marking its first efforts to draw a prime-time audience. And techies already know that detailed weather reports are now available not just on TV, but on the Web, PDAs and even cell phones.
Burke has also worked hard to maintain TWC's energetic, yet curiously laid-back atmosphere. "I love to be around live TV," he says. "The people here are great. It's a great environment – exciting and very supportive. People pull together. The culture here is high-performance/high-results, but they value people having a life outside of work, too."
One unexpected benefit of working with TWC, says Burke, is realizing that what he's doing matters. "We feel we really do help people, whether it's getting to the basement before the tornado hits or just dressing appropriately." Burke says. "We get letters every day thanking us – that doesn't happen with every organization." -SW
Robert Highsmith Jr.
Deputy Executive Counsel for Gov. Sonny Perdue
Atlanta
Age: 32
The ink was still drying on Robert Highsmith's law degree when the call came to work as the director of policy and research for Republican gubernatorial candidate Guy Millner in his 1998 campaign against Roy Barnes. He did such a good job that when then-Gov. Barnes needed to appoint a Republican to the State Ethics Commission, he chose Highsmith.
"He did an excellent job working against me," says Barnes, who was defeated in his re-election bid last year by Republican Sonny Perdue. "Robert is a bright, young attorney. I wish he was a Democrat."
Instead, Highsmith represents the vanguard of what he hopes is a new era in Georgia politics. "We were the last Southern state to have a viable two-party system," says Highsmith, who was asked to resign from the ethics commission by Perdue so the governor could hire him as part of his executive legal team. "I can tell you, as someone who has been toiling in these vineyards, it was a wonderful thing to be there on victory night."
Bringing Highsmith aboard was a natural move for Perdue, who made ethics reform a major theme of his campaign. "That's the cornerstone of the governor's agenda," says Perdue's Chief of Staff Eric Tanenblatt. "Robert brings invaluable insight from his work with the ethics commission."
That's because Highsmith has worked both sides of the fence. Before he served on the state ethics commission, he argued on behalf of Republican legislators in front of it.
Highsmith, who has an English degree from Yale and is a fourth-generation lawyer from Appling County in southeast Georgia, has his work cut out for him. Perdue's ethics package died a bloody death in a rancorous partisan dispute under the Gold Dome. But, promises Highsmith, "we'll be coming right back with a similarly sweeping package."
— JG
Stephanie B. Tillman
Vice President and Associate General Counsel for Flowers Foods, Inc.
Thomasville
Age: 32
When Stephanie Tillman left the south Georgia town of Thomasville for college at the University of Georgia she had one goal in mind: get back home. "Everyone wanted to be in Atlanta, but I just wanted to go home," says Tillman. "I'm a native of Thomasville and for me to come home and work for a Fortune 500 company, doing what I love doing, is a dream come true."
After finishing her undergraduate degree at UGA, Tillman stayed in Athens for law school. She returned to Thomasville to begin working for Flowers Foods, Inc., calling it a "rare and wonderful opportunity."
Tillman grew up with the smell of the Flowers bakery. "The best field trip each year was going to the Flowers Bakery," recalls Tillman. "At the end of the tour, you'd get a hot honey bun right off the line."
Tillman's title proves she's come a long way from the field trip. "I help manage a small, in-house legal department of about four lawyers," says Tillman. "I'm active in strengthening ethics compliance as required by the Sarbanes/Oxley Act of 2002."
To that end, Tillman is helping design training programs and initiatives within the Flowers company to keep it in compliance with the new law. "We had a well-established program already in place," says Tillman, adding that the challenge is complying with both the spirit and the letter of the law. "A critic might say that Congress is attempting to legislate ethics and in a way that's true. But it's good business to act ethically in the long-term. It's not a hard concept and it's not a change in our corporate concept."
Tillman, who says she "thrives on motion," is the mother of two children under age three. She and her husband, Benjamin, became the legal guardians of her nieces, twin teenage girls, last year. "I find it difficult to slow down," she admits with a laugh.
— PR
Carolyn Wills
Executive Director,
Fannin County Development Authority
Blue Ridge
Age: 33
It was kismet that led Carolyn Wills to Blue Ridge. But it was Kismet, the company, that has helped make her successful in one of the state's most challenging economic development missions.
Born and raised in Memphis, Tenn., she used to spend summer vacations in North Georgia with her godparents. "I fell in love with the small-town feel, and the mountains, and I finally made a life choice," says Wills, who had been in public relations before taking her leap of faith. "I moved to Blue Ridge before I had a job – just decided to move here today rather than 'some day.'"
She was offered her current job on Sept. 11, 2001. "An ominous time, an emotional day, obviously. It really got me thinking that this was something I could do, at a time when everyone was trying to feel as if they had a place or a role in something significant, something with purpose."
Not long after Wills took the post, the Levi's plant in Blue Ridge closed, leaving hundreds without a job and resulting in a bona fide local economic disaster. Led by Wills, the development authority purchased the vacated Levi's property (90,000 square foot building on 16 acres) and soon found a tenant – it relocated the headquarters of a local manufacturer, Kismet Products, creating 100 new jobs in the process.
"Carolyn puts the human touch on economic development. To her, it's more important that people have jobs, rather than jobs having people," says Jan Hacket, executive director of the Fannin Chamber of Commerce. "And she's a great grant-writer who's brought a lot of low-interest loan money to Fannin County."
In spite of the void left by Levi's, Wills has led Fannin's EDA through a period of incredible growth. From 1990 to 2000 there were 80 new business start-ups. From 2000 through the third quarter of 2002, 80 more new local businesses emerged. For Wills and Blue Ridge, it was a question of being in the right place – all the time.
– PR
Brad Akins
Owner,
Akins Ford-Dodge-Jeep Chrysler
Winder
Age: 36
When Brad Akins lost his father, Harold, to leukemia in 1990, the 23-year-old was expected to take over one of the largest automobile dealerships in the southeast. It was daunting, but his father had taught him well, requiring him to work in every department of the dealership. Most importantly, according to Akins, he had a reason to succeed. "I had the support of 80 employees who needed me to make it," he says.
Now Akins is the sole owner of the dealership, consistently one of the largest in Ford truck sales in the U.S. And he has 230 fulltime employees helping him succeed.
But Akins keeps the memory of his father close. "My dad was real big on giving back, especially with youth athletics," recalls Akins. "After he passed away, I hoped to do something to make a memorial in his honor." In 1998, Akins donated 20 acres of dealership land as well as the funds to construct the Winder-Barrow YMCA athletic fields and a 40,000 square foot facility. The fields are named for his father, and (much to Akins' surprise) the building itself bears his name. "When we dedicated the building, they had a plaque covered up," recalls Akins. "I had asked [the board] not to name the building after me but I was voted down 19-1."
— PR
Radcliffe Bailey
Artist/Assistant Professor of Art,
University of Georgia
Age: 34
Bailey is an emerging force to be reckoned with on the national scene. His use of diverse materials to present fascinating glimpses of African and African-American life have won accolades from such resonant authorities as ArtForum and the New York Times. Bailey is equally at home as both historian and artist; while his content regularly features photos and documents, his colorful media techniques relate a less figurative, more improvisational aesthetic that recalls the jazz he cites as an inspiration. "What made Bailey stand out at an early age was his realization that the general approach of contemporary artistic greats from Robert Rauschenberg to Anselm Kiefer resembled the cultural mix and match of African societies in the Americas," notes Dr. Jerry Cullum, senior editor of ArtPapers and art critic for the Atlanta Journal-Constitution. "He could make a powerful statement by combining the look of current art with references to quilts, hymns, local ancestors and African forebears."
Bailey has most recently begun teaching at UGA, where he feels a "mission" to reach his students. "Artists carry a lot of insecurity," he says. "I'm here to help them believe in themselves. What they have to say is very important to the world."
— BY
Greg Bautista
Coordinator, El Puente
Gainesville
Age: 29
Latinos represent more than 33 percent of the population in Gainesville, and the numbers keep growing as immigrants pour into the community. "They come here to look for a better way of life," says Greg Bautista, who is helping them find their way.
Under Bautista's guidance, El Puente ("the bridge") is bridging gaps in language, education and leadership between a traditional Southern community and newly arrived Latinos.
"Greg is one of the most talented leaders we have in Georgia's Latino community," says Georgia state Sen. Sam Zamarippa of Atlanta. "I've watched him grow a local Hispanic organization into a steady force as the immigrant community continues to assimilate and build social infrastructure in North Georgia."
Bautista, a member of the Georgia Hispanic Health Coalition and president of the Hispanic Committee of Hall County, is helping increase the number of Latino mentors in Gainesville/Hall County while focusing on El Puente's primary goal: reducing the rate of teen pregnancies (which is highest in the Latino community). El Puente is a project of the Georgia Campaign for Adolescent Pregnancy Prevention. "Teen pregnancy is a sign of larger challenges in the community, the home and school environment. It is not something that can be addressed with one single program," says Bautista. "It requires a holistic approach."
— JG
Brent Brown
Chairman/President/CEO,
Chesley Brown International
Mableton
Age: 39
Brent Brown was interested in real estate, so he got his license when he was 18. He got interested in law enforcement, so he became a Cobb County cop while attending Kennesaw State College. "I didn't want to be 50 years old, look back and say, ?Jeez, I wish I had tried that,'" says Brown, who proceeded to combine his interest in property management and his love of police work to create a small security consulting company when he was 26 years old.
In 13 years Chesley Brown has grown from a company of one – just Brown – to a multimillion-dollar corporation of 500 employees based in 27 states, Japan and Brazil.
Today, the company is a full-service security management firm (guards, equipment, consulting), but Chesley Brown started as a consultant company, and had instructed 70 percent of the Atlanta skyline in how to watch its back by the time the 1996 Olympics arrived. In the process, the Chesley Brown Report (security pros call it a CBR) became the industry standard in security auditing, and Brown, who chairs the Atlanta Regional Military Affairs Council, has become an acknowledged security expert for news outlets CNN, Fox News, MSNBC and the Wall Street Journal, among others.
— JG
Julie Brown
President and CEO of Georgia Foreign-Trade Zone
Atlanta
Age: 39
It's no secret that the global marketplace has come to the rescue of Georgia's economy over the last decade, and few under 40 have played as great a role in making this happen as Brown. The GFTZ has helped create three designated port zones, two warehouses and five subzones that allow companies to defer, reduce and sometimes eliminate import tariffs imposed by state and federal authorities. Thirteen companies now operate under the GFTZ's grant of authority, including Yamaha Motor Manufacturing and Pratt & Whitney, helping them save approximately $500,000 annually; and the organization is credited with preserving approximately 100,000 jobs that might otherwise have gone overseas. "I don't think you can overestimate the impact [of international business on Georgia]," says Brown. "It is extremely important and critical to the growth of our economy."
Brown is known for her hands-on approach in helping companies large and small throughout the state, and most recently brought a foreign-trade-zone bonded warehouse, HiPage, to Peachtree City. "Julie has been a great person for us, working closely with local businesses," says Chris Clarke, President and CEO of the Fayette County Industrial Authority.
— BY
Mark James Burge
Associate Professor of Computer Science, Armstrong Atlantic State University
Savannah
Age: 34
Mark Burge took a very circuitous route to Savannah, with stops along the way in Ohio, Austria and Switzerland, but the trip has paid off for both Burge and AASU. Since his arrival at Armstrong Atlantic State, Burge has been instrumental in the acquisition of two major grants from the National Science Foundation. The first is a $400,000, four-year grant, which awards full scholarships to study computer science to students with high academic standing and a need for financial assistance. But Burge's main research interest is as principal investigator for a $60,000, two-year grant from the NSF. "As part of this grant, I am teaching students to develop software for cell phones, PDAs and smartcards," Burge explains. In doing so, he's teaching one of the few courses of its type in the United States.
Burge chaired the 41st annual Association for Computing Machinery Southeast Conference in March 2003, which brought more than 200 computer science researchers to AASU. His r?sum? reflects his travels: He earned his doctorate at Johannes Kepler University in Austria, where he worked as a research scientist for the Austrian Science Foundation. He has also worked at the Swiss Federal Institute of Technology and at Ohio State in its NASA Commercial Space Center.
— KK
Lori Canterbury
Associate State Director, University of Georgia Small Business Development Center
Athens
Age: 37
As area director of the Columbus SBDC, Lori Canterbury turned the center into a vital part of the business community by forging relationships with the city, the chamber of commerce and area banks. During her nearly four years in that position, she witnessed an economic flip-flop, which brought new challenges to an organization that helps small business grow and develop. But Canterbury called on the relationships she'd built during the good times to help keep small businesses thriving.
"Any job we did together, Lori made an impact," says Columbus Area Chamber of Commerce President and CEO Michael Gaymon. Her work with the chamber included staff training, consulting on ways to bring new business to the area and participation in the 2002-2003 Leadership Columbus class. Canterbury was promoted to her new position in Athens in July 2003. As associate state director, she will work with the state director and 19 SBDC offices on programs, operations and efforts to provide good service to small businesses in Georgia. "The economy continues to provide the SBDC with unique opportunities because our services are needed – particularly by established businesses," Canterbury says. "We offer classes on survival strategies and continue to provide capital assistance."
– KK
Jamie Carroll
Founder, Fontis Water
Marietta
Age: 28
After a lifetime spent in his family's water business, you'd think the last thing Jamie Carroll would want to do would be start his own bottled water company. Not so. After Georgia Mountain Water, the company where he'd done everything from loading trucks to creating marketing plans, was sold, it didn't take Carroll long to found a new one.
Still in its infancy, Fontis Water focuses on three- and five-gallon bottles for home and office use, though plans call for offering single-serving bottles in Atlanta-area health foods stores and gyms shortly. It's still something of a family affair – among the 15 employees are Carroll's cousin, Brad, and brother, Edward.
Instead of discouraging his son from following in his footsteps, Jamie's dad, James, is also on board as business consultant. "I'm proud of him," says James. "After two months he's probably at the point it took Georgia Mountain Water six or seven years to get to."
Carroll hopes to extend Fontis' reach to the entire Southeast, but now he's focused on the minutiae of a start-up, from recruiting clients to securing permits. And he's not letting his new role as executive go to his head – a few days ago he unloaded an entire tractor-trailer full of bottled water by hand.
— SW
Deke Copenhaver
Executive Director, Central Savannah River Association Land Trust
Augusta
Age: 35
Copenhaver, an Augusta native who has led the Land Trust for two and a half years, is one of the state's great promoters of green space as a tool for quality development. This year, he was inadvertently given a boost from Mother Nature when heavy rains drenched homes that had been developed in Augusta's flood plain (before new restrictions kicked in). "It helped our cause," admits Copenhaver, who used the subsequent $60 to $90 million in damage to illustrate the importance of protecting Georgia's flood plains in a meeting with Gov. Sonny Purdue this spring. "If restrictions had been in place 30 years ago, the plains would have been buffered, so it's a great argument for keeping the green space initiative alive."
Copenhaver has proven a formidable emissary: "From everything I hear, [Perdue] is committed to the program, but wants more participation on a local level," he says. He hopes green space will get a piece of an extended Special Local Option Sales and Use Tax under consideration by Augusta leaders, and that other communities will recognize green space as a means of attracting much-needed industry to Georgia. "We're not sure locals realize what we have," says Copenhaver.
— BY
Kevin F. Curtin
Regional Manager for External Affairs, BellSouth
Savannah
Age: 35
In his role as regional manager for External Affairs for BellSouth's southeast Georgia region, Kevin Curtin handles situations ranging from simple customer relations to interfacing with local government to answering questions from a CEO about technology. It's the diverse nature of his work he enjoys most. "Every day my job changes," says Curtin. "That's the challenge."
Another aspect of the challenge hinges on Curtin's ability to communicate on a variety of levels. "Whether it's a resident with a single telephone line or a regional hospital with complex telecommunications needs, the attention paid to each customer is critical to our success," he says.
Part of his personal success with business and government clients is no doubt a reflection of the time Curtin has invested in building relationships in the community. Curtin was named the 2003 Chairman of Junior Achievement of Savannah and is also vice-chair of the Savannah Chamber of Commerce. His wife, Kathy, and daughter, Meaghan, also claim a few hours of his busy days. "As much as I enjoy the volunteer work, it's important not to spread too thin," says Curtin. Yet another challenge for him to tackle.
— PR
Kenneth Cutts
District Director for U.S. Rep. Sanford Bishop
Albany
Age: 30
As liaison for a congressman who represents 27 counties, it's understandable that Kenneth Cutts sometimes feels like he's spinning plates, juggling bowling balls and swallowing swords, all at the same time.
"It's a balancing act, because all 27 counties believe their needs and concerns are the most important," says Cutts, an Albany native who has aspirations of becoming a motivational speaker for young people – a goal that seemed unattainable for the painfully shy kid who showed up at the door of the local Boys and Girls Club when he was 12.
"That turned me completely around," says Cutts, who now sits on the board of directors for The Boys and Girls Club of Albany – and the Albany Civil Rights Museum, the Faith Community Outreach Center, as well as the Southwest Georgia chapters of the American Red Cross, Easter Seals and Therapeutic Riding Center.
Cutts serves as U.S. Rep. Sanford Bishop's eyes, ears and mouth at the home office, in the heart of one of the Southeast's poorest regions. "Kenneth has got his finger on the pulse of all of the burning issues in our community, and I consider him this region's go-to guy," says Albany Area Chamber of Commerce President and CEO Tim Martin.
— JG
John Deaderick and Greg Jacobs
Starland Design District
Savannah
Ages: 32 and 30, respectively
Talk about doing the town – or in this case redoing the town: John Deaderick and his business partner Greg Jacobs have undertaken the gargantuan task of revitalizing some 40 blocks of blighted Victorian landscape wedged between Savannah's world-famous historic district and toney Ardsley Park. Their goal: To put Savannah on the map as a destination for thriving contemporary art, not just historic buildings, antiques shops and, of course, green beer every March.
The project centers on the former Starland Dairy, now converted into 12,000 square feet of retail, restaurant, studio and living space for tenants ranging from ironsmiths to bakeries to dress shops. A second phase of development calls for another 12,000 square feet in the dairy as well as 65,000 square feet of new construction on the grounds nearby.
At the same time, the surrounding neighborhood is coming back to life. Decades before suburbs lured the middle class outside the city limits, this mix of late-Victorian homes and storefronts made up a thriving business district, boasting the city's first supermarket. Deaderick estimates that more than 100 apartments have been restored, drawing artists, retirees from other cities and young wannabee urbanites.
Some 30 businesses new to the area have sprouted up, along with the city's first dog park. "You won't find a Gap or a Starbucks here," says Deaderick. "Instead there's a mix of creative businesses and enterprises such as grocery stores and coffee shops that support life in the neighborhood."
That's no accident, either. It's the result of four years of intense conversations Deaderick and Jacobs (both of whom hold historic preservation degrees from the Savannah College of Art and Design) held with locals. Their goal was to make sure every resident felt included in the process – and welcome in their own neighborhood.
For its part, the City of Savannah has enacted a homestead exemption to prevent longtime homeowners from being negatively affected by tax hikes. There are also programs to help low-income residents buy a home.
"The revitalization of an area with such intrinsic value is having a fundamental impact on Savannah," says Michael Brown, Savannah's city manager. "These fellows had the insight to be trailblazers."
— SW
Sherry Evans
Director of Community Development
Vienna
Age: 38
"I think the greatest thing about Vienna is its sense of hometown pride," says Sherry Evans, director of community development for the small southwest Georgia city. "Most people here are proud of where they live and they don't leave. People stick together and take care of each other."
Originally from nearby Crisp County, Evans did leave for a while; first for college at Middle Georgia and then four years in the Army. "I was in Signal Corps [communications] and was stationed at Ft. Bragg, N.C.; Korea and Ft. McPherson in Atlanta," says Evans. But when her time was up, she returned to her southwest Georgia roots.
Evans heads up all aspects of community development, including the directorship of Keep Vienna Beautiful and management of Vienna's Better Hometown Program. She assisted in preparing the city's National Historic Register nomination for Vienna's revitalized downtown. Evans is also on a steering committee to look at ways the town can develop the area around Pennahachee Creek, which runs through Vienna. "A few years ago the buzzwords were 'sense of place,'" says Evans. "My job is marketing my community. It's where I believe I was meant to do good."
— PR
Dorsey Farr
Senior Economist, Balentine & Co.
Atlanta
Age: 31
Imagine poring over mounds of data and running endless computer models to augur the best way to invest some $4.6 billion for clients such as Equifax and the University of Tennessee. That's how Dorsey Farr, research economist for Atlanta-based investment management/consulting firm Balentine & Co., spends his days – when he's not being interviewed by the Atlanta Journal-Constitution, Bloomberg or appearing on CNBC to discuss the country's wayward economy.
Farr, who came to the company three years ago after a stint as visiting researcher for the Richmond, Va., branch of the Federal Reserve, interprets economic data to plan portfolios for clients ranging from high-wealth individuals to schools and other institutions looking to manage trusts. "He can cut through the hype of Wall Street and not get caught up in the hysteria of the moment," says Farr's boss, firm chairman and CEO Robert Balentine. "It's helped us to avoid getting sucked into the various bubbles and manias of the stock markets."
One of those rarest of creatures, a native Atlantan, Farr says that as a kid he didn't see himself becoming an economist; he thought he'd be a banker like his dad. Now he's pleased to be able to practice his chosen profession right here in his hometown. "It's something I wanted to do, but I wasn't sure it would be possible," he says. "With my background and career path, it often makes sense to go to bigger cities. It's nice to be able to work here."
— SW
Greg Glass
President of Warehouse Home Furnishings (Farmers Furniture)
Dublin
Age: 39
To prove he could run a large family furniture business, Greg Glass had to leave it on a dare. "I guess when you're in a family business, everybody assumes you're an idiot to some degree, or you're a member of the lucky sperm club," says Glass. "If you want to earn respect, to prove that you can do it on your own without a net to fall into, you have to open your own company."
So that's what he did. The young man from Dublin, son of Farmers Furniture founder Sherwin Glass, opened his own company, Sofa Connection, in Savannah. The company did very well and he sold it for a profit. Having proved his point, Glass came back to run the family business. "He has proven himself extraordinarily capable," says the semi-retired Sherwin Glass, a tough boss who has given his son all of the keys to the store.
"Dad starts everyone at the bottom, to see if they want to stick with it," says Greg. "But it never had to grow on me; this business is in my DNA." With 140 stores and 1,400 employees in five states, Farmers Furniture is one of top 100 furniture companies in the U.S.
— JG
Milton Heard IV
President/Funeral Director, Hart's Mortuary
Macon
Age: 35
Dealing with other people's pain has made Milton Heard IV very successful in the funeral business. More important, it's made him a lot of friends. "I help people during the hardest periods of their lives. But it's been extremely rewarding, because it's made a difference for them and I've made a lot of friends because of it," he says.
Hart's has thrived in Macon's death business. "Being locally owned lets us provide better service, gives us a greater investment in the community," says Heard, former president of the Independent Funeral Directors of Georgia. Actually Heard is quite active in the community, serving as a member of several corporate boards, chair of the Downtown Council and a member of the executive committee of the Greater Macon Chamber of Commerce.
As president of Hart's, Heard has brought 21st century technology to a company with roots stretching back to 1899. Patrons can have a digital video of a loved one's funeral burned onto a DVD or hear music on a wireless PA at the graveside and receive digital photos of flower arrangements.
But when you get down to it, says Heard, "this is an emotional business." Even when it comes to pets – one of Heard's more recent creations is Hart's Petuary.
— JG
Dana R. Hermanson, Ph.D.
Professor of Accounting,
Kennesaw State University
Kennesaw
Age: 38
A prolific writer and researcher, Dana R. Hermanson heads up Kennesaw State's Corporate Governance Center, an eight-year-old organization that offers educational programs and research for America's corporate leaders.
Of the many works to Hermanson's credit, the one he's most proud of is a 1999 study on fraudulent financial reporting. Despite what was to happen in the next few years regarding Enron, Tyco and others, the study maintained that small companies were among the most likely to commit fraud, and that their doing so was consistently overlooked by the powers that be. The study made no less a body than the Securities and Exchange Commission (SEC) take notice, and its conclusions have been cited in SEC publications and eventually impacted SEC policy.
It's not surprising that Hermanson should be a writer – his dad authored the basic accounting textbook used by most U.S. business schools. "I always envisioned an academic career path," says Hermanson, who says he finds the entrepreneurial atmosphere at Kennesaw incredibly supportive.
Timothy Mescon, dean of the Coles College of Business at KSU, is equally pleased with Hermanson. "He's unique in his field," says Mescon. "There are few in the U.S. who have reached the stature he has. It's not common for those under 40."
— SW
Anthony Hodge
Group Executive, Technology Services Division, TSYS
Columbus
Age: 38
Tony Hodge had a bit of an edge when he helped his oldest son and various nieces and nephews fill out the forms for receiving tuition aid for college-bound students. "I know what the information is used for and how important it is to get it right," says Hodge. "The online systems they use, we developed or interface with regularly."
Hodge heads a team of several hundred in the new government services team for TSYS, the Columbus-based global processor of payments and transactions. His division is responsible for processing all student grant and loan disbursements in the United States – about $24 billion in student loan and grant payments in this year alone.
It's pretty heady responsibility and one of Hodge's greatest career challenges. "You get in a comfort zone," says Hodge, who has been with TSYS since its founding in 1983 and steadily climbed the corporate ladder to become the company's highest ranking minority executive. Coping with unfamiliar government regulations has nudged Hodge and his team out of that comfort zone. "We were building a new learning experience, ironically, in the field of education," says Hodge. "You're learning something new but you know you have the aptitude [to succeed.]"
— PR
Warren Hutmacher
City Manager of Avondale Estates
Decatur (temporarily)
Age: 29
When Warren Hutmacher visited Marietta with a college friend one winter, he enjoyed the sunny weather that allowed them to sit on the front porch – and he dreaded going home to the snow at Ohio State to complete his master's degree. Following graduation, Hutmacher headed back South where he landed the position of assistant to the city manager of Marietta. In his five non-consecutive years in Marietta (he spent one year in Gov. Roy Barnes' budget office) Hutmacher worked on projects including the Gone with the Wind Museum and the Citizens Government Academy, which educated citizens about city government. "Warren would take on a project with enthusiasm and stay with it until the end, always involving the community in decision making to help ensure the project's success," Marietta City Manager Bill Bruton says.
Hutmacher's successes in Marietta bode well for his position as Avondale Estates city manager, a post he has held since February. (He's house-hunting in the community now.) "We're embarking on a master plan to recreate downtown Avondale Estates as a showcase for services to residents," Hutmacher says. The plan includes transforming older properties into vital entertainment venues including restaurants, shops and an ice cream parlor. Hutmacher's goal: Avondale Estates residents should be able to get everything they need right in their own community.
— KK
R. Lawton Jordan
Attorney, McKenna, Long & Aldridge
Atlanta
Age: 32
While his classmates were going to summer camp, Lawton Jordan was going to Camp David. When your uncle is Hamilton Jordan, chief of staff for President Jimmy Carter, those opportunities just present themselves – and in Lawton's case, leave lasting impressions."Those are some of my earliest memories, and I just took to it," says Jordan.
At 23 Jordan was associate director of the White House Office of Intergovernmental Affairs for Bill Clinton. He served as Southern political director for the Gore-Lieberman campaign and this year served as chief of staff to the Georgia Senate Minority Caucus. So he was a natural for McKenna, Long & Aldridge, Atlanta's political powerbroker law firm. In his spare time Jordan co-founded Red Clay Democrats, a fundraising group created to infuse the party with youthful energy and more bucks. "Smart as hell but unassuming," is how Savannah attorney Paul Threlkeld describes his law-school buddy.
His father is an Augusta attorney, his cousin was a Georgia Supreme Court justice. "Politics and the law were ingrained at an early age," says Jordan. "On the other hand, my brother is a guitarist in a rock band, so there's a little nature and a little nurture going on in our family."
— JG
Gwen Keyes
Solicitor-General, DeKalb County
Lithonia
Age: 34
With Gwen Keyes it always comes back to her mother, Ursula, a registered nurse at a rehab hospital. "She's the one who told me I could be anything I wanted to be," says Keyes, who planned to be a psychologist, then switched majors because she wanted to be a financier. Naturally, she became an attorney, and ultimately the first African American (as well as the first woman, and the youngest person) to be elected to the office of Solicitor General in DeKalb County.
First elected in 1998, she ran unopposed in 2002. Keyes' office prosecutes about 12,000 misdemeanors each year and she oversees a staff of about 70 and a budget of $3.6 million. The downside of the job, she says, is "I don't get to spend any time in court, and I miss that." That could change, though – Keyes plans to resign her position next year to enter the race for DeKalb County district attorney.
In the meantime, she's made her mark in the battle against domestic violence, initiating numerous community-based awareness programs and petitioning the state legislature to enact tougher laws. "It's abhorrent to me that someone would not feel safe in their own home," says Keyes, selected as one of Atlanta's Top 100 Black Women of Influence by the Atlanta Business League, and one of the "21 for the 21st Century" by Ebony magazine.
— JG
Allegra J. Lawrence
Attorney, Sutherland Asbill & Brennan
Atlanta
Age: 32
"I never thought I'd experience one of my professional highlights before I turned 30!" says Allegra Lawrence. But that's exactly what happened when Lawrence, then 29, became part of a team of lawyers, from Sutherland and other firms, representing Vice President Al Gore and the Florida Democratic Party before the 11th Circuit Court of Appeals during litigation stemming from the 2000 presidential election.
"It was amazing, exciting and a little scary," she says. "In 32 days we pulled 16 all-nighters." The end result became a hotly debated part of United States history and a defining moment for the young lawyer. "I learned how to rely on inner resources and the teamwork of my colleagues," says Lawrence. "It was my biggest professional stretch."
But it struck a personal chord as well. "I came from a family where everyone votes," says Lawrence. "But the experience impressed on me how important that was."
A member of the Litigation Group at Sutherland, Lawrence continues to build her practice, predominantly in labor and employment law. An Atlanta native, Lawrence is involved in a wide range of community activities and serves as the 2003 president of the 200-member Georgia Association of Black Women Attorneys.
— PR
Brian Leary
Vice President of Design & Development,
Atlantic Station
Atlanta
Age: 29
According to Brian Leary, even pop culture is pointing the way back to the city. "People aren't watching 'Sex in the Suburbs,' they're watching 'Sex in the City,'" he jokes. But if the HBO series doesn't do the trick, perhaps Leary's project, Atlantic Station, will.
Atlantic Station, an urban redevelopment project combining homes, office space and retail in the heart of Midtown, began as Leary's master's thesis in 1995 while he was at Georgia Tech. It was titled "Atlantic Station: A Place to Live-Work-Play." Timing is everything: Leary got together with developer Jim Jacoby, who was already planning to redevelop the property, and everything clicked. "I've been told when you're young you don't know any better," says Leary. "I guess I'm not old enough to be jaded or frustrated by NIMBY neighbors."
The first residents will move into Atlantic Station in fall 2003. The massive 17th Street Bridge will open in January 2004 and the 500,000-square-foot office tower will open in the spring. "That's when it will become real," says Leary. "I'm proud of my baby. It's exciting to see it taking its first steps." Leary hopes to take the concept of Atlantic Station on the road, throughout the Atlanta area and the U.S. "I'd like to raise the level of expectation of urban living," says Leary.
— PR
Mark S. Monroe
President, Hat Shack, Inc.
Atlanta
Age: 34
It was a simple goal. "Open one store and not go bankrupt," says Mark Monroe, founder and president of Hat Shack, Inc. Itching to leave the corporate world in 1995, Monroe saw a "dumpy" hat store and thought, "I can do that better."
He maxed out a couple of credit cards to start up the business without "one minute" of personal retail experience. "But," says Monroe, "I figured, I shop a lot and if you're nice to people and sell for $20 what you bought for $10, you're in business!" A tad simplistic? Yes. But it's tough to argue with success.
As of July 2003 there are 21 Hat Shack stores in Georgia, Alabama, Florida, Louisiana and Mississippi, and Monroe has plans to keep on growing in spite of a soft economy. "For whatever reason, we're in a hot market," says Monroe. The hats his stores sell, from sports team caps to kongol brand and bucket hats, are an easy way to "change your look" without a lot of expense. To take advantage of that market, Monroe assembled a team of experts to redesign stores, develop marketing strategies and spot industry trends. Part of their focus is bringing more women into Hat Shack stores. The newly redesigned stores have a high-end, fresh feel to them with rich wood shelves and sleek designs.
"We're getting better as a company," says Monroe. "I tell our people, 'Business is good! Let's step up to the plate.'"
— PR
Brad Nurkin
Executive Director and Chief Administrator, East Georgia Regional Medical Center
Statesboro
Age: 31
When Brad and Caroline Nurkin have their first child this November, they'll feel right at home at Statesboro's East Georgia Regional Medical Center. Since September 2001 that's where Nurkin has spent a good portion of his day as executive director and chief administrator of the 150-bed facility.
Most recently, the medical center, serving nine counties and approximately 200,000 people in southeast Georgia, added a 12-bed designated oncology and chemotherapy unit to its menu of services. "Patients used to have to drive to Savannah, Augusta, Atlanta or even further to receive treatment," says Nurkin, who recruited a top oncologist to lead the unit. "We are constantly trying to add to our existing specialties." Currently, Nurkin hopes to add specialists in the fields of cardiology, neurology and pulmonology.
Because of the proximity of Georgia Southern University's School of Nursing and Ogeechee Tech, there's rarely a shortage of RN, LPN and radiology support staff at the hospital, and the facility and staff continually draws high customer service ratings. "Even though we're the primary hospital in the region, it's important for us to create an atmosphere where sick people feel better and feel good about the care they receive," says Nurkin.
— PR
Robbi Raitt
President and Founder,
Empire Tickets
Atlanta
Age: 35
At the tender age of 26, Raitt dove headfirst into the burgeoning ticket industry as a one-man show working out of his van, driving from event to event. Since then, Empire Tickets has grown into a multimillion-dollar, 22-person company that provides choice seats at major sports and music events. This year Empire partnered with several local radio stations to run promotions and maintain online event calendars. "We've been working with Empire a couple of years now, and Robbi's always been very responsive," says Doug Konkel, promotions director for Atlanta's 680 The Fan. "A lot of sports fans look to us for access to events, and we've never had a situation where Empire wasn't there for us, on the spot."
Raitt credits Empire's success to its reputation. "I have always been honest and up-front with my customers, even if it means losing a sale," he says. Operating out of Buckhead, Empire Tickets grew nearly 40 percent over the last year, but don't expect much change to come with the growth. "We have a strong identity of being a young, hip, professional company, in an industry that sometimes struggles with a negative reputation," says Raitt. "We will grow but it will be controlled growth. I will not sacrifice my core brand identity."
— BY
Christine Riordan, Ph.D.
Director, Institute for Leadership Advancement, Terry College of Business, University of Georgia
Athens
Age: 39
As the creative force behind the Institute for Leadership Advancement (ILA), Dr. Chris Riordan is responsible not only for creating the state's next generation of business leaders, but also for furthering the management capabilities of current execs.
Founded in 2001, the ILA offers one of the nation's most comprehensive leadership programs with specific coursework for undergraduates and graduates, a research consortium aided by a handful of corporate partners and an executive leadership component.
"The ILA is only a few years old, but already we're starting to see its ripple effect from the campus outward to the business community. Chris Riordan is the rock at the center of those ripples," says P. George Benson, dean of Terry College. "Under her direction, ILA's impact on corporate and community leadership will grow wider and deeper in the years ahead."
As if her duties as ILA director (which included raising $6.5 million to fund the project) weren't enough, Riordan still finds time to conduct her own research – mostly on the weekends – and teach courses in organizational behavior, leadership skills and organizational consulting. She was named Terry College Teacher of the Year in 2003 and is currently in the middle of a four-year executive position with the Southern Management Association, which will culminate with her presidency of the organization in 2005.
— SW
J. Michael Robison
CEO, Lanier Parking Systems
Atlanta
Age: 39
J. Michael Robison is one of a new breed of Atlanta innovators. Having formed Lanier (now the city's biggest parking company, with 60,000 spaces) while a mere sophomore at Georgia Tech, he is now startling his peers by aggressively pushing for alternative transportation. Crazy? Like a fox – these fresh air initiatives helped Lanier land the parking contract for Midtown's new uber-development, Atlantic Station. "For us, it was a real coup," says Robison. "It was out of our scale, but we were ahead of the curve on the alternative transportation component, which attracted them to us."
Lanier has invested heavily in correcting Atlanta's anti-pedestrian infrastructure, in the interest of both improving the company's real estate holdings and serving the greater good. Robison most recently founded Atlanta Streetcar Inc. to create a six-mile streetcar route on Peachtree Street, and actively pushes for an Atlanta parking tax devoted exclusively to public transit improvements.
"People ask me all the time – doesn't it hurt your business?" he says. "But alternative transportation is a business in itself. We always want to innovate. If the day comes when Lanier is out of the parking business, then fine."
— BY
Steve Romaniello
President & CEO,
Carvel Corporation
Atlanta
Age: 36
Steve Romaniello is one of the few CEOs who can say he was once chased through an airport by a strange man yelling "Cookie Puss! Cookie Puss!" "It really happened," says Romaniello, cheerfully explaining that Cookie Puss is a type of Carvel ice cream cake. "People have strong reactions when I wear my Carvel Ice Cream shirt!"
Indeed, Carvel ice cream is an institution in the Northeast, where it began in 1934. "There's a cult-like attraction to the brand," says Romaniello. His task is to capitalize on that attraction and grow the franchise and supermarket divisions with the same level of support, unifying the company. He's been successful, thus far, re-establishing trust with franchisees who had grown wary under the former leadership. "The franchises were there; the product was there. We came in to clean it up and grow it," says Romaniello.
After joining Carvel in 2002, Romaniello quickly renovated the franchise system, introduced 20 new menu items and launched an aggressive marketing campaign, all in the name of ice cream. "Carvel's history is a big burden to live up to," says Romaniello. "Success is all about exposing the product because once people put it in their mouth, they'll be back!"
— PR
Preston Smith
State Senator
Rome
Age: 31
Preston Smith is one of the young Republican trailblazers trying to rewrite Georgia's political history as the state enters a new era: the beginning of a viable two-party political system.
"I feel like we're writing history right now, and there was a sense of that when I was sworn into the senate and we had our first majority ever," says Smith, who became Georgia's youngest state senator when he defeated six-term Democrat Richard Marable last November.
It hasn't taken the attorney, college law teacher and youth minister long to assume leadership in the tort reform debate. And in August Smith became the first senator in Georgia's history to be named Administration Floor Leader in his first term when Gov. Perdue appointed him to the task.
"In a time when the media and the public often look on those in public service with disdain and skepticism, the youthful passions of next generation leaders like Preston Smith should give us hope," says Senate President Pro Tem Eric Johnson.
Smith, assistant deputy whip of the majority caucus, serves as vice chairman of the Ethics and Government Reform Committee and secretary of the Health and Human Services Committee. He sponsored or co-sponsored more than 50 bills and resolutions in his first few months in office.
— JG
Alisha Thomas
State Representative
Austell
Age: 24
After making history by becoming Cobb County's first African-American state legislator (and the youngest legislator in the state), Alisha Thomas figured she'd be one of those freshmen state reps who sat quietly, watching and learning, testing and surveying the political landscape. She figured wrong. A month after being sworn in, she became one of the most controversial.
"I was invited by people in my district to attend a Sons of Confederate Veterans meeting, and since I represent the entire district, I felt it was necessary for me to go," says Thomas. But the debate turned ugly and she ultimately walked out. "What put me over the edge was when they started bashing the NAACP. When you talk ugly about the NAACP, it's almost like talking about my Mama."
Speaking of mamas, it was a crying mother who helped make Thomas one of the state's busiest legislators. She sponsored a bill that would allow juveniles accused or convicted of violent crimes to be tried and sentenced as juveniles. "When you subject a 14-year-old to an adult prison, that means lack of education, mental health resources, it means rape, more violence," she says. "It means when they get out in 10 years, they're better criminals."
— JG
Ben Thompson
Associate Professor of Legal Studies,
Georgia Southern University
Statesboro
Age: 36
Ben Thompson is founding director of the School of Economic Development and director of the Coastal Rivers Water Planning and Policy Center, both housed at GSU, but he also teaches – and teaches well. Thompson chaired the committee that created the School of Economic Development, the external-outreach arm of the College of Business. The school offers economic impact analysis, management training and public relations work to rural businesses. "As far as we know, we offer the only university business degree in the country in regional economic development," Thompson says. The coastal rivers center "provides policy makers in the state with options for dealing with the waters of Southeast Georgia, especially the rivers flowing to the ocean," Thompson says.
But teaching remains important to Thompson. He has received the Crider Award for Excellence in Teaching in the College of Business Administration and in 2002 was selected as a Governor's Teaching Fellow. Gov. Zell Miller instituted that program, which rewards 20-25 select professors with the opportunity to meet at the University of Georgia to network and learn to be even better teachers. Thompson holds BS and MBA degrees from UGA and a JD from the University of South Carolina.
— KK
Natasha Trethewey
Associate Professor of English
and Creative Writing, Emory University
Atlanta
Age: 37
A need to tell the stories of people who have been generally ignored by history has brought Natasha Trethewey two published collections of poetry and a 2003 Guggenheim Fellowship. "I've always been interested in the contentions between personal stories or histories and the more public story or history," says the Mississippi native. Domestic Work (Graywolf Press, 2000), dedicated to her grandmother, traces the life of a woman through poems about jobs she held. Bellocq's Ophelia (Graywolf Press, 2002) is a collection of poems written in the voice of a "light-skinned black prostitute in a New Orleans brothel" of the early 1900s. Both works won a Mississippi Institute of Arts and Letters prize and Domestic Work received the Southern Regional Council's Lillian Smith Award.
With the Guggenheim, a national award presented to men and women who have demonstrated exceptional creative ability in the arts and a promise of future accomplishment, Trethewey will travel throughout the Southeast completing the research for her next book, Native Guard. The Louisiana Native Guard was "the first officially sanctioned African-American regiment in the Civil War," she says. They guarded Confederate soldiers on Ship Island, off the coast of Mississippi. Trethewey sees herself as something of a native guard of Mississippi's past as she continues to explore the public and private stories of her home state.
— KK
R.K. Whitehead
President/CEO, Whitehead Die Casting
Gainesville
Age: 38
R.K. Whitehead was pursuing higher education in the form of an MBA at prestigious Wharton College in Philadelphia when his father died suddenly, leaving the family business with a leadership void. "They needed me there on the scene, so I stopped my ivory-tower education and got a real-world education," says Whitehead, whose company makes custom aluminum and zinc die castings for a diverse clientele.
That was the fall of 1990. Whitehead, who graduated from Georgia Tech with a degree in mechanical engineering, had helped coordinate the company's move from Atlanta to a larger facility in Gainesville, then went off to graduate school, so he knew enough about the business, founded by his grandfather in 1950, to get by. And then some.
Since taking over under duress, Whitehead has increased annual sales from $3.5 million to almost $8.5 million, and expanded the customer base by 40 percent. Employment has increased from 70 to 95 and Whitehead has invested $2.5 million in new equipment over the past six years.
"He's a community leader in the truest sense," says Kit Dunlap, president and CEO of the Greater Hall Chamber of Commerce. In addition to running a vital local business, Whitehead chairs Hall County's economic development council and serves on countless other committees and boards.
— JG
Ron Young
Chief Warrant Officer,
U.S. Army
Lithia Springs
Age: 26
Ron Young hoped to spend a year in the desert, flying helicopters for the U.S. Army in the Iraq war. "It would have meant spending no money on groceries, no bills; I could have come home with $25-30,000 in the bank, that's one of the reasons I was looking forward to it," says Young, a former mechanical engineering student at Southern Tech in Marietta. "Also, after two years of training I wanted to see if I had what it takes."
On March 24, he and fellow CWO David S. Williams were attacking targets when their Apache helicopter was grounded by enemy gun fire. After landing amidst a swarm of bullets ("You could hear them whizzing by your ear," says Young) and avoiding the Iraqi army for about an hour and a half, the two men were captured. After 22 days, they were rescued by Marines near Tikrit. Since his capture, Young has been catapulted to celebrity status, which he has handled with aplomb.
People magazine named him one of the world's top bachelors, and ABC wanted him to be its next reality show bachelor. "You wouldn't believe some of the letters I've been getting from women," says Young, who plans to write a book with Williams about their war experience. Beyond that, says Young, "I'd just like to keep on flying."
— JG