Fast Finish For A Late Starter
A saxophone player becomes a UGA lineman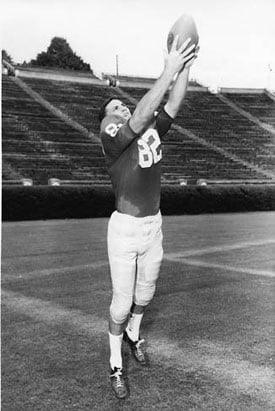 Here is a guy who had never played anything but the saxophone, who turns out to be one of the great linemen in the history of University of Georgia football. You might call him a late bloomer, but he was more a late starter. He did not go out for football until his senior year at Atlanta's Northside High School but when he did, he not only made the first team as a defensive end but was the main reason Coach Wayman Creel's Tigers held opponents to an average of less than two points per game. Thanks to Holmes' ability to protect the flank and turn foes' running games inside, Northside not only won the state championship but shut out its opponents in the city, north Georgia and state title games.
And yet the college scouts were unimpressed – all but Georgia's, who saw tremendous potential in the highly motivated, 6-5, 220-pounder. Georgia shifted him to tackle and held him out one year for seasoning. Holmes started every game his sophomore and junior seasons and for his sparkling senior season in 1962, he was named the Dogs' most valuable lineman.
Holmes was drafted by the Denver Broncos but signed with the Dallas Cowboys. He played a rookie exhibition season for Dallas but was unable to oust perennial All-Pro Bob Lilly for a starting job and returned to Atlanta.
Today, Holmes lives in Monticello, where his wife is mayor and he is vice chairman of the Life of the South Insurance Co., a company he helped start with his two partners, Butch Houston and Lloyd Shaw, in 1979. In their first year in business they did $3 million in premium income. Last year they did $350 million with sales in every state in the country.
A terror on the football field, Holmes is Mr. Nice Guy in everyday life. More than a dozen of his friends and acquaintances had nothing but words of praise for him.
"He is always doing something for others," says Bill Dukes, a prep football standout who played against Holmes in high school. "The only time I ever saw him mad was on spring break in Daytona Beach, Fla., when we were both at UGA. He was working as a bouncer at the Safari Beach Hotel. Some student had too much to drink and was cursing and threatening everyone in sight. Paul asked him to stop and the guy wouldn't. So, with one punch, Paul decked him and there was no more trouble."
Holmes was born March 21, 1940, in Goldsboro, N.C. When he was in elementary school, he played the saxophone so well he was selected to play in the Goldsboro High School band. He was a musician, not an athlete, until his family moved to Atlanta and Coach Creel convinced him to come out for the Northside football team.
In 1965, Holmes became a dairy farmer and went on a public service and political roll that took him from his town of 3,000 to most every county in the state. At the tender age of 28, he became Commissioner of Jasper County. He was chairman of the Republican Party in Jasper County, chairman of the Jasper County Cancer Society, a director of the old Bank South, state director of the Farmers Home Administration and state director of the Agricultural Stabilization and Conservation Service. Now, at age 63, Holmes is a director of the Professional Association of Georgia Educators, a director of the Georgia Public Policy Foundation, chairs the Development Authority of Jasper County, is vice-chairman of governmental affairs for the Georgia Chamber of Commerce, chairs the board of Griffin Technical College and serves on the state indigent defense council, which assists those charged with crimes who have no money for attorneys.
The Holmes live in a 100-year-old house two blocks from downtown Monticello. They have three children and eight grandchildren.