Saxby Chambliss: Prime Time Player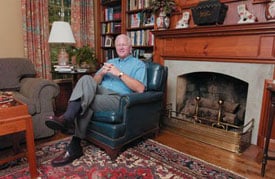 He's a made-for-TV senator, and Saxby Chambliss looks every bit the part. The white hair, tasseled loafers and aw-shucks demeanor fit the profile of a polished small-town lawyer turned national power broker. He jokes easily with his staff, who fell into the habit of calling him "Saxby" soon after being hired. He's never corrected them. Smiling readily, shaking hands constantly, he still has the easygoing disposition of the UGA fraternity brother who booked the bands for parties. Sitting in his Atlanta office, he shrugs off the list of responsibilities that get him up at 5 a.m. "They just wind me up like a robot every day," he says of his staff, "and I go where they tell me."
His press representative smiles. She's used to his wearing the mantle of office so lightly. Despite his office's careful management of press exposure, she doesn't attempt to dispel the image of an affable South Georgia businessman learning to cope with new pressures. Chambliss chooses his words so carefully he can, at times, seem to lack fire. But behind the likable, accessible personality is a stealth politician with a laser focus. One year into his first term, the former Little League coach has quickly proven himself a talented team player for President Bush: A rare freshman appointee to the Senate Intelligence Committee, Chambliss has appeared on "Meet the Press," Fox-TV and the BBC defending the administration's decision to go to war with Iraq, and supporting the Bush tax cuts. With fellow freshman Republican Sen. Lindsey Graham, he's proposing an out-of-the-box solution to the Democrats' filibusters to block two Bush judicial appointments. The senators say they are studying the possibility of testing those filibusters' constitutionality – by suing the Senate.
Perhaps it was Chambliss' low-key demeanor that prompted political commentators nationwide to credit his stunning come-from-behind victory over incumbent Democratic Sen. Max Cleland to three rousing personal appearances with President Bush, the last coming just 72 hours before the election. Chambliss clearly profited from the state's continuing shift to the right on issues like taxes, and the president's popularity with voters. But Emory University political science professor and author Merle Black (The Rise of Southern Republicans) says that while the Bush appearances helped, the man who really won the office for Chambliss is Chambliss. "He was a very strong candidate," says Black. "As a lawyer, he's able to make concise, persuasive arguments. During the debates, he had Cleland completely on the defensive. He was simply unable to rebut the criticism. Nobody came away thinking Cleland had won. Nothing seems to rattle [Chambliss]. He just goes on."
Black says Chambliss' performance in the debates merely cemented a reputation he had earned as a U.S. Representative, serving four terms before redistricting moved his hometown of Moultrie into the territory of Republican Congressman Jack Kingston of Savannah in 2001. Chambliss' political career had begun with a loss in the 1992 Republican congressional primary. "Most politicians have never lost anything," says Black. "Chambliss had the driving ambition to come back. He wanted to be a player. It tells you he's a risk-taker. I believe he's an emerging star in the Republican party."
Preacher's Son
Born Nov. 10, 1943, in Warrenton, N.C., Chambliss was the middle son of an Episcopal priest whose frequent moves crisscrossed the Southeast. "Growing up the son of a minister was a great training ground for a politician," Chambliss says. "We moved five or six times. When I was in high school, we'd move during the summer. My older brother and I would have to find new friends without school being in session. When you expect that over and over, you learn the advantage of meeting people easily."
Preachers' kids often have a reputation for "a certain rebellion," says Chambliss, but it also "established my faith early on in life. When I was in college, it didn't matter how late Julianne and I stayed up Saturday night, we always went to church the next morning."
His athleticism helped him find a way to fit in, allowing him to join Little League and sandlot baseball teams before school started. Later, he spent his first two years of college at Louisiana Tech before transferring to the University of Georgia in 1963-1964. It was there that he experienced what he still calls "the most significant event of my life" – not breaking his arm after making the baseball team, not joining Sigma Chi fraternity nor deciding to enter law school, but meeting future wife Julianne Frohbert.
"The University of Georgia was a great party school," says Chambliss with a wan smile, "and I loved to have a good time." His grades slipped as he and his fraternity president roommate planned every bash. "He'd usually get the keg, and I would book the band," says Chambliss. The little combos he'd engage included the Four Tops, the Temptations and Ike and Tina Turner. "I was bad to lead the charge at every party," he says.
He credits Julianne with helping him get back on track. "She studied every night, so if I wanted to be with her, I had to study," he says. His fraternity and Julianne's sorority (Phi Mu) connections meant he befriended other movers and shakers in the UGA Greek system, including future Rep. Johnny Isakson. Then, as now, the Bulldogs' schedule figured large in Julianne and Saxby's social life. Chambliss would later help recruit UGA football coach Ray Goff – "one of my very best friends."
His parents' modest resources couldn't support two sons in college at the same time, so Chambliss took part-time work to make ends meet, and for a time worked during the day and went to night school. For three summers, he worked as a traveling representative for Benson's Bakery in Athens, and at the bakery in Bogart. He decided to go to law school because he liked working with small businesses. Today, he says, he can't think of any major misfortunes that helped shape his worldview. "We didn't have much money growing up, but there was a lot of love," he says. "I can't think of any dramatic flashes, or losses of loved ones. We were very fortunate."
In fact, his life continued on a course as if scripted for a PG audience. The couple married in Thomasville, Julianne's hometown, and settled in the picturesque South Georgia farming community of Moultrie (pop. 15,000). "It was a perfect place for our children to grow up," says Julianne, who would teach third grade in the public school there for the next 26 years. After extensive interviews, Chambliss took a job with local attorney Lamar Moore, ready for a mentor. Moore "taught me integrity just by living it every day in practice," says Chambliss. "His word was his bond." In that small-town practice, "I saw the opportunity to work with smart people who were real entrepreneurs and heads of corporations," he says. "I could affect their decisions and see the benefit to my community."
"I took him because I thought he wouldn't end up in politics," a wistful but proud Moore later told the Atlanta Journal-Constitution.
Except for an unsuccessful run for fraternity office, Chambliss had never shown much interest in politics. He says he never remembers his father talking about government, but his mother apparently holds stronger feelings. On meeting President Bush in March 2002, Emma B. Chambliss told the commander-in-chief that she wanted her picture taken with him, but added firmly, "I'm a Democrat." In his speech afterwards, Bush referred to Emma's declaration and quipped, "I said that didn't bother me one bit. I never would have gotten to be the governor of Texas had not a lot of Democrats voted for me."
Bush may have his work cut out for him. Julianne reports that when he told Emma he wanted her vote, she allowed only, "I'll think about it."
Chambliss says that although he supported local Democrats like Charles Hatcher, he was never actively involved in either party's politics. In those pre-Reagan days, the Republican party was still a meek minority in the state, especially in South Georgia. But as Kevin Phillips predicted in his 1969 book The Emerging Republican Majority, the passage of the 1964 Civil Rights Act set in motion a series of events that would eventually rive Southern Democrats, some of whom, like South Carolina Sen. Strom Thurmond, changed parties. The 1980 Reagan Revolution also captured many more once-stalwart South Georgia Democrats with its business-friendly approach to taxes and regulation.
Ordinary Strength
By 1992, a group of Moultrie businessmen headed by Bill Acuff approached Chambliss about running in the Republican congressional primary. They were convinced he could win. "It was very flattering," says Chambliss. Ever pragmatic, Chambliss understood that his seeming ordinariness was one of his greatest political strengths; like those businessmen, voters would respond to his authenticity. "The one thing I bring to the table is the perspective of being a real person, of doing the things normal Americans do – raising kids, going to church. I knew it would be extremely difficult," he says. "But in running against Cleland, for example, I knew that my voting record was more in line with the way Georgians think."
Julianne had another reaction: "I cried," she says of the businessmen's proposal. "I thought they'd lost their minds. I was so secure with life as it was, I couldn't imagine it turned upside down. We had a child in high school – I didn't want to be a single parent. I did a lot of praying about it. Finally, I was convinced that God had prepared us. But Saxby wouldn't have done it if I'd said no."
It's nearly impossible to overestimate Julianne Chambliss? a considerable presence in both her 36-year marriage and her community. Tiny and bristling with energy, it turned out that "I'm not political, but I love campaigning," says Julianne. By all accounts, she's very good at it, softening her husband's businesslike approach and revealing the human behind the political force with insights and anecdotes. It's she who reveals that her husband brought a disposable camera to snap photos of President Bush, despite his staff's offer to have a professional do it. "No," she says he told them, "I want to take it to the Wal-Mart in Moultrie," clearly relishing the locals' reaction to the developed shots. She also credits the couple's many fraternity and sorority connections from UGA with helping to propel Saxby into the Senate. "When I meet with my sorority, I tell them, I'm your sister and Saxby is your brother-in-law," she says.
Chambliss lost the 1992 Republican primary to Bob Cunningham, a Christian conservative who went on to lose to Democrat Roy Rowland. Touring the state for the next two years, listening to voters, Chambliss said he sensed they were sick of "one scandal after another" from the Clinton White House. Rowland may have realized the uphill battle he faced when he decided not to run for re-election in '94, as many South Georgia districts went Republican. (Rowland remained a Democrat, but later supported Chambliss' senate run.) Chambliss captured the 1994 Republican nomination, and defeated Democrat Craig Mathis to become the first Republican Eighth District congressman since the Civil War. It was a sign of things to come.
Chambliss would be re-elected to a total of four terms in the House of Representatives before redistricting encouraged him to consider higher office. By 2002, he had accrued a record of conservative voting that attracted the attention of Republican party operatives – and the ire of opponents. He'd quickly allied himself with a powerful bloc of Georgia Republicans, including Newt Gingrich, John Linder, Jack Kingston and Mac Collins, and conferred with them often. According to the nonpartisan Congressional Quarterly, since 1997, Chambliss voted the party line 94 percent of the time.
A Clear Choice
In his senate race against Cleland, Chambliss proudly drove home the record that he said was "closer to the way Georgians think." The two could hardly have represented starker choices on several issues: Cleland was pro-choice and only reluctantly supported a diminished version of the president's tax cut. The incumbent senator, a veteran who lost three limbs in Vietnam, also opposed a bill giving Bush power to hire and fire personnel in the Department of Homeland Security. He had high approval ratings from environmental groups and the ACLU, with the liberal Americans for Democratic Action rating him at 85 percent.
Chambliss supported the president's tax cut, the bill on Homeland Security powers for Bush and a strong response in Iraq. The American Conservative Union graded him at 100 percent. The League of Conservation Voters listed him among their "Dirty Dozen" legislators for his pro-industry votes on clean air and water legislation. But the candidates' opposing positions on the Homeland Security Bills set off the most sparks. In one of the most controversial ads in a host of fractious races across the country, a Chambliss campaign spot against Cleland began with photos of Osama bin Laden and Saddam Hussein (later edited out). A voiceover said, "Max Cleland says he has the courage to lead, but the record proves that's just misleading." In a press release, Chambliss attacked Cleland for "breaking his oath to protect and defend the Constitution."
Despite the outcry from those who dubbed Chambliss and other pro-war Congressional nonveterans "chicken hawks," Chambliss maintains that challenging Cleland's voting record was fair game. (He says he could not serve in the military because "I blew out my knee playing football" in law school.) Mary McGrory of the Washington Post questioned whether Chambliss' "dirty-bomb politics" were the brainchild of Bush strategist Karl Rove.
But Chambliss had also gathered first-hand knowledge of events in the Middle East as a member of the House's Permanent Select Committee on Intelligence. On a "life-changing" visit there in January 2002, he delivered messages from the administration to President Hosni Mubarak of Egypt and Palestinian Authority President Yassir Arafat. "The people there want peace," he says. "When the people want peace, their leaders will find a way to do it."
Chambliss' military support grew from the grass-roots: As a Congressman, he'd successfully worked with local business and community groups to keep several of the state's military bases open after they'd been targeted for closure. One of the most hawkish members of the Senate, he hasn't ruled out military action against Korea if, for example, the country tests a nuclear weapon. As a member of the House Agriculture Committee, he'd similarly championed causes for South Georgia agribusiness.
But perhaps as much as anything else, Chambliss' most persuasive argument for many voters was their identification with him as someone with shared values. Asked what issue prompted them to vote for Chambliss, several supporters who attended his office opening in his hometown of Moultrie replied in much the same way as longtime friend Peter Dillard: "It's not about the issues. It's about the man. We all know him as the Little League coach. He's a leader in our church. His wife taught all our kids. He's the real deal, the real person, the family man." Many still referred to the Clinton scandals as motivation for voting for "another kind of politician."
As Julianne says, "If you meet Saxby, you like him."
Bush, in a last-minute campaign appearance for Chambliss, put his finger on the pulse of another group who identified closely with the candidate: UGA football fans. "Saxby said to make this short, because the Dogs are playing!" Bush shouted to the crowd, who woof-woof-woofed their approval.
Republicans routed Democrats in big races across the country, winning Georgia's Democratic stronghold, the governorship, for the first time since Reconstruction. Chambliss clearly benefited from the trend. But as Merle Black pointed out, Chambliss is a "real person" who came back from a 22-point deficit to wrest the Senate seat from a popular incumbent in the most expensive Congressional race the state has ever seen. Chambliss lost 20 pounds on the campaign trail, but his victory helped Republicans win the Senate, previously held by the Democrats by a single vote. The long-term benefit may be even more meaningful, says Black: "The white Southern moderate is the swing vote that will determine many races, especially among rural and poor whites. Increasingly, this vote is turning Republican. South Georgia may turn out to be a huge base of support. Chambliss can do a lot of good for South Georgia."
Team Bush
Since his election, Chambliss has become an outspoken supporter for Bush's programs, and as a member of the Senate Armed Services Committee, he pledges to follow in the footsteps of Georgia senators Sam Nunn and Richard Russell in supporting the military community. With Sen. Zell Miller, Chambliss proposed a bill, which the Senate passed by unanimous consent, granting posthumous citizenship to noncitizen soldiers who die in combat.
He's also proven to be a solid supporter for Atlanta's Centers for Disease Control and Prevention, helping to secure $250 million in funding this year. All the while, he has put himself in the forefront of such battles as the ones over Bush judicial appointments Charles Pickering and Priscilla Owen. While many Democrats have termed the jurists' records "extreme," Chambliss says, "It's not about their positions. It's because they're conservatives."
Perhaps his most contentious relationship is with the state's environmentalists, who remain critical of Chambliss' record, citing as one example his vote against a bill that would have required plants like those owned by the Southern Co. to adhere to the Clean Air Act. (A Bush administration-endorsed plan has allowed further study.) "Environmentalists have their own agenda," Chambliss says. "They've ignored science because they just want stricter regulations. I'm concerned about the cost to taxpayers."
"The science speaks for itself," says Laura Turner Seydel, co-founder of Upper Chattahoochee Riverkeeper. "Chambliss is speaking for the constituents who are lining his pockets." (The Southern Co. contributed $16,000 to the Chambliss campaign.) "I wish Sen. Chambliss would vote for the interests of Georgians, rather than corporations," says Jason Rook of Georgia Conservation Voters.
Chambliss' affability is proving difficult to dent. An inadvertently recorded phone call revealed Chambliss asking Senate majority leader Bill Frist for an ambassadorship for a campaign contributor. (He didn't get it.) The Georgia populace shrugged. They yawned when the AJC ran stories about two barbecue restaurant owners who complained they hadn't gotten much for the thousands of dollars' worth of food they'd donated during Chambliss' campaign. And despite his environmentally unfriendly voting record, Chambliss is co-sponsoring legislation to preserve Lithonia's Arabia Mountain as a National Heritage Area.
In the meantime, Chambliss has warmed to the spotlight, ready to take center stage playing the part that he knows best. "I want to make the world a better place because I'm a grandparent," he says. "I want that for everyone's grandchildren." He beams as he poses for a photo, holding snapshots of his own grandkids. So far, Georgia voters believe that the performance is convincing because it's not an act.