Hoop Dreams
Tech's Roger Kaiser excelled as a player and a coach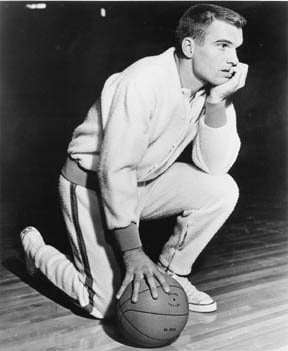 It is one thing to be the greatest college basketball player ever in the state of Georgia. It's another to be the most successful basketball coach. But it?s downright remarkable to be both.
Roger Allen Kaiser is Georgia's only two-time basketball first-team All-American and the only basketball coach in Georgia history to win a national collegiate championship. Actually, Kaiser-coached teams won four national titles.
At the time of his graduation in 1961, Kaiser held 18 of 25 Georgia Tech records involving field goals and free throws. His 85.8 percent career free throw mark is still tops, both for Tech and the Southeastern Conference. (Tech was in the SEC when Kaiser played.)
You could rename the Tech basketball media guide and call it the Kaiser media guide, because he is listed for records, near-records or honors won no less than 41 times. He scored 1,628 points during his Tech career. That was before the three-point game; because many of his shots were from far back, there is no telling how many points he would have scored under the three-point rule. He led the SEC in scoring in 1960 and 1961.
If ever there was an All-American boy, it is Roger Kaiser. He married his former Dale High School sweetheart and cheerleader, Beverly Hevron. He made speeches to civic clubs and Little Leagues, and graciously gave autographs wherever he went. He was captain of the basketball team in his junior and senior seasons and captain and most valuable player in the SEC, which he led in hitting, for the Tech baseball team.
"He was the best player I ever had," said his late Tech basketball coach, John "Whack" Hyder, "but that is only part of it. Everything he did, he did well. He had the drive for perfection, not just in sports but in the way he dressed. His shoes sparkled, front and back, and the belt buckle on his military uniform glistened."
The legendary Bobby Dodd said of Kaiser, "He was the best all-round athlete in Georgia Tech history."
For an All-American who never wanted to coach, Georgia Tech's most famous cager has one of the most sensational coaching success stories in history. Taking up residence at West Georgia College in 1970, he secured the first national collegiate crown ever won by a Georgia team four years later. In 20 years at West Georgia, he turned out three All-Americans and six players who made it in the National Basketball Association.
Dr. Sid Williams convinced Kaiser to start an athletics program at Life College. Among the 15 national championships Life College sports teams won, three were Kaiser-coached basketball teams. In 10 years at Life, Kaiser produced 12 All-Americans. Eight times he was named conference Coach of The Year.
In 30 years of college coaching, Kaiser was named Coach of The Year in Georgia 11 times, state of Georgia Sports Hall of Fame Coach of The Year three times and NAIA Coach of The Year twice.
Today, Kaiser is 65 years old. During the week he lives with his wife of 43 years in a condo in Marietta. On the weekends, the couple retreats to their lakefront home in Carrollton.
With all the honors and success Kaiser has enjoyed, his life has not been a bed of roses. He lost a daughter, Jill, at age 35, to breast cancer and he has had bouts with colon cancer and prostate cancer. He is doing fine now, and spends many of his retirement days with his two children and five grandchildren.
Of Kaiser's many flawless performances at the Tech Coliseum, none matched his game against mighty Kentucky. Wrote Furman Bisher, "Under watchdog pressure for a full 40 minutes, he responded with a forceful performance that kept Tech in the game and then with the full burden of the evening thrust upon him, in the last five seconds he dribbled to the corner and delivered the last-second, one-handed shot that felled the powerful Wildcats, 62-60. All this, mind you, with a fractured thumb on his shooting hand."
Lamented Kentucky coach Adolph Rupp, "Everyone in the place knew that Kaiser was going to take the last shot but what could we do about it? We had two guys hanging all over him and he still got the shot off. Amazing. Simply amazing."