Export-Import Post To Cleland?
Inside Politics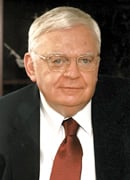 Former Georgia Sen. Max Cleland has been nominated as one of five directors for the Export-Import Bank, which provides financial assistance and insurance to U.S. companies to help them compete against foreign businesses. Senate Minority Leader Tom Daschle, D-S.D., submitted Cleland's name for the four-year term, and President Bush is expected to appoint him.
Gov. Sonny Perdue's appointment of Sen. David Shafer, R-Duluth, as a Senate floor leader to succeed Sen. Bill Stephens, R-Canton, might be regarded as routine, except: Shafer is regarded as an arch-enemy of Stephens, the governor's former floor leader and now Senate majority leader. Stephens' supporters believe Shafer fueled the recent controversy regarding Stephens' defaulted bank loans and ethics questions concerning repayment of a personal campaign loan. Shafer also waged a bitter campaign against Ralph Reed for state Republican chairman. Both episodes have left Shafer on the outs with much of the state Republican organization and a number of GOP lawmakers.
State Sen. Tom Price (R-Roswell) raised more than $200,000 in less than 40 days for his 6th District congressional campaign, according to Price's FEC reports. Among the PACs contributing to the campaign are the American Medical Association ($5,000), American College of Emergency Physicians ($2,500), McGuire Woods Consulting PAC ($1,000), American Association of Orthopedic Surgeons ($1,000), and the Georgia Mining Association ($500). Price is a physician.
Former Georgia Gov. Roy E. Barnes has announced formation of The Barnes Law Group, LLC – a specialty litigation firm which will devote 10 percent of its time to pro bono cases. The creation of this boutique firm is the fulfillment of a long-time dream for Barnes. It will have offices in both Marietta and Atlanta, will accept only a limited number of substantial cases, and will allow him to practice law with his daughter, Allison Barnes Salter, whose husband, John Salter, will also be joining the group.
In the latest Peach State Poll, conducted by the Carl Vinson Institute of Government at UGA, one in four Georgians cited the economy and jobs as the most important issues confronting the state. Seventy percent rated the economy as either fair (51 percent) or poor (18 percent).
The Georgia Supreme Court has unanimously upheld former Gov. Roy Barnes' use of an innovative bond program to finance such state transportation projects as the Northern Arc, HOV lanes on interstate highways and a commuter rail system. The bonds, known as Garvee bonds, were attacked in a lawsuit filed by former Attorney General Michael Bowers. And Sonny Perdue, contending the finance method was improper, used the issue in 2002 in his campaign to defeat Barnes for governor.
Former Congressman Bob Barr is asking for campaign contributions to help elect Craig Dowdy as a state senator to succeed Robert Lamutt, who is running for Congress in the 6th District. Barr has mailed a solicitation for Dowdy, terming him "a candidate who shares our support for solid conservative values."
From USA Today: "Utah, Georgia and Delaware are the best financial stewards, according to the USA Today analysis of the states' financial performance. The key to their success: restraint. During the economic boom of the late 1990s, these states limited both spending growth and tax cuts. After the economy weakened in early 2001, they acted swiftly and decisively to keep their finances sound. California, the worst-performing state in the analysis, did the opposite."
The Mercer University School of Engineering is receiving national attention for its female-friendly atmosphere. The School of Engineering is ranked eighth in the nation in percentage of female students earning bachelor degrees and second in the nation in percentage of women faculty tenured or on tenure-track in the latest edition of the annual publication of the American Society for Engineering Education. The rankings represent data between July 1, 2001, and June 30, 2002, for degrees awarded and from fall of 2002 for the number of faculty members.
Southern Strategy Group (SSG), a lobbying and governmental consulting firm, has hired John Clayton, chief aide to Speaker Terry Coleman. "John's relationships and insight will allow Southern Strategy Group to provide to our clients balanced representation throughout Georgia government and on both sides of the aisle," said Todd Schnick, one of SSG's Atlanta partners. "John will make the Georgia House feel a little more like home for our clients." Clayton joins Schnick, the former executive director of the Georgia Republican Party, and Chuck McMullen, the former chief of staff to the Georgia Senate Majority Leader and Senate Republican Caucus.
Apparently sensing an opening to keep Zell Miller's Senate seat in the Democratic column next year, national Democratic operatives have approached former Georgia Secretary of State Lewis Massey about running for the post. Massey says he isn't interested. National Democrats had virtually written off the seat until 8th District Rep. Mac Collins announced he would oppose 6th District Rep. Johnny Isakson in the Republican primary next year. Now, the Democrats believe a bruising GOP primary fight between two well-known congressmen could make the Republicans vulnerable in the 2004 Senate election.
Gov. Sonny Perdue has recommended that the Jekyll Island State Park Authority keep Bill Donohue as executive director. Donohue, 45, has served in that capacity since September 1997. Previously he worked for the Georgia Department of Natural Resources (DNR). Jekyll Island is leased by the state to the authority, which is composed of a nine-member board. The board is appointed by the governor for four-year terms to set policy for the island's operation and is responsible for hiring the executive director.
Monticello Mayor Susan Holmes will become the 71st president of the Georgia Municipal Association (GMA) during the association's annual meeting in Savannah. She is the first official from Monticello to hold this post and is GMA's fourth female president.