Lost In The Crowd?
Inside Politics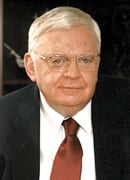 How important is Georgia in next year's presidential primary season? On March 2, 2004, Georgia will be one of 11 states to hold presidential primaries. Among the others: California, New York, Massachusetts, Maryland, Connecticut, Hawaii (caucus), Minnesota (caucus), Ohio, Rhode Island and Vermont. It has not been many years since Georgia was the key state in the Super Tuesday primaries. In fact, Bill Clinton's victory in Georgia in 1992 helped him seal the Democratic nomination.
Atlanta and Georgia lost three citizens in recent weeks who made lasting marks on our landscape. Former Mayor Ivan Allen Jr., regarded as the father of modern Atlanta, died at age 92. Maynard Jackson Jr., Atlanta's first African-American mayor, died 10 days earlier at 65. And Lester Maddox, who wanted to be mayor but had to settle for becoming governor, died at 87. Each in his own way contributed materially to making Atlanta into the grand jewel of the South. Allen saw the city through the turbulent 1960s and was instrumental in bringing big-league sports and major-league arts to the city. He welcomed integration of public facilities while the leaders of other regional cities balked and protested. Allen also presided over expansion of the Atlanta airport. Jackson promoted affirmative action in business and saw the Atlanta airport expanded even more into a great international gateway. And Maddox, in his way, articulated the concerns and frustrations of the "little people" in the go-go business atmosphere of the New South state and its capital.
The Board of Regents has issued a strong statement declaring its "unanimous" support of UGA President Mike Adams following his refusal to extend Athletic Director Vince Dooley's contract beyond June 2004. Though Adams has been the target of a barrage of criticism from Bulldog fans, the Regents apparently believed the university's reputation would be hurt nationally if the board failed to support the president in a dispute with the head of the sports department, even one of Dooley's stature.
State Sen. Mary Squires, D-Norcross, who called Gov. Sonny Perdue a racist in the midst of a debate on changing the state flag, says she plans to run for the U.S. Senate next year. Squires, a first-term state senator, is the first Democrat to announce for the seat being vacated by Democrat Zell Miller. However, other Democrats – Congressman Jim Marshall, DeKalb DA J. Tom Morgan and Attorney General Thurbert Baker – are considering jumping into the Senate contest. Announced GOP candidates for the Senate seat include 6th District Rep. Johnny Isakson, 8th District Rep. Mac Collins, businessman Al Bartell and former Godfather's Pizza CEO Herman Cain.
State Sen. Mike Crotts, R-Conyers, has announced his candidacy for the 8th District congressional seat being vacated by Mac Collins, who is running for the Senate. Crotts is the second lawmaker to go for the U.S. House post. State House Minority Leader Lynn Westmoreland, R-Sharpsburg, also has announced for the post. Crotts has served 11 years in the state Senate and has run unopposed in six general elections. Like Westmoreland, Crotts is running as a disciple of Congressman Collins.
"Unfortunately, out there on Main Street, USA, in the Wal-Mart parking lots across this nation, Jane and Joe Sixpack don't even know this injustice is going on. For under the Senate's two-track rule, a filibuster is kept so low-key that those folks out raising kids and working for a living don't have time to keep up with this inside baseball. If they really understood what a sorry mess we've got in this Senate over this issue [of considering judicial nominations], they would rise up like that football crowd in Cleveland a couple of years ago and run both teams off the field." – Sen. Zell Miller, testifying before the Senate Rules Committee on his proposal to restrict filibusters.
Gov. Sonny Perdue has named former Attorney General Michael Bowers as chairman of the Judicial Nominating Commission. The commission makes nominations to fill vacancies in the Georgia Supreme Court, Court of Appeals, Superior and State Courts.
Gov. Sonny Perdue has signed into law legislation that aims to address potential land-use conflicts between communities and nearby military installations. The legislation mandates that local communities coordinate with adjacent installations to consider the impact of zoning decisions on military operations. Local planning departments or similar agencies will be required to solicit input from the military base's commanding officer regarding any possible changes in land use. The base's commanding officer will have an opportunity to provide a recommendation regarding the land use or zoning recommendation and to explain whether or not the proposed project will have a negative impact on the base's operations.
An educator who began her career as a paraprofessional has been named executive director of the 54,000-member Professional Association of Georgia Educators (PAGE). Dr. Allene Magill, currently serving as the Superintendent of Dalton City Schools and a member of the Board of Regents, will lead Georgia's largest organization for professional educators. She was scheduled to begin her new position in July.
The state Democratic Party has designated Bobby Kahn, former chief aide to Gov. Roy Barnes, as the party's representative on the State Election Board. State Democratic Chairman Calvin Smyre tapped Kahn after the GOP-controlled state Senate refused to confirm Atlanta attorney Ray Persons as the Democratic board member. Persons was among scores of Barnes administration designees to various regulatory boards nixed by the 2003 Senate. This marks the first time since the early 1970s that the Senate has declined to routinely confirm board appointments.
Secretary of State Cathy Cox has appointed former Community Affairs Commissioner Laura Meadows as new assistant secretary of state. Meadows was a star economic-development promoter in the Barnes administration. She served as director of the OneGeorgia Authority and then commissioner of the Department of Community Affairs, but Gov. Sonny Perdue decided several weeks ago not to reappoint her to the DCA post. Meadows succeeds Robert Ray, who resigned in April to become chief operating officer of the Flint EMC in Houston County.