Lientz Wants Changes
Inside Politics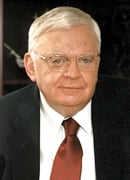 Jim Lientz, Gov. Sonny Perdue's appointee as Georgia's chief operating officer, told the Buckhead Business Association recently that it amounted to nothing less than "chaos" to have all 236 members of the General Assembly run for re-election at the same time every two years. Cautioning his audience that he was not speaking officially but only offering his opinion, the retired Bank of America executive said it would make much more sense to:
Have state senators elected every four years.
Keep two-year terms for House members, but stagger elections.
Make the governor's term six years instead of four, with no right of succession.
Lientz said 30 percent of the members of the legislature are freshmen and most don't reach any level of effectiveness until their second year, when they have to run for their post all over again.
Gov. Sonny Perdue has dropped from the state Natural Resources Board former Lt. Gov. Pierre Howard, who gave Perdue his biggest boost toward political stardom. In the state Senate in the 1990s, Howard selected then-Sen. Perdue as majority leader, then chose him as Senate president pro tem. Both positions gave Perdue a high-profile platform from which to launch his statewide career. Gov. Roy Barnes first appointed Howard to the DNR board when the ex-lieutenant governor became the leader for Barnes' environmental initiatives, including the greenspace program. Perdue has abandoned nearly all environmental programs.
"It was wrong to rebel against the United States. It was wrong to defend the horrible institution of slavery. It was wrong to take up arms, brother against brother, to solve our differences as Americans. Don't misunderstand me. I believe we have a right, and even a duty, to honor our ancestors who made the ultimate sacrifice. But we don't really honor them by flaunting a symbol that inflames and injures. That doesn't honor their valor – it perpetuates their tragic mistake." – Ex-Gov. Roy Barnes as he received a Profiles in Courage Award at the John F. Kennedy Library in Boston.
Harold Reheis, 58, is retiring as director of the Environmental Protection Division after 32 years of service with the agency and 11 years as the high-profile chief of the EPD. Reheis said he is leaving his post for personal reasons. As Georgia's point man in state government's efforts to clean up Georgia's air and water, Reheis sometimes drew fire from environmentalists as being too lenient and from business interests for being too strict. He was named Georgia Trend's Georgian of the Year in 2001.
If the state's teachers are upset about the lack of a raise, just wait until next year when they see their paychecks. Their share of health insurance premiums is set to increase by 20 percent. And, to make matters worse, their deductibles will increase substantially. "I hope the reinstatement of tenure and all of the other feel-good things the Governor and General Assembly said and did will make the teachers feel better when they see these paychecks," said one former lawmaker. It is the first time in more than a decade that teachers failed to receive raises.
Mercer University has awarded an honorary doctorate of laws degree to former U.S. Sen. Wyche Fowler, who also served as ambassador to Saudi Arabia during the Clinton administration. Fowler served as senator from Georgia from 1987 to 1993.
From The Los Angeles Times: "[Atlanta Mayor Shirley Franklin] has Democratic activists urging her to think bigger. Some would like her to run next year for the Senate seat held by Democrat Zell Miller, who has announced that he'll retire. A recent poll by Emily's List, a women's group that raises money for Democrats, shows Franklin outrunning two possible GOP candidates. Franklin previously has indicated that she would seek another term as mayor in 2005, but in light of the poll she's considering a Senate run. -It's not anything I aspire to,' she said in an interview at City Hall last week. -But on the other hand, I also didn't expect to be mayor.' Skeptics question whether a liberal Atlanta mayor, even a successful one, stands much of a chance of winning a more conservative statewide vote, especially with President Bush atop the 2004 Republican ticket. But the poll indicated that Franklin's popularity could help her slice into the GOP base in Atlanta's suburbs."