Senator Shirley?
Inside Politics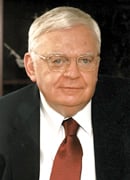 Atlanta Mayor Shirley Franklin says she is entertaining a possible bid for the U.S. Senate, based on a poll showing her defeating two powerful Republican congressmen, Johnny Isakson and Mac Collins. The highly publicized survey is a signal that national Democrats are seriously searching for a candidate to run in the 2004 election to replace retiring Democratic Sen. Zell Miller. However, with no officially announced opponent in sight, Congressman Johnny Isakson's senatorial election campaign reports it has more than $2 million in campaign funds on hand. Major contributors include Atlanta businessman Guy Millner, who defeated Isakson for the GOP senatorial nomination in 1996. Isakson's rapidly expanding war chest may make it difficult for a rival to mount a viable campaign.
Some members of Gov. Sonny Perdue's inner circle have privately expressed concern about the governor's frequent outbursts of temper. But one senior adviser shrugged off the worries. "If you spent your days trying to herd cats, you'd probably be mad all the time, too."
Gov. Sonny Perdue's former campaign manager has publicly called on state Sen. Mary Squires to apologize to the governor for calling him "racist." In a letter to the AJC, Dan McLagan said Squires' remarks "are often issued by individuals who have lost their argument on logic and merit and turn instead to personal smear tactics." As Perdue's campaign strategist, McLagan dreamed up the idea of producing a political video depicting Gov. Roy Barnes as a giant rat. As far as could be determined, McLagan never apologized to Barnes for calling him a rat.
"Who would have thought in 1865 that in 2003, Georgia might start flying a flag copied from the flag of a country that had waged war on the United States?" – Joe Kirby, Marietta Daily Journal
Sens. Saxby Chambliss and Zell Miller have released a letter they sent to the Senate Appropriations Committee calling for $300 million in the FY 2004 appropriations bill to speed up the rebuilding and modernization of the Centers for Disease Control and Prevention in Atlanta.
Secretary of State Cathy Cox is being pressed by some of her leading supporters to prepare for a campaign for the U.S. Senate next year. Cox insists she has no interest in seeking national office. The Democratic official is considered a near certainty to run for governor in 2006.
Former Georgia Technology Administration chief Larry Stringer has landed a high-level executive position with Sun Microsystems. During his tenure as head of the new Georgia agency, Stringer oversaw the purchase of millions in services and high-tech equipment from Sun.Georgia Supreme Court Justice George H. Carley first came to the Georgia Court of Appeals in 1979, appointed by then-Gov. George D. Busbee, later elevated to the Supreme Court in 1993 by then-Gov. Zell Miller. "I've been privileged to serve on both," says Carley, "though in some ways they are very different. But I have found that the members of both Courts genuinely seek justice." Former Gov. Busbee was the main speaker as the Court of Appeals unveiled a portrait of Carley, a former Chief Judge of that Court. Carley, once a state legislator from DeKalb, has in combination served longer on Georgia's two highest Courts than any other sitting judge or justice.
William Suttles, a driving force in the expansion of Georgia State University, is dead at 82. Dr. Suttles, a Yale-trained Baptist minister, served as provost at GSU for 19 years and was acting president in 1989. Upon his retirement from Georgia State, he became a top adviser to Gov. Joe Frank Harris. Suttles died of injuries suffered in a fall.
From The Washington Times: "'Senate Democrats think they've found the ideal candidate to test just how badly the racially tinged Trent Lott affair hurt Republicans,' Paul Bedard writes in the Washington Whispers column of U.S. News & World Report. 'It's Georgia Attorney General Thurbert Baker, a law-and-order African-American who is considering a run for the seat opened by the retirement of Sen. Zell Miller,' Mr. Bedard said. 'We're high on him,' says a top Senate aide. The popular Baker just met with Senate Minority Leader Tom Daschle and others who offered to help in any bid."
Sen. Vincent Fort has renewed his call for an investigation of the governor's office in connection with allegations of deceptive lobbying to gain passage of a watered-down predatory lending bill. Fort earlier called on the governor's new inspector general to launch an inquiry but was rebuffed.