Sonny's Success Formula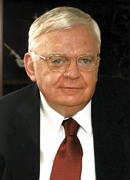 Sonny Perdue is not quite what Republican purists had in mind as the first GOP governor in modern times. Some leading Republicans are not even sure he is a Republican. At times, he seems like an old-line Talmadge Democrat.
In fact, behind his back, some leading Republicans say Sonny has been a big disappointment. Two days after he was sworn in, Sonny got off on the wrong foot, especially with Republicans. He did what no Republican should ever do. In his first speech to the Legislature, Sonny advocated sweeping tax increases. Well, you could have just knocked over House Republican Leader Lynn Westmoreland with an elephant's feather. The suburban Fayette County lawmaker was shocked, but he didn't say much.
Good thing, too. That was just the beginning of Westmoreland's problems with Gov. Perdue. The pair feuded behind the scenes for most of the seemingly never-ending legislative session. Westmoreland was irked because 1) Perdue announced initiatives before he told his Republican leaders; 2) the governor retreated from those initiatives before he told his Republican leaders; and 3) the governor was given to serious bouts of petulance directed at his Republican leaders.
At this writing, Westmoreland, one of the most effective House GOP leaders in years, is considering a run for the U.S. Senate.
The state Senate Republicans haven't fared much better with their governor. Sen. Eric Johnson of Savannah became the president pro tem of the Senate and the de facto leader of that body. Democratic Lt. Gov. Mark Taylor was retired to the sidelines with little to do but issue scathing press releases on the miscues of the newly empowered Republicans. The Republican majority soon found itself heading into Splitsville over almost everything the governor touched, from predatory lending bills to budget fixes.
An AJC poll said fewer than 45 percent of Georgians viewed Perdue favorably, just three months after his inauguration. The survey said most Georgians still didn't know much about what Perdue really stands for.
Away from the Capitol, a different kind of Sonny emerged — at least at first. The new governor was seen everywhere in the company of the Atlanta swells, including Arthur Blank, the energetic new owner of the Atlanta Falcons and chairman of the Metro Atlanta Chamber of Commerce.
Perdue's love fest with the suits soon soured. When Blank and the chamber issued a statement deploring the divisive debate and referendum on the state flag, Governor Sonny issued his own declaration, asserting the chamber was intolerant of others' opinions while he, Sonny Perdue, was the champion of the great Georgia majority.
When many enlightened Atlantans, including the chamber hierarchy, held a gala event in honor of Georgia's Nobel Peace laureate Jimmy Carter, Perdue was a no-show. The governor's former new best friend, Arthur Blank, explained almost sardonically that Perdue was off tending to homeland security matters and couldn't attend the Carter affair.
A reviewer of Purdue's career as fledgling governor might easily conclude that he is on his way to crashing and burning as Georgia's first Republican chief executive.
Wrong. Perdue, purposely or not, is establishing himself as the anti-Atlanta guv — the guy from Middle Georgia who refuses to play ball with the capital chamber crowd and doesn't particularly care for those suburban legislators even if they are Republicans. He may have hit on the formula for returning rural populist power to the driver's seat in Georgia politics.
Perdue knows where his strength is. It is in the hearts and minds of Georgians who feel left out — those who fought for a return to the old Rebel-cross flag because they hated being told that the divisive banner just wouldn't fly in a 21st-century business atmosphere.
The left-outs also heard Gov. Sonny promise a return of "local control" of schools. They know what he meant: Atlanta and the blacks won't be dictating education policy any longer, and local school boards can do as they please, even if it means cutting to the bone local financial support for public schools.
Sonny Perdue may not suit Georgia Republicans. But I have the feeling he is just what most white non-Atlanta Georgians have been wanting for a long, long time — a return to a simpler time when a candidate for governor could win by saying he didn't want a single vote in any place with streetcar tracks.