Roy Cited, Arthur Socked
Inside Politics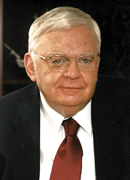 At a recent event in Atlanta honoring former President Jimmy Carter for winning the Nobel Peace Prize, Carter turned the tables and honored another Georgia public figure. He declared that former Gov. Roy Barnes "is, in my opinion, the most courageous governor in Georgia history.' Carter obviously referred to Barnes" successful campaign to minimize the Rebel cross on the state flag – a move that contributed to Barnes" defeat in the 2002 election. It also won for Barnes the prestigious Profile in Courage Award, bestowed by the John F. Kennedy Library Foundation. (Barnes and wife Marie were members of the host committee for the Carter gathering.) The crowd at the Carter soiree responded with an enthusiastic round of applause.
Earlier in the program, Metro Atlanta Chamber of Commerce Chairman Arthur Blank asked for applause for Gov. Sonny Perdue who had, he said, been called away for a Homeland Security briefing. That round of applause was tepid. That was not surprising, considering the crowd of mostly moderate Democrats. Atlanta Mayor Shirley Franklin got a very enthusiastic hand.
Blank may not have been so eager to introduce Perdue if he had known what was ahead. The day after the Carter occasion, Blank led a group of Metro Atlanta Chamber officers in signing a statement deploring as divisive the debate and coming referendum on the Georgia flag. The chamber restated its opposition to restoring the 1956 Confederate-cross flag as the official state banner. The ink was barely dry on the declaration when an angry Gov. Perdue fired back at the chamber with a statement of his own, which said in part:
"In a democracy I believe that you resolve disagreements by creating the opportunity for dialogue, not by ignoring the difficult challenges and putting your head in the sand. True leadership comes from facilitating the discussion of beliefs other than your own and finding a compromise which is agreeable to all interested parties. I regret that the Metro Atlanta Chamber is unwilling to have that discussion. Their statement advocating tolerance and diversity flies in the face of their position. Tolerance and diversity by their very definition demand that each individual"s opinion be considered even if it is not the majority"s.'
Such rhetoric puts Gov. Perdue firmly in the corner of the anti-Atlanta crowd and may help ensure his re-election. Over the years, most successful candidates for governor have aligned themselves with Atlanta-bashers.
The war of words between Gov. Perdue and the Atlanta chamber puts at least two leading members of the governor"s staff in an awkward position. In 2001, Jim Lientz, then chairman of the Atlanta chamber, led the charge to pressure Gov. Barnes into changing the flag as quickly as possible. Lientz, now Gov. Perdue"s chief operating officer, was head of Bank of America"s Georgia operations at the time. He assigned Glenn Cornell, a Bank of America vice president, to raise campaign cash for legislators who risked their careers by supporting the flag change. Cornell, who raised hundreds of thousands of dollars for the pro-change lawmakers, is now Gov. Perdue"s commissioner of the Department of Industry, Trade and Tourism.
Gov. Sonny Perdue named veteran crisis management official Mike Sherberger to replace Gary McConnell as director of the Georgia Emergency Management Agency. Perdue fired McConnell just one day after the nation"s terrorism alert status was raised. Sherberger has served as deputy director of GEMA and, most recently, worked in security at the Centers for Disease Control. McConnell, a former Chattooga County sheriff, says he hopes to remain active in public life.
Former Sen. Wyche Fowler, D-Ga., has been mentioned as a possible government adviser on the rehabilitation of Iraq once the war has ended. He also might be used to help repair U.S.-Arab relations. Fowler served as ambassador to Saudi Arabia during the Clinton administration and is considered an expert on Arab affairs. Though he has been critical of the Bush administration, Fowler is one of the dwindling numbers of high-profile Americans with easy entree to Arab governments.
Georgia Sen. Zell Miller is out there defending hillbillies again. "I can call myself that but don"t you call me that,' said Miller in a Senate floor speech, denouncing CBS TV for its "hillbilly hunt,' for a new reality show intended to ridicule and caricature "the mountaineer, the first frontiersmen . . . in the image of a Snuffy Smith.' It would never happen, Miller declared, if such ridicule was aimed at an African-American or Latino family.