Where The Deals Are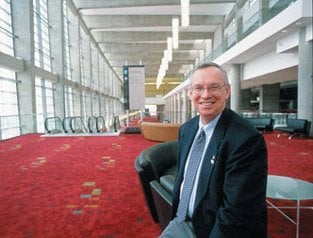 Georgia's travel industry may be down, but it's not out. The entire convention and business segment has been hard hit by the recession, especially in Metro Atlanta, and the ongoing tussle over the state flag is making a tough situation tougher. But industry leaders are responding with thoughtful strategies, aggressive marketing and some good deals, bolstered by new convention space at the renovated World Congress Center (WCC) and the soon-open Georgia International Convention Center. Cost-conscious businesses planning conventions in Georgia in the coming months can reap the benefits.
"For 2003, we've put together the most aggressive plan we've ever had," says Spurgeon Richardson, president and CEO of the Atlanta Convention and Visitors Bureau. "Three new sales positions have been created, and with our combined team, we'll have more people on the road selling than anyone else in the business. It's a huge, huge change. When you look at the future of the convention business, it is not a 100-yard dash — it's a marathon."
That means some current efforts may have a long-term pay-off, rather than an immediate effect. "Down the pipeline, it's the same as the airlines, and we think it will be 2004 before we see a recovery," says Richardson.
Because hotel rates are 30 to 40 percent lower than those in almost any other major convention destination, Atlanta is already one of the best values in the country. Rates can't go much lower, so much of the new emphasis is on giving customers more for their money — and promoting the new convention facilities.
"Our strength centers around our facilities," says Paul Breslin, past president of the Atlanta Hotel Council and CEO of the Sheraton Atlanta Hotel. "Our hotels provide 88,000 rooms. Eighty percent of the U.S. is available in less than two hours from Hartsfield. The expansion of the World Congress Center will make it the second-largest convention center in the country. We have a rock-solid reputation with repeat conventions. And when you balance the cultural aspect with accessibility, it becomes a great package."
Richardson says the convention business is overbuilding nationally. Atlanta's No. 2 status in facility space will be short-lived, as expansions to facilities in Orlando and Washington, D.C. will challenge Atlanta's ranking. Still other cities are expanding convention facilities faster than the market can respond, says Richardson. "When I came to the ACVB 12 years ago, there were five cities competing on our level for convention business," he says. "Now, there are between 15 and 20. Now more than ever, service has become more important. Ours has always been good, but we're putting a new emphasis on our ability to better serve planners and attendees this year."
In addition to beefing up its sales staff to appeal to a broader range of conventions around the world, the ACVB is targeting projected weak spots on Atlanta's schedule. "We're focusing on all need-period dates between 2003 and 2005 — times with holes in the books," says Richardson. The goal is to push Atlanta's hotel occupancy rate from its current level of approximately 60 percent up closer to 70, which it hasn't approached since 1999. "We now have the largest sales force of any competitive city," says Richardson. "In the short term, we're cautious; but in the long term, I'm very, very optimistic."
Still, Richardson, whose ACVB has been on record as opposed to the 1956 state flag since 1991, and other industry leaders are frankly worried about the effects of a prolonged flag fight on their efforts. "The troublesome thing," says Richardson, "is that you book big meetings anywhere from three years to 20 years ahead of time. The longer this drags on, the more questions associations and groups ask. It makes it more difficult for us to book meetings. It is also something that competitive cities can use against us."
Nonetheless, that fabled Southern hospitality gives Atlanta a big edge, and Richardson is arranging to provide training sessions for the city's hotel employees to maintain this reputation. "We want our southern hospitality to show through loud and clear," he says. But perhaps most significantly, the ACVB this year will begin offering a new "toolbox" service to convention planners, including telemarketing and Web site development, to help bring in more attendees. "We have three people in the service department working on nothing but improvement," he says. "We also have created a National Advisory Board consisting of 30 planners from around the country who meet here twice a year to focus on how to improve our service."
Richardson is also banking on improvements to downtown Atlanta, and will launch an effort to convince conventioneers to come earlier, stay a day later and bring their spouses. "Atlanta is alive and well, and the best is yet to come," he says. "With the Children's Museum, the new Symphony Center, the Aquarium, and Atlantic Station, I think Atlanta will become a great place to spend an escape weekend. I think the Aquarium will give the city its biggest buzz since the Olympics." The ACVB is working to develop a regional approach to tourism with Nashville and New Orleans, places travelers often reach via Atlanta's Hartsfield airport.
Finally, there will be a concerted effort to encourage Georgia corporations such as Coca-Cola and CNN to hold their conventions at home in 2003 and 2004. "We'll launch a campaign with local meeting planners and convention centers in other Georgia cities to encourage them to stay in the state," says Richardson. This way Atlanta can take advantage of a national trend in which businesses are traveling shorter distances and meeting closer to home.
Room To Grow
"I think the whole country, convention-wise, has suffered," says Mike Wellington, sales executive for the World Congress Center. "As a result, we've started to target more corporate and local businesses than in years past. We're doing well, and are keeping the same standard rate per square foot, but we're trying to get more local corporate business back here; conventions that range from 1,000 to 1,500 people. We've always been at such a high rate, that we had no space available to local businesses because we hosted too many national and international groups. Now that we have more space available, we can keep small corporations, who would have gone elsewhere, back in the city."
Wellington echoes Richardson's belief that service gives Atlanta an edge in the convention market. "It compels us," he says. "We make sure when people leave, they know they have had the best possible service, and you can't put a price tag on that. We've maintained our standards in that respect without having to lower rates or make deals."
The Atlanta Hotel Council's Breslin says although Atlanta's hotel market has not had to reduce rates for conventioneers, new bargains are there to be had during certain less popular dates. "Where we've been newly flexible are dates over Thanksgiving, Mother's Day, July 4, Memorial Day, Christmas week, the first week of the New Year and Labor Day," he says.
But the real bargains come when the hotel council negotiates with conventions through the ACVB to provide package deals that include tours, transportation, flights and cultural venues. "There are incredible deals to be had," says Breslin. "Each venue negotiates their own rates, but the bureau will represent planners in a way that factors in their convention's overall economic impact. Typically, a lead or opportunity will be generated by the ACVB, [which] puts the meeting planner in touch with each different venue. Whether coordinating airline tickets, facilities, hotels, tours or transportation, we as a group will work together. We give them a tour of city, show them all we have to offer, then we'll each put our respective proposals together. Hotels do that independently of each other, as is legally required, but from a service and customer approach, there's a tremendous amount of respect and teamwork. Rates can depend on the overall value of package — one group may have limited needs, while others may want an exceptionally high amount of food and beverage, or audio-visual equipment. It depends on their needs, but we want to maximize their bang for the buck."
Venues run the gamut from Centennial Olympic Park to the High Museum of Art, and the groups also work closely with the Atlanta Sports Council. Atlanta is especially attractive because of its reputation for sports, says Breslin. "We're the sports capital of the world, when you think about it," he says.
Team Atlanta
This teamwork approach is all the more important as Atlanta continues to expand into surrounding communities. Breslin notes there are 35 different hotels represented in the council. Add in sister associations in Buckhead and South Fulton, and the number triples. Richardson says convention centers like Cobb County's Galleria and the Arena at Gwinnett Center further enhance the region's ability to accommodate multiple convention groups at the same time. The ideal scenario for the newly expanded WCC, says Wellington, is to have three conventions at once — one moving out, one coming in and one ongoing. This is the key to filling Atlanta's hotel rooms and driving up the occupancy rate.
"Occupancy is definitely a challenge," says Breslin. "Business is off. It's a national issue. We're actually fortunate not to have had to drop our rates as much as competitors. To give you an idea, we have 88,000 rooms, and an average of 51,000 staying per night. One could argue that there's too much supply, but we just need to narrow the gap. To achieve 70 percent occupancy we need another million visitors a year."
Breslin, like Richardson and Wellington, isn't too worried about eventually meeting this goal. "With the new addition, we're able to offer more dates and more space," says Wellington. "A lot of shows coming in wanted similar date patterns, or the same month. So now that we have the room, we can successfully hold three major trade shows at the same time, which is great for the city in terms of filling up all the hotels, and the overall benefits to restaurants and venues."
"Atlanta's hotels have spent more than $2 million on renovations," adds Breslin. "With the expansion of the WCC, there's a real excitement going on. There's tremendous opportunity in store, and if the economy comes back, we're positioned to be very strong out of the box."
Breslin is cautious about the short-term, and the Sheraton Atlanta has taken other steps to fill in the gap. "What we've had to do is be very creative," he says. "Internally, we've had one of our best customers, who had four [bookings] a year, change to three. Typically we would thus charge them the full fee, but instead we elected to shift the business to the rebooking of another group. We repackaged some things, which saved them money, and gave us the opportunity to book someone else. By moving dates around, we're doing business in new ways; because if it's a win/lose, or lose/win situation, it's not going to work."
Reputation is crucial in this field, which depends on repeat customers. Breslin says trade shows are still the most lucrative bookings, and because so many mom and pop companies depend on trade shows for year-round business, there haven't been any significant cancellations this year, which allows for more flexibility in other bookings. "The reality is that a great deal of business is centered around large conventions and trade shows," he says. "These conventions are an extremely important part of [participating businesses'] income, so we did well this year. The Atlanta Merchandise Market never had stronger numbers. Most trade shows are booked way in advance, so it's not quid pro quo, but incoming groups will probably see more flexibility and greater value per attendee when they get here, because everyone's trying to do more to keep every customer they've got."
Savannah Strategies
If a company must have lower rates, so-called "second-tier" cities are always an option. Savannah cashed in on that market with its three-year-old Savannah International Trade and Convention Center (SITCC). Located across from River Street and adjacent to the Westin Harbor Resort and Spa (which includes the 18-hole Club at Savannah Harbor), the 365,000-square-foot SITCC can accommodate more than 1,500 conventioneers. Business has been brisk since it opened. "This year will be the best we've ever had," says J. Dirke Von Hollen, vice president of sales for the Savannah Convention and Visitors Bureau. "The key will be getting attendees to show up." Like the WCC, the SITCC has initiated a dialogue among area hotel managers and businesses to create package rates for convention planners and help boost business throughout the city — already adept at attracting tourists — in a similarly teamwork-oriented approach.
"For conventions coming to a second-tier city like Savannah, we can be very competitive with our package and pricing," says SITCC Director of Sales Fredia Brady. "Room nights drive discounts, as well as convention center rental, and we're very flexible, especially the way the economy is now. We work with all the hotels in putting together a package, as well as with the convention bureau, and we all meet once a month to discuss city-wide meetings, and what it takes to bring conventions to Savannah. Whether it's a rebate to offset convention space rental, or maybe a dinner one of the hotels can host, we all work in sync. When a major convention lead comes to the city, the bureau puts together a package factoring in our availability at the center. It depends on their ancillary revenue, and how much they will pay for electrical orders; all of that is taken into consideration, and can mean up to 50 percent off rack rates. Maybe the published rate is $60,000 to $70,000, but if the group is spending $100,000 in food and beverage, and $25,000 for electrical needs, we may discount that in half. It's all negotiable, and we try to be flexible with groups."
There's no question that the haggling has paid off for the city, which also benefits from international interest due to its pedestrian-friendly layout — planners are often spared the expense of car rental. "We've been able to bring conferences to the city who may not have looked here, and have made a real impact with hotels and room nights," says Brady. "The SITCC is an economic engine. We're seeing conventions that once averaged 500 to 700 in attendance increase to 1,000 to 2,000 people."
Savannah's not alone. Columbus is more than doubling the size of its Convention and Trade Center to nearly 100,000 square feet in an effort to attract more regional businesses. "We've had meetings as large as 3,000, but that number will go up," says Larry Campbell, executive director of the Columbus CTC. "We're looking at doing multiple events as well as larger events. Our typical event draws more like 500 to 1,200, and we'll continue to draw local businesses and state associations. With our expansion [to be complete next year], we'll go after a broader market than we have typically."