The Reason For April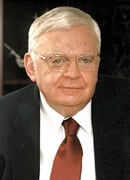 Which way is up, and which way is forward? April is a good month in which to find out — again. We may have lost our direction. The road ahead seems increasingly foggy. The weather has been cold, the political mood sour, the people discontented.
We seem caught up in looking back, entranced not by what was — but what we'd like to believe "was." We have spent our energies arguing over antique state flags and what they signify. Our elected representatives have fought partisan battles over office space in the state Capitol and who should appoint ethics commission members. They have tried to balance a budget by taxing the vices of tobacco and alcohol.
Black organizations have demonstrated. White organizations have counterdemonstrated. We fret about gun control and massage parlors. Meanwhile, thousands of young men and women have seen their lives disrupted by military call-ups. The economy continues to teeter. It's as if we were moving back in time — back to the 1960s — back to turmoil and alienation. Back to bitterness.
Hey, wait minute! Spring is beginning. Dogwoods and peach trees are blooming. High school graduations and college commencements are just around the corner. Baseball season has started.
Better days must be ahead.
Sure, Georgia has hit a bump. But we haven't crashed. We're still the fastest-growing state east of the Rockies. Atlanta — with all its problems — continues to be the commercial jewel of the South. Nothing matches Georgia's coast and granite and clay mountains for natural beauty, especially in the springtime.
At the end of the day, we have only one problem. And we can solve it. We must stop looking backward. Our greatest challenge is not preserving our Confederate heritage, as some would have us believe. It is conserving our resources, exploiting without destroying our natural advantages and finding renewed prosperity in the months and years ahead. Of course, we need to study history and honor at least a part of our heritage. But more is to be done.
None of the New Issues — water quality and supply, air pollution, traffic congestion, education improvement, economic development — ignites much passion in many of Georgia's current leaders. Perhaps there's limited appeal to being a demagogue over oxygen depletion at Milepost Six on the Chattahoochee.
But true leadership can inspire interest in preserving our quality of life for future generations. Shirley Franklin may be one leader for a new generation to emulate. The mayor of Atlanta has demonstrated unmatched political courage and foresight while seeking to brake the city's downward spiral.
Sen. Zell Miller has set a standard for leadership. As a freshman senator, he made himself heard and understood, even when he bucked the wishes of his own party. No senator in Georgia's history has gained so much attention so quickly. And no politician ever has exceeded Miller in career accomplishments. Miller, at age 71, is quitting the Senate, but he is not retiring from public life. He has other roads to travel. We have not heard the last of "Same Duck, Not Lame Duck," as he refers to himself.
rthur Blank is another example. He purchased a down and out professional football franchise and, almost overnight, turned it into a sellout sensation. The best is yet to come, he assures us, and we believe him.
Secretary of State Cathy Cox epitomizes the willingness to innovate. She overhauled Georgia's election machinery in the last election and moved our state to the head of the class in automated voting — without scandal or mishap. In her administrative agency she established a fresh norm for customer-friendly government service.
The list could go on. There are scores of others for those willing to look — Sam Williams, Tom Cousins, Sam Massell, Johnny Isakson, George Israel, to mention just a few — who have displayed common sense and uncommon courage in recent months and years in trying to heal divisive wounds.
Still, some of our elected surrogates — Democrats and Republicans, black and white — have so far failed the acid test of true leadership. They have followed the call of the rabble instead of their own sense of duty to do what is right.
It is never too late to start anew. That's what Aprils are for.