Slugging to Glory
Atlanta's Ron Blomberg was baseball's first designated hitter — good enough for Cooperstown bu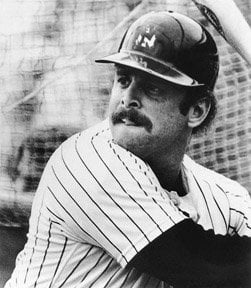 Atlanta's Ron Blomberg was baseball's first designated hitter — good enough for Cooperstown but not, so far, for the Georgia Sports Hall of Fame
This month marks the 30th anniversary of Atlanta's Ronald Mark Blomb erg's debut as baseball's first designated hitter. The date was April 6, 1973, the season opener for the New York Yankees and the Boston Red Sox. The place: Boston's historic Fenway Park. And the park was packed, despite a bone-chilling temperature of 30 degrees.
"And," Blomberg recalls, "when the public address announcer said, 'Ron Blomberg, DH!' I wasn't sure what the DH was. But I went up to home plate to hit against the ace of the Red Sox pitching staff, Luis Tiant. The bases were loaded. I didn't get a chance to hit. I drew a walk.
"When the inning was over, I was left at first base. I was going to stay there because normally that was my position. But Elston Howard, one of my coaches, yelled from the dugout, 'Come on back to the bench. You aren't supposed to stay out there.'
"I went back to the dugout and asked Howard, 'What do I do next?' He said, 'You just sit here with me!'"
The Red Sox won the game, 15-5, but the man who made history was Blomberg, soon to become the pride of the Yankees.
After the game, reporters swarmed the Yankees dressing room to interview Blomberg. Meanwhile, Marty Appel, the Yankees' public relations director, grabbed Blomberg's bat, jersey and ball and shipped it all to the Baseball Hall of Fame.
It was to be a banner year for Blomberg: He hit .329, belted 12 home runs and drove in 57 runs, and boasted a slugging percentage of .495. Topps put out a baseball card to commemorate his DH role. In seven seasons for the Yankees as a first baseman-outfielder-DH, he had a lifetime batting average of .295. He was selected once to the American League All-Star team and played in three World Series.
However, the fact that Blomberg's bat is enshrined in baseball's Hall of Fame does not impress the Georgia Sports Hall of Fame. The Hall of Fame inducted six new members recently, but Blomberg was not among them. Ignoring Blomberg since he was first recommended for membership in 1989 by Jimmy Booth, one of Atlanta's most knowledgeable sports buffs, makes the Georgia Hall of Fame look like a Hall of Shame.
But it's not too late. Hall of Fame leaders Howard "Doc" Ayers, Johnny Griffith and Loran Smith could lead the charge to get Blomberg into the hall, something that has been overdue for 14 years.
The Yankees, the DH, the All-Star game selection and the World Series rings aside, Blomberg is Hall of Fame material on his high-school record alone. No other athlete has been chosen to the Parade All-America teams in football, basketball and baseball.
Roger Couch, Blomberg's basketball coach at Druid Hills High School, says, "Blomberg is the finest basketball player I ever saw — high school or college." He was sought after by every major college basketball team in America and was ticketed to play for the legendary John Wooden at UCLA until major league baseball made him the No. 1 draft pick in 1967.
Blomberg, now 54, was born in Atlanta, grew up in the northeast section of DeKalb County and now lives in Roswell. Semi-retired, he spends much of his time with his family (wife and two children) and sharpening his golf game on the links of Brookfield West. (Maybe playing golf with some of the Georgia Hall of Fame selectors would improve his chances.)
Blomberg got his baseball start in DeKalb's Kittredge Little League. He hit home runs beyond the fences, attracting the attention of every prep baseball coach in the county. He spent almost two years in the minor leagues before making his major league debut in 1969 with three hits in six at-bats late in the season.
The next year he batted .322 and slugged at .477 — the second lowest slugging percentage of his major league career. He was not big for a Yankee (6-1, 205), but his prodigious home runs earned him the nickname of "Der Boomber." His photograph was on the cover of Sports Illustrated and countless other baseball publications.
New Yorkers had dreamed for years that a Jewish baseball player would someday play for the Yankees. Blomberg fit the bill. "I did every bagel, cream cheese and lox commercial in the city of New York," he recalls. "I also was claimed to be a member of every New York synagogue from the Bronx to Staten Island."
Although Blomberg did not publicly refuse to play on Yom Kippur, the highest holy day of the Jewish year, he did make it possible for every Yankee fan to get home before the start of the holiday in 1971.
The Yankees were deadlocked in the ninth against the Cleveland Indians. The holiday began at sundown, and the sun was slowly sinking when Blomberg came to bat. He hit the first pitch into deep centerfield, scoring Jake Gibbs and getting all the Jewish fans home in time for the Kol Nidre service.
The next day The New York Times, in a rare banner headline, proclaimed, "Sundown Single Wins For Yankees."
In the dressing room after the game, Blomberg said, "I not only got that hit for our fans but for me, too. I was going to synagogue, too, and if I had not ended the game with that single, I would have left the stadium anyway. There are some things more important than a baseball game."
As a result of Blomberg's hit, at least one New York rabbi changed his high holy day sermon to "Sundown Kid Hits Deadline Single."
Blomberg's career .295 batting average is remarkable because during his seven years with the Yankees and one with the Chicago White Sox, he was plagued with injuries. He underwent four knee and two shoulder operations and had more muscle pulls than a human should endure. He never played an entire season. There is no telling how good he might have been had he stayed healthy, but one home run gives a clue: Blomberg took one of his powerful rips against Hall of Fame pitcher Nolan Ryan and sent a monstrous blast toward deep right field. The outfielders never moved, the fans stood in awe and Blomberg gazed at the rapidly disappearing sphere.
The ball crashed against the upper deck facade of old Yankee Stadium, a mere foot and a-half from leaving the park altogether. Only Mickey Mantle had smashed a ball for such distance.
Blomberg twice was voted the most popular person in New York, edging out Joe Namath, the pride of the Jets. "My greatest wish today," Blomberg says, "is that playing for the Yankees, in a World Series and in an All-Star game might be an inspiration to some youngsters who are dreaming the dream I was fortunate enough to have lived.
"My biggest thrill was just being a small part of New York's baseball scene. I would walk down the street, even when I was injured, and fans would come up to me and say, 'Hang in there, Ron, we're behind you.' New York Yankees fans are one big family."
At the end of the 1977 season, Blomberg opted for free agency and signed with the Chicago White Sox. He spent his final season mostly on the bench, plagued by injuries. But his career is worthy of the highest recognition.
While the Georgia Sports Hall of Fame fixates on high school coaches, a true injustice is perpetuated: the exclusion of a major league All-Star, Ronald Mark Blomberg. Keeping Blomberg out of the hallowed hall only diminishes its own claims to greatness. If Blomberg's historic feat is good enough for Cooperstown, why isn't it good enough for the Georgia Sports Hall of Fame?