Baker Continues Appeal
Inside Politics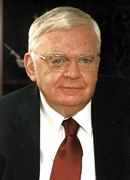 Attorney General Thurbert Baker recently informed Gov. Sonny Perdue and several legislative leaders that he will not drop the state's appeal of the Justice Department's objections to new maps in three Georgia senatorial districts. Perdue earlier called upon Baker to abandon the case, which involves minority voting strength in the legislative jurisdictions. "A decision in this case will provide guidance for this and future redistricting efforts, not just at the state level, but for local governments and school boards throughout Georgia," Baker said in a letter to Perdue. The monetary cost to pursue this appeal will be minimal, he said. That's what he thinks. An angry Gov. Perdue announced that his office was hiring former U.S. Attorney General Griffin Bell to fight Baker in court. Bell said he had a conflict of interest (his law firm represents the state in several other matters) and withdrew. Gov. Perdue then decided to hire noted retired attorney Frank Jones of Macon.
Eleventh District Rep. Phil Gingrey, R-Marietta, has joined a long list of Georgians in Congress to serve on the Armed Services Committee. "The Armed Services Committee was my No. 1 choice," Gingrey said. "The decisions made by this panel have a direct and substantial impact on Georgia's 11th Congres-sional District." The 11th District includes Dobbins Air Reserve Base, NAS Atlanta, Marietta's Lock-heed Martin production facility and Columbus' Fort Benning, the U.S. military's largest infantry training center. "With another round of base closings scheduled for 2005, the 11th District needs a congressman who'll focus on protecting these facilities," Gingrey said. "Without exception, these installations are of vital import to the local communities and economies, but they also play a vital role in our national defense."
Sen. Zell Miller has recommended that retired Marine Corps Gen. Raymond G. Davis of Stockbridge receive the Presidential Medal of Freedom. The Presidential Medal of Freedom is the nation's highest civilian award, recognizing exceptional meritorious service. Davis is the nation's most highly decorated living Marine. During his 33-year career, he served in combat in World War II, the Korean War and the Vietnam War. He received the Medal of Honor from President Harry Truman for heroic action in Korea, as well as countless other service recognitions, including the Navy Cross, the Silver Star (2), the Purple Heart, the Bronze Star and the Distinguished Service Medal (2).
From Robert Novak's nationally syndicated column: "Georgia's newly elected Republican Gov. Sonny Perdue has run afoul of Washington-based anti-tax crusader Grover Norquist for trying to close a state budget deficit with a variety of excise tax and fee increases. During the 2002 campaign, 41 Georgia Republican state legislators signed the no-new-taxes pledge of Norquist's Americans for Tax Reform. Some asked whether Perdue's proposed fee hikes on drivers' licenses, insurance policies and bank loans violated the pledge, and Norquist replied that they do. Norquist now is hopeful that Perdue will advocate deeper spending cuts and freezes to replace tax increases."
The new Republican majority in the state Senate has ordered the removal of all nine portraits of past lieutenant governors from the Lieutenant Governor's Conference Room in the state Capitol. The portraits have been shipped to the 4th floor of the Gold Dome and hung in an obscure unused room. The portraits ? all Democrats ? include those of former Govs. Marvin Griffin, Ernest Vandiver, Lester Maddox and Zell Miller, all of whom presided over the Senate.
U.S. Senate candidate Johnny Isakson reported raising $700,000 at a recent fundraiser attended by 200 people at the Cobb Galleria Center. In addition to the $1.1 million Isakson had in the bank, the total raised for Isakson's senate bid stands in the $2 million range. So far, the 6th District congressman is the only announced candidate to succeed Sen. Zell Miller, who said he will retire at the end of his present term in 2005.
Every state agency has already had to cut back on its existing budget, first under Gov. Roy Barnes and now under Gov. Sonny Perdue. But some agencies make the interesting argument that their total state budgets are a bargain because the agencies generate more money for the general state treasury than they cost. The Public Service Commission, for example, has a budget of just over $9 million annually. Yet last year alone the PSC generated some $19 million in fines and fees, a good chunk of it from BellSouth and other utilities. The State Insurance Department is an even heftier example. Its total state budget last year was just over $16 million, yet the department collected more than $19 million in fees, plus insurance company premium taxes of more than $250 million, all of which go into the general treasury.
Even as Gov. Sonny Perdue called for tax increases and bone-crunching budget cuts, he has submitted to the Legislature a record-setting request for salaried positions in his office. Some of the positions and pay schedules requested by Gov. Perdue: chief of staff, $120,000; deputy chief of staff (3 positions), $95,000; inspector general, $105,000; director of homeland security, $105,000; chief operating officer, $105,000; and chief financial officer, $200,000.
Leading Democrats are urging Jerry Gray, who served as deputy chief of staff for former Gov. Roy Barnes, to challenge DeKalb CEO Vernon Jones. Jones ruffled Democratic feathers when he joined forces with Gov. Sonny Perdue in the failed effort to elect Rep. Larry Walker, D-Perry, as a coalition speaker. Gray, a long-time DeKalb resident, is a prodigious fundraiser with close ties to Atlanta Mayor Shirley Franklin.
From The New York Times: "'If there had been a referendum in Georgia in 1860 on slavery, I'd still be picking cotton,' said state Sen. Vincent D. Fort, a leader of the black caucus. 'The idea that a referendum will heal the divide is ludicrous.' If the Confederate battle flag rises again above Georgia, it would be the first time since the civil rights movement that a Southern state has resurrected a symbol so painful to many. Some here say it could also crush the already-wobbly economy of Atlanta, the South's most prosperous city."
House Speaker Terry Coleman has tapped Rep. Tom Buck, D.C.olumbus, as his successor to chair the important House Appropriations Committee. Rep. Richard Royal, D.C.amilla, will replace Buck as chairman of the Ways and Means Committee.