Zell "Ducks" Out
Inside Politics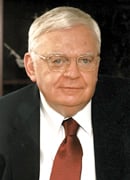 "I realize some will call me a 'lame duck.' But those who know me know I will be the 'same duck,' continuing to serve no single party but all the people of Georgia," said Sen. Zell Miller as he shocked the political community with an announcement he would not be a candidate for re-election in 2004.
Back in 1961, attorney Donald Hollowell was in his early 40s and a fearless presence, whether in a courtroom where he might be the first African-American lawyer ever to appear or escorting Charlayne Hunter and Hamilton Holmes through unfriendly crowds to have them admitted as the University of Georgia's first black students. He had an impact on every aspect of civil rights, including once getting Dr. Martin Luther King Jr. out of jail. At age 84, Hollowell was awarded an honorary Doctor of Law degree last month at UGA's fall commencement. He is only the 75th person to be so honored in the history of UGA. "Very nice," he commented modestly.
The University of Georgia will use a $1 million gift from Atlanta businessman Cecil Phillips to establish an endowed professorship in honor of former Gov. George D. Busbee. The George D. Busbee Chair in Public Policy will be the first endowed faculty position in UGA's new School of Public and International Affairs. Busbee, who was governor from 1975 to 1983, received a business administration degree from UGA in 1949 and a law degree in 1952. Phillips, president and CEO of Place Properties, served as special assistant and executive assistant to Busbee during his second term and is a longtime friend of the former governor.
As an apparent reward for switching from Democrat to Republican and helping give the GOP a majority in the state Senate, Sen. Jack Hill of Reidsville has been named chairman of the Senate Appropriations Committee. He succeeds Democratic Sen. George Hooks of Americus. The new GOP majority also has stripped Democratic Lt. Gov. Mark Taylor of the authority to appoint committee members and control the flow of legislation, which ought to give "the big guy" plenty of time to campaign for the Senate if he wishes.
Just before he departed office, Gov. Roy Barnes named Marietta attorney Kathryn Tanksley to replace Harris Adams on the State Court of Cobb County. He earlier appointed Adams to the State Court of Appeals. Kathryn Tanksley is the wife of Republican state Sen. Charles Tanksley, a floor leader for Barnes in the state Senate and a former law partner of the governor. Ms. Tanksley has practiced law for 20 years.
The Georgia First Amendment Foundation has chosen Georgia Attorney General Thurbert Baker to receive its 2003 Charles L. Weltner Freedom of Information Award. Baker was honored for the overwhelming commitment he and his department have made to mediating disputes over government access and enforcing Georgia's sunshine laws. The featured speaker at the awards ceremony was Michael Bowers, Baker's predecessor, and the first Georgia attorney general to take an aggressive posture in the field of open government.
"Georgia is changing. A new political party is coming into power. A new personality is going to be governor. A fundamental change in style and purpose is being projected. Georgia decision-making will be an 'our way' process. The focus will be on 'principle' rather than just 'politics.' The new governor will listen before he acts, rather than to act without listening."

— Education leader Franklin Shumake writing in "Comments on Education" newsletter.

Pat Gartland is the new Small Business Administration regional advocate for the federal government's Region IV, covering Alabama, Florida, Georgia, Kentucky, Mississippi, North Carolina, South Carolina and Tennessee. Gartland will serve as a link between small-business owners, local and state governments and the Small Business Administration. Gartland, a University of Alabama graduate and former major in the Army, has more than 20 years experience in coalition building across the South. Most recently, he was Southeastern Regional director for Congressional and Public Affairs of the U.S. Chamber of Commerce. He also has served as national director of the Center for Reclaiming America and as Georgia state chairman of the Christian Coalition.