Cover Profile: Sonny Perdue
The Man From Bonaire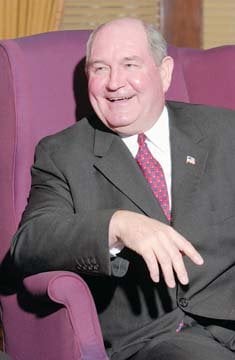 There's a running joke in Gov. Sonny Perdue's hometown in Middle Georgia, where his grain elevator is the only skyscraper. "We call it the Bonaire Mall," he says. "There's the grain elevator and the Exxon station with a Taco Bell. We've got an Ace Hardware now, too. It's a growing commercial area."
With good humor, the governor talks about Bonaire as an up-and-coming urban area; yet he dearly loves the territory. The care with which he crafted the business plan that helped him start an enterprise there — giving up a career as a veterinarian, for which he earned a doctorate at the University of Georgia — may suggest how carefully he planned his campaign for governor when most people said he didn't have a chance.
A lot of folk offered congratulations after the votes came in. The spacious anteroom outside the governor's inner office is an interesting place during the legislative session, with bulletin boards set up in different corners, each one festooned with letters and notes. There is no particular pecking order: The three-paragraph letter from President George W. Bush is pinned at an angle in the middle of one of the boards, and there are notes from school children on lined tablet paper. "I hope you are a good governor," one says. There are notes from other governors, Democrats and Republicans. There is one from Congressman John Lewis.
Changing Careers
Perdue was born in Perry on December 20, 1946. He grew up on a family farm in Houston County, not far from Bonaire.
He liked that growing up, generally, and being around the farm was an early incentive for becoming a vet. "No question about it. We had animals, and the veterinarian was a good family friend. Who was the British doctor, the vet who wrote those books?" he says, a reference to James Herriot. "Our vet was that kind of guy, a very winsome sort of fellow. Young boys get heroes and he was a kind of a personal hero. I thought he was a pretty cool guy and I wanted to emulate him."
Perdue describes his family farm as a "very diversified row-crop farm, very traditional, like a lot of farms in the 1950s and 1960s, growing peanuts and cotton and wheat and corn." He remembers the corn fondly. "I paid my way through college with sweet corn. Had a regular route and customers in the summer. I had my own sweet corn patch and that's where I would get my money to go to school. Dad loved watermelons and cantaloupes and butterbeans and okra and did a lot of truck farming."
But there was no "cash crop," as many Georgia farmers once referred to tobacco, counting on it to help pay the bills at the end of the growing season. "We were north of the South Georgia tobacco belt," Perdue recalls.
Growing up on the farm made him aware, he says, of the "vagaries" of economic upturn and downturn. "I wanted a profession, a stable professional life, and I thought veterinary medicine afforded that. I made that decision as a ninth-grader, thinking I could combine my upbringing with a professional status." But when he reached his goal and was actually a practicing vet, Perdue says, "I found out that it wasn't me."
His own experience, he adds, "made me a huge believer in these tests that allow you to evaluate your real skills and aptitudes. I've made all my children take them. That's probably one of the best things we can do for our children. It's the round hole, round peg theory. We are all more productive, a happier society, when we do things we are good at doing and that we like."
Perdue and his wife, Mary, have four grown children and twin granddaughters. He doesn't say whether it's a result of that testing, but his children have chosen varied careers: Leigh is a speech therapist, Lara is a software consultant, Jim is a University of Georgia graduate now studying for the ministry at Southeastern Seminary in Wake Forest, N.C., and Dan is an undergraduate at Georgia Tech.
Perdue's early ambition took him to the University of Georgia, where he played one year of football as a walk-on for Vince Dooley. He got his undergraduate degree and received a doctorate in veterinary medicine in 1971. He signed on for the Air Force in his freshman year, "when Vietnam was really boiling," and worked as a vet for three years in the military and then three years in private practice.
That career was a mistake, he realized; he felt "constrained and tied down." It was a major epiphany, "having gone to school for almost seven years and then realizing that what you had gone to school to do was not going to fulfill you as a career."
Perdue was not quite sure what he did want to do, exactly, but business seemed the best possibility. "I wanted," he says, "to use my talents in a way to leverage them and business seemed a way to do that."
In his last year as a practicing vet, he began studying the grain market, the hedging process, traveling to the Midwest to "look at grain elevators and the logistics of how the grain markets worked." He knew from his own farming experience that a lot of farmers in Middle Georgia traveled some distance, as much as 40 miles, to get to a grain elevator market. "There was a local need there," he felt.
Perdue asked his only sister, Betty, and her husband, Jimmy Griffin, to go into business with him in 1976. "We had it all planned out, a real business model," he says. The governor's eyes get bright when he talks about his brother-in-law Jimmy, how the two of them built most of the grain elevator with their own hands — "sweat equity" — with just a few helpers, contracting out the millwright and crane work.
"Jimmy was great," Perdue says. "He didn't have the opportunity of a lot of formal education, but he was one of those guys who could do anything outside." Their first crop was in the grain elevator in January of 1977. Three years later, in January of 1980, Jimmy died of a massive heart attack. "He was only 43," Perdue recalls, his face clouding.
His sister, despite having three daughters to raise, remained active in the business through most of the 1980s. That was a time of expansion, when the business bought a second facility previously owned by Goldkist and a third in Northwest Georgia.
Perdue is mindful that his self-made businessman experience did not win him much campaign help from Atlanta's or Georgia's business community; many businesspeople instead supported former Gov. Roy Barnes on issues such as the flag change, transportation and education policies, even the Northern Arc and redistricting. The Barnes campaign fund was roughly $20 million to Perdue's $3 million.
Georgia Wants A Leader
Any lingering hard feelings? "None whatsoever," the governor insists. "The election is over and I'm very encouraged by the willingness of the business community to come alongside and to acknowledge that the people have spoken. That's the way America ought to work."
Perdue says he is "blessed with a gift of not holding a grudge," and he believes that Democrats and Republicans in the legislature, as well as business leaders who opposed him, can work together. "I am willing to listen to people who disagree without being offended, because I may learn something that way. Let's be clear, though. Georgia wants a leader. We're going to provide a vision and a goal for a better Georgia, an educated Georgia, a healthy Georgia, a safe Georgia and a growing Georgia." Anyone who misinterprets his willingness to listen to opposing views "as weakness . . . they're going to make a serious mistake."
In the early days of the grain elevator venture, it was Perdue who did the marketing; the friends and contacts he made led to his election to the state Senate in 1990. He started out as a Democrat, but switched to the GOP in 1998 and was re-elected as a Republican. He sees his initial effort as governor as something of a "marketing challenge," too.
His staff will work with department heads and Constitutional officers, Perdue says, to improve their agencies "and that means to be principle-centered but people-focused, customer-driven." Government, like business, he believes, "really thrives on its people." Perdue wants "to make sure our public employees know they are appreciated, that they are valuable, but we expect productivity and results. We are going to give customers good service. The mantra for my administration is going to be accountability with flexibility."
Perdue sees business leaders playing a major role in helping him improve the operation of state government. "Probably not with large-type Grace or Williams commissions," he says, referring to earlier studies on governmental efficiency, but more likely "three-person teams that focus on an agency, like a business SWAT team."
One challenge will be to look at "public-private competitiveness," Perdue says. "I want to empower our public work force to consider new ideas, not to do something because 'we've always done it this way.'" Can something be done more effectively in the private sector? Or can public-sector employees do it better? "I think it will help their morale," the governor says, "make them proud to compete, not being denigrated as career civil servants." The U.S. Department of Defense did this "very effectively," he adds, in the base realignment and closing studies, allowing federal civil servants to compete on workload against Lockheed and others. "And what happened? Lockheed started partnering with many of the bases. They would do the things they did best and federal civil servants the things they did best. And the public got a cheaper product."
Perdue notes that he has a "unique opportunity in history," as the state's first Republican governor in more than a century, to take a look at state government with fresh eyes, as former Gov. Joe Frank Harris and others have remarked to him. "The benefit, obviously, of having so little political obligation or debt," Perdue says, "is that you can do things for the right reasons."
Changing The Political Culture
What would Georgia's new governor like to achieve by the end of his first year in office?
"I think we would have hoped to have looked at the guts of government, the operations of government, looked at those things really that we don't need to be doing any more, costing the taxpayers money," he says. "And I think we need a year of reconciliation from all of the partisanship. People don't care if it's a Republican or a Democrat delivering state services. They want it done well, efficiently and effectively. That's the opportunity we've got, with the situation we've got in the legislature, that we as Democrats and Republicans can get the job done."
Jim Wooten, associate editorial page editor of the Atlanta Journal-Constitution, was almost alone among political prognosticators in predicting that Perdue had a real chance to be elected. "I was really impressed after the election," Wooten says, "at how quickly he reached out to tap into the business leadership over the state. He's trying to change our political culture and, the way he's started out, he may do a better job of tapping into the business community for help than any recent governor."