Pushing Trade With Cuba
Inside Politics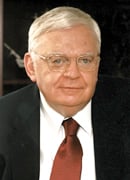 Bashing trade with Cuba may win you some votes around Miami, but promoting trade with Cuba apparently hasn't hurt Georgia Agriculture Commissioner Tommy Irvin, who won re-election easily, despite his strong support for American trade with the Cuban government.
"We have been the first in line to try and open up the Cuban market and we want our Georgia companies and others to be able to sell their food to the Cuban people," says Irvin.
It has been just three months since Congress eased trade restrictions with Cuba, permitting the sale of medicine and food, so long as Cuba paid in cash.
Irvin led a delegation of Georgia companies and state agencies to Cuba in September, cutting the ribbon to open officially the first U.S. Food & Agribusiness Exhibition in Havana. Cuban officials said later that Georgia companies made "deals for a total U.S. $7.5 million — according to our preliminary figures."
Irvin hopes to see Georgia companies increase their share of the more than $165 million in agricultural and food products purchases by Cuba this year, a figure estimated to increase to $260 million in 2003.
————————————
Former Gov. Roy Barnes has taken a tiny office in downtown Atlanta to provide legal services for the poor. Working as a lawyer for Atlanta Legal Aid Services, Barnes says he believes he has a responsibility to perform a service for the communities that have given him support. And no, he adds, this is not a first step toward a new political career. Shortly before he departed office, he re-appointed Pardons and Paroles Board Chairman Milton "Buddy" Nix to a full seven-year term as a P&P board member. The appointment had the concurrence of Gov. Sonny Perdue. Barnes also appointed Cobb County State Judge A. Harris Adams, 54, to the Georgia Court of Appeals. He succeeds Judge Marion Pope who has retired.
Increasing state government scrutiny of the Georgia Lottery Corporation's expenses, including high legal fees, will be near the top of Gov. Sonny Perdue's agenda for curbing waste and corruption, according to sources close to the new governor.
Sen. Nathan Dean, D-Rockmart, has resigned as chairman of the state Senate Democratic Caucus, signaling a further erosion of Democratic strength in the Legislature. Asked why he resigned, Sen. Dean said, "My wife is going to have both knees replaced, and I need to spend all the time I can with her."
"[Sen. Zell] Miller presents a fascinating quandary for Democrats in the South and around the country: Is it better to try to win by out-Republican-ing the Republicans or to risk losing by standing up for working-class people and progressive principles?"

— Kevin Griffis, Creative Loafing.

Eric Tanenblatt, formerly a public affairs executive with McKenna Long & Aldridge and the new chief of staff for Gov. Sonny Perdue, served as state chairman for George W. Bush's successful presidential campaign in 2000. He also was an aide to the late Sen. Paul Coverdell. Meanwhile, Paul Moore, a political strategist for both Sen. Phil Gramm and the late Sen. Coverdell, has joined McKenna Long & Aldridge as a senior adviser in the firm's public affairs section. The election of Gov. Perdue and other Republicans has opened up new demands for public affairs executives with GOP backgrounds.
The Coweta-Fayette EMC will enter the natural gas market, after approval by the Georgia Public Service Commission. Some PSC insiders see EMCs throughout the state providing more competition than anything yet in gas deregulation. The new entry into the natural gas wars was the second EMC to make the move, permitted for the first time under a change in the law during the last legislative session. More EMCs are expected to begin offering natural gas service soon. One complicating factor: The new law specifically forbids the EMCs from using their nonprofit electricity service to subsidize lower prices for natural gas.
Rene Webb Pennington has been named director of corporate affairs for AGL Resources, says Lindsay Thomas, AGL's senior vice president for governmental affairs. Her responsibilities will include government and community relations, and her credentials include six years as an assistant U.S. attorney in New Orleans and Washington, six years as a corporate attorney and three years as attorney adviser with the U.S. Environmental Protection Agency. Her Atlanta connections are not bad either: Her husband, Richard J. Pennington, is Atlanta's chief of police.
The American Civil Liberties Union has hired former Rep. Bob Barr, a Georgia Republican and once one of the most conservative members of Congress, as a consultant to work on privacy, surveillance and national security issues.
The Federal Election Commission has agreed to let candidates for federal office pay themselves salaries from the campaign contributions they collect. The commission approved a proposal to allow candidates to pay themselves at a rate equal to the salary of the job they held when they decided to run, or the salary of the federal office they are running for, whichever is less.
The brothers Black, professors both — Merle at Emory and Earl at Rice — are the reigning experts on The Rise of Southern Republicans, the title of their latest book. "At the urging of (Congressman) Trent Lott," they note, Ronald Reagan opened his 1980 post-convention presidential campaign in Philadelphia, Miss., a small town best known for the murder of three civil rights workers in 1964, with the help of local law enforcement. Reagan wowed the crowd of 10,000, virtually all white, pledging support for "states rights." The message of "white racial solidarity had been sent," say the Blacks, and was understood. Lott defined himself personally, as the Blacks also note, in his first U.S. Senate race in 1988 as "the proud son of a union shipyard worker, a 'populist' and champion of Social Security, broader highways, better education and other largess from Washington that helps the average Mississippian, black or white." The book was published before the controversy that deprived Lott of Senate power.
"The reason the Georgia Democratic Party was trounced so badly during the recent election," says one observer, "is because many of its members lack integrity. These same Democrats are now switching to the Republican Party."

— From the Rant & Rave phone-in column in The Valdosta Daily Times.