Political Past Still Present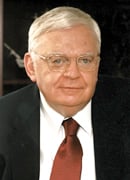 A Georgia history buff recently gave me a tape recording of Eugene Talmadge's final radio speech on the eve of his successful 1946 Democratic primary election for governor. Listening to it was a numbing experience, bringing back memories of an unhappy time.
The oration ought to be required listening for every modern candidate for statewide office. His comments reveal how far our state has progressed in 57 years — and how far Georgia still has to go.
The words are blunt and shocking. Unlike those today who use subliminal political codes, Talmadge made no attempt to mask his feelings with talk of "preserving our Confederate heritage" or seeing to it "that all our tax money is not spent in Atlanta."
"I am proud to talk to you about what I consider one of the most vital campaigns that Georgia has had in a great many years. It is one that will affect not only the future of Georgia but the Southland and the entire nation," Talmadge declared in surprisingly unemotional tones. "The election tomorrow is a question of white supremacy."
With that, he launched into a 25-minute lecture on the history of Georgia since the Civil War and a denunciation of "a small bloc of nigras" intent on seeking equal status with whites. He pledged to maintain "our way of life." In 1946, to most Georgians "our way of life" meant wholesale illiteracy, substandard wages and rampant malnutrition.
The Talmadge speech did not contain a single line on improving education, enhancing highways or humanizing the welfare system. It was all about race.
Talmadge won the primary (which was tantamount to election) on the basis of the county-unit system, but Cobb County businessman Jimmy Carmichael captured the most popular votes (Carmichael — 313,899; Talmadge — 297, 245).
Carmichael, who was instrumental in bringing the Bell Aircraft plant to Marietta during World War II, preached economic development and told Georgians long after the campaign was over: "I sicken of those people who are always waving the Confederate flag and telling us what a glorious heritage the South has. No one denies that heritage, but too many of our people want to keep on being who they are and where they came from. The only criteria of individual worth are who a person is and where he is going."
Before he could take office, Eugene Talmadge died of cancer. Runner-up Carmichael declined to replace him. And Eugene's son, Herman, claimed the governorship, which set off an historic three-governor squabble.
One wonders what might have happened if Carmichael had replaced Talmadge as the Democratic nominee and the governor-elect. Or if the county unit system had not been in place (it was outlawed in 1962) and Carmichael had won outright on the basis of the popular vote.
George Berry, a one-time heavy-hitting government bureaucrat, has written a monograph on Carmichael, suggesting Georgia would have had a much different history with the Cobb businessman as the state's first postwar governor.
"Georgia has suffered the consequences of many lost opportunities during the struggle for economic and political parity with the rest of the nation," Berry writes. "Our greatest lost opportunity was not having the benefit of Jimmy Carmichael's intelligence, vision, energy and promise in 1946."
Perhaps Berry is right. Herman Talmadge as governor continued to echo his father's racist rhetoric, though not always in such stark terms, through the 1940s and into the 1950s. Talmadge's long line of successors also refused to let go of the race issue.
As late as 1958, Ernest Vandiver, an odds-on favorite to win the governorship, promised that "no, not one" black student would be admitted to Georgia's white public schools. He smashed his political rival, the Rev. Bill Bodenhamer, a far more virulent racist, in a record landslide in the 1958 Democratic primary. Repudiating his stance, Vandiver ran a progressive, reform-centered administration.
In 1962, with the county-unit system invalidated, Carl Sanders became Georgia's first urban, Carmichael-like governor.
Then came Gov. Lester Maddox, a throwback to the '40s and '50s. His campaign trademark was the pick-axe handle, which he had once used to drive unwanted African-American customers from his Atlanta restaurant, the Pickrick. The incident made headlines around the world and turned Maddox into a national icon for racial segregation.
After Maddox, there was Jimmy Carter. He also ran a "white man's campaign," thinly disguised as a pro-George Wallace effort. In his inaugural speech, and to the surprise of many of his supporters, Carter denounced racism —' and overnight became a very unpopular governor.
Carter's bid was the last outright racial gubernatorial campaign the state has seen from a viable major party contender. But now, nearly 35 years later, the race card is still with us, just addressed by other names: "changing the flag," "the Atlanta crowd," and sometimes, in rural areas, "local control of schools."
A case can be made that Zell Miller nearly lost the governor's election of 1994 and Roy Barnes did lose the election of 2002 because of the race issue. Both men tried to change Georgia's Confederate-centered state flag (with Barnes succeeding), which many blacks saw as a tribute to segregation and even slavery. But white voters, by the thousands, objected to the changes and registered their protests at the polls.
Sonny Perdue was elected governor mainly on the strength of Barnes' insistence on changing the flag — a barely disguised racial issue. Now, Perdue's greatest challenge may be how to avoid becoming mired in the modern-day equivalent of a white-supremacist culture — and to continue Georgia's not-yet-completed journey toward becoming part of America's economic mainstream.