Hometown Hero
George Maloof excelled as a player at Marist and Tech and a championship-winning coach at St. Pius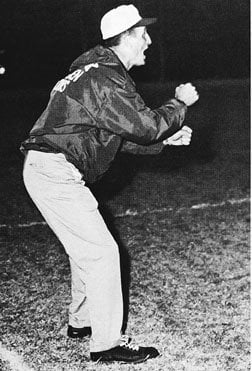 Of all the greats who have come out of Georgia, the one the Atlanta Touchdown Club picked for its inaugural Legends of the Game honor was George Bernard Maloof. And the TD Club could not have made a better choice.
Maloof not only excelled as a player at Marist School, Georgia Tech and in the U.S. Air Force but as a coach at St. Pius X High School for 26 years. He is held in such high esteem that St. Pius named its football field after him and Marist dedicated a special game in his honor. It may be the only time a school honored a former coach of its arch-rival institution.
Maloof is a special guy, make no mistake about that. When asked who had the biggest influence on his life, Bobby Dodd, the legendary coach at Georgia Tech, or R.L. "Shorty" Doyal, the immortal Marist coach, he says, "Neither. The biggest influence of my life was a nun, Sister Mary Kevin, who taught me in the fifth grade." Maloof named one of his sons Kevin, after her, and says, "If my first born had been a girl instead of a boy I would have named her Kevin, too."
Maloof will live forever in the hearts of Georgia Tech football fans and he will be forever No. 1 on the hate list of ardent Bulldog fans. In 1951, he scored four touchdowns in leading Tech to a 48-6 rout of the Bulldogs, an unbeaten season (11-0-1) and to the Southeastern Conference championship. No Jacket before or since ever put 24 points on the scoreboard against the Dogs.
Maloof was born in Atlanta at the old Piedmont Hospital, now a parking lot, where Atlanta-Fulton County Stadium used to be. He grew up in the Grant Park area and attended Immaculate Conception Elementary School, where he came under the influence of Sister Mary Kevin.
"I was 10 years old," Maloof recalls. "She taught me how to read and how to speak. She taught me right from wrong and above all she taught me to stretch my thinking. She told me to keep reaching for higher goals, that there was nothing I could not accomplish if I thought I could."
Maloof believed. Two years later when he entered Marist, then an all-boys' military school located downtown, he set out to be the best all-round student in school, a goal he far exceeded. He was president of his freshman, sophomore, junior and senior classes. He was business manager, military editor and sports editor of The Blue and Gold, Marist's weekly newspaper. He was a colonel, the highest ranking officer in the Cadet Corps. He was twice named the Corps' outstanding cadet.
He lettered four years in football, making All-State, All-Southern and prep All-American teams. He lettered four times in baseball, making the All-Greater Atlanta and All-State teams and picked up two more monograms for basketball. He played in the Georgia High School All-Star Game and was named the outstanding player on the North team.
Enough, already? How about sharpshooter on the rifle team and an officer in the Society of the Blessed Mother? Talk about the All-American boy: The Atlanta Touchdown Club named him the most valuable prep lineman in Georgia.
At Georgia Tech, besides leading his team to an SEC crown, he played third base on Joe Pittard's baseball team and twice was named to the all-conference team.
When Maloof graduated from Tech in 1952, he went into the U.S. Air Force as a second lieutenant. He was picked to play on the Ft. Bragg All-Star football team and was chosen most valuable player in the 9th Air Force.
Coming home to Atlanta after a two-year Air Force stint, he joined his prep alma mater, Marist, as assistant football coach. His stay was short-lived. Two years later, in 1958, St. Pius X Catholic High School opened in Atlanta and the man it sought for the head coaching job was George Bernard Maloof. It was a wise choice.
Maloof kept going full speed for 26 years, posting a 168-85-12 won-lost record. His was the first Catholic school to win a state championship (1968). He whipped his prep alma mater and he was twice named Georgia Class AA Coach of The Year.
Pride and enthusiasm are the heart of Maloof's coaching philosophy. "It might sound corny," he says, "but if you have pride in your work and the enthusiasm to challenge anybody there is nothing you cannot accomplish. Above all, you must be fair, honest with your players. They need to feel they are being cared for whether they are being chewed out or not."
And how did the Pi Hi players feel about their coach? Chris Eck, a member of Maloof's 1984 team, says, "He gave so much of himself to others. I feel he really cared for me and all the other team members.
"It never seemed to matter whether we won or lost on the scoreboard because when you know the man as a coach and father figure, you know you were a better person for having come under his influence.
"He was tough, demanding. He asked for 100 percent and he got it. We felt he genuinely loved us and wanted us to become as good as we could be."
Maloof received a special John Paul II medal, for his achievements in education. It is one of the highest honors conferred by the Catholic Church.
His life has not been a bed of roses. His first wife of 21 years and two stepsons all died prematurely. Maloof had prostate cancer in 1988, which he says he has overcome. He has been fighting lung cancer for two years, which he says now is in remission.
If that was not enough to put Maloof down, he was in a serious auto accident three years ago in which he suffered a broken hip and a leg fractured in five places. But except for the cane he needs to walk, Maloof is unchanged. The smile and the sparkling personality he had as a kid are still evident today.
Today, Maloof is retired and living in Chamblee. His greatest enjoyment comes when he and Anita, his wife of 25 years, plan holiday dinners for children and grandchildren. He fishes, plays golf and works around the house. His schedule is a far cry from the one he used to keep when he was football coach at St. Pius, athletic director, assistant to the school principal, head of boys' discipline, and teacher of math and mechanical drawing. He brought game films home in the evening and watched them in his den, "so the kids would know they had a daddy."
Maloof had a chance to become an assistant college football coach at his alma mater in 1967 under head coach Bud Carson, but his love of family convinced him to turn it down.
"I was away from home enough as it was," he says, "and going into college coaching would have kept me away much more. The college assistant is always on the road, with recruiting, scouting, speaking engagements. It would have been nice going back to Tech but not at the expense of family time."
Aside from his four-TD romp against the Bulldogs, Maloof's biggest thrill was Sept. 15, 1995, at halftime of the St. Pius-Chamblee game. A tent was erected in the Pius end zone and many of his former players and cheerleaders came for the dedication of George B. Maloof Field. "There is no way I can describe the elation I felt," he says. "I was brought to tears but they were tears of happiness."
Maloof's two sons, Kevin and Keith, are following in their dad's coaching footsteps. Kevin has won more than 100 games in 12 years, two at Meadow Creek and 10 at Dacula. Keith, at Tucker for three years and Norcross for 10, has had his teams consistently in region playoffs.
Says Keith of his dad, "He instilled in me the ability to communicate with kids. When no one else believed in me, he gave me the vision and the strength to do things I never thought I could do."
Says Kevin, "He taught me what work ethic was all about. He taught me to do the best I could do with the talent God gave me."
For the Maloof boys, life with father has been pretty darn good.