Lesson of Jimmy Carter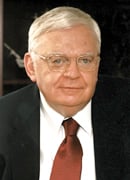 James Earl Carter Jr. may be a Nobel Peace Prize winner, but he wouldn't win many prizes among Georgia's political class. That's too bad. Some say he ought to be the politicians' No. 1 inspiration.
Before Jimmy Carter became the most successful ex-prez in history and was selected for the Nobel for his good works; before the voters evicted him from the White House in 1980; before he ran for president in 1976?
Before all that, Carter was governor of Georgia. And, by most accounts, his tenure rated an unenthusiastic "good" to "moderate" grade. The most remarkable part of his political career in Georgia was his campaign for governor and its immediate aftermath. In some ways, Carter's bid for governor in 1970 was similar to Sonny Perdue's effort in 2002.
Just as Perdue claimed mostly to be everything Roy Barnes was not, Carter promised to be the antithesis of his Democratic primary opponent, former Gov. Carl Sanders, an urbane Augusta lawyer who had served Georgia ably as governor from 1963 to 1967.
Sanders promised a fair shake for African-Americans in state government. Carter promised to invite Alabama Gov. George Wallace into the state to speak, and he vowed to retain an old-time segregationist as chairman of the state Board of Regents. He ran a subliminal "fergit, hell" campaign.
Until the Barnes-Perdue race, the Carter-Sanders match was the last contest for governor that turned on racial symbols.
Sanders was perceived as the moderate, urban-oriented, Atlanta-friendly candidate. Carter presented himself as the ultra-conservative, anti-Atlanta, rural white friend of those who thought blacks had gone too far. Carter won the primary against Sanders, and then brushed aside an Atlanta-centered opponent, Republican Hal Suit, to become governor.
At his inauguration, Carter said the time had come to put aside racial matters. He delivered such a moderate (some say liberal) address that Time magazine put him on its cover as the symbol of the New South. Carter was on his way to national prominence. But the old-line segregationists in Georgia, those who had supported him so avidly against Sanders, never forgave him for what they saw as plain political treachery.
Because of term limits in place at the time, Carter could not have been re-elected governor when he left office in 1975. But, out of loyalty to a native son, the state supported him for president a year later. When his presidency floundered, his old enemies back in Georgia grinned and said they knew it would happen. What they did not know was that the end of the Carter presidency was the beginning of the most distinguished part of his career.
He established The Carter Center. He became the foremost apostle of American-style democracy throughout the world. He used his resources to fight disease and famine. He policed free elections in countries where free elections had never been held. And, oh, yes, he stepped on some of his presidential successors' toes by conducting his own foreign policy.
He was nominated several times for the Nobel Peace Prize and finally won it this year. It was given to him for his work as a peacemaker in a thousand projects. Unfortunately, it also was awarded as a slap at President George W. Bush for his bellicose policies in the Middle East.
Nevertheless, Carter's ultimate success should stand as an inspiration to elective officials who have endured defeat and decided their careers were at an end.
In a recent interview on GPTV and PBS stations nationwide, Carter, now 78, said: "When I was involuntarily retired from the White House by the election in 1980, it took a while to get over the defeat. But I soon realized that I was one of the youngest presidents who had survived the White House and that I had a life expectancy still of about 25 years. So we explored what to do with the future…. We had access to almost any leader on earth. We had a lot of influence if we wanted to exert it."
Roy Barnes, Max Cleland, Buddy Darden, Cynthia McKinney, Bob Barr, et al: Take note. Your defeat may be just a new beginning. Don't forget what happened to the losing candidate in the 1960 presidential campaign, who then went on to lose the 1962 California gubernatorial election as well. His name was Richard Nixon. If Jimmy Carter, a so-so governor who became a less than so-so president, can become one of the greatest citizens of the world, you too must know there can be a productive life after elective politics.