2003 Georgian of the Year
High Power, Low Profile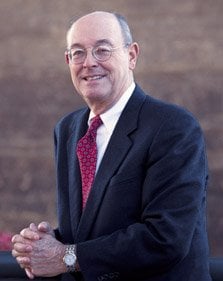 Synovus Financial Corporation CEO Jim Blanchard fidgets in his chair and loosens his tie. His blue pinstripe suit almost looks too formal for his rustic Columbus office, with its brick walls, wood floors and comfortable furniture. A large family portrait sits on a credenza, and a stuffed deer head stares out from a wall above him.
Blanchard is uncomfortable. He's been asked to talk about himself.
"I'd rather be going to the dentist for a root canal," he says. "My role is to be the spokesman for this company, not to be talking so much about me." He can't help but gently chastise the reporter for asking him to do it. Blanchard talks with a southern drawl as smooth as a piece of chocolate chess pie at Country's Barbeque, a favorite local eatery and longtime Synovus customer.
"I'm embarrassed by this whole thing. I just think the personality cult that refers to so many things is so wrong," he says. "I don't think I've ever earned any special recognition as a person."
Those who know Blanchard well will tell you he truly believes that. His self-effacing manner is, in many ways, one reason he has risen so high and done so much in his hometown and across the state.
"That's what makes him a giant among men," says Mike Gaymon, president of the Columbus Chamber of Commerce. "He's very quick to give credit to someone else."
But the credit lies squarely with Blanchard for growth of the Synovus companies and their economic impact on Columbus. Blanchard, at the helm for 32 years, has positioned Synovus as one of the strongest banking institutions in the Southeast, if not the country. At the same time, it is one of the best places to work in the nation, deemed as such five years in a row by Fortune magazine.
That, in turn, has been a boon to Columbus, where Blanchard is considered one of the city's most powerful leaders — a low-key unifier largely responsible for the city's recent renaissance. "To a lot of people, he is Columbus," says Gaymon.
But Blanchard's influence reaches beyond the town. Over the years, he has been friend and adviser to the top ranks of Georgia's elected leadership, helping guide the state's phenomenal economic growth.
"Jim Blanchard is one of Georgia's finest corporate citizens and his reputation, as well as that of the companies he's built, is well known throughout the nation," says Gov. Roy Barnes, a friend and banking customer of Blanchard's for 25 years. "Even before he became chairman of the Georgia Department of Industry, Trade and Tourism board, he was an integral member of our economic development team."
Blanchard has proven himself a powerful, ethical influence on the thousands who work for him and on the state's most powerful leaders. For that reason, Georgia Trend names James H. Blanchard its Georgian of the Year.
Thinking Outside The Bank
Give the 61-year-old Blanchard a chance, and he'll steer the conversation toward Synovus. He took the helm of Columbus Bank and Trust Co. (which evolved into Synovus) when he was just shy of 30 years old, after his father died. James W. Blanchard was president of the bank for 11 years, and his son — who was pursuing a law career — was brought to the business by a board that saw his potential.
His father would be proud. Blanchard has steered Synovus into an $18 billion (in assets) corporation that includes 39 member banks throughout the Southeast and subsidiaries such as TSYS, processor of credit card transactions. Blanchard describes the "three pillars" of Synovus: its banking, its small-but-growing financial management services operation and TSYS.
Synovus' banks provide 70 percent of the corporation's net income. Synovus' practice of allowing its banks to keep their names and boards goes along with Blanchard's penchant for empowering people who work for him. "It's the greatest strength we enjoy in the marketplace," he says. "It's just the way we do it and it's the sweetest spot we've ever been in. We wouldn't change it for all the tea in China."
Much of the rest of Synovus' net income comes from TSYS, the high-tech, "sizzle" side of Synovus, as Blanchard puts it. The contrast between TSYS and the rest of Synovus is apparent at first glance: Synovus is scattered throughout downtown in more than a half-dozen bland-looking buildings, while the glass-and-granite TSYS campus sprawls across 46 acres on the Chattahoochee River. It's hard for a Columbus visitor to miss.
"It gives us an air of excitement and a sense of urgency that is really healthy for our banks," says Blanchard. "It's a grand mix."
Blanchard's ability to start an operation like TSYS testifies to his ability to think outside the bank. "He's probably one of the few people to know both businesses and to be intimately involved with both of them," says Kevin Reynolds, Morgan Keegan first vice president, equity research. "He's done a fabulous job of combining both TSYS and Synovus' banking operations together."
Synovus reported its highest earnings ever last year, even while its stock price stagnated. But the effects of a sluggish economy have frustrated Blanchard.
"The biggest disappointment I've had in my whole career is that this recession that we have been in, coupled with 9-11, has impeded or slowed down the momentum that we were building," he says. "The good news is that this too shall pass, and we'll be running at full speed sooner than most."
Reynolds agrees. "We can put their branch network up on a map and we can see they are in some of the more attractive networks in the Southeast," he says. "As the economy expands, they're positioned where they need to be."
Reynolds lists other Synovus strengths: a single-minded management team and great work environment. "This is a reflection of Blanchard," he says. Blanchard's people-focused philosophy is reflected in his reference to employees as "team members," and in the creation of a "Chief People Officer" (CPO).
About half of Synovus' 11,000 employees work in Columbus, a city that's grown in size and stature during the past decade. The city's growth has made it easier to attract top employees, Blanchard says.
Blanchard has been pivotal in moving Columbus forward. During the 1970s, he led efforts to tear down walls between political and business leaders, paving the way for Columbus' enviable reputation for successful public-private ventures.
He's also called on governors Zell Miller and Barnes to support expansion of the Columbus trade center and construction of its RiverCenter. "There are an awful lot of things that are directly attributable to his leadership," says Chamber President Gaymon.
Columbus Activist
Blanchard was key in securing Columbus' role as softball venue for the 1996 Olympics, and as a stop on the state's first Tour de Georgia bicycle event this spring. He also played a key role in Columbus Challenge, a fundraising effort during the 1990s that raised about $80 million to endow the arts.
"You pull Jimmy Blanchard in and he can really ramrod and make it happen," says City Manager Carmen Cavezza. "It's not a selfish thing. The spirit of the community is in his heart. I see all 'give' and very little 'get' in the process."
Blanchard has also been involved with issues less related to economic development. He has long supported the Roosevelt Warm Springs Institute for Rehabilitation, where a new $5.6 million facility was recently named in his honor. He has also been a local PTA president, and led a successful campaign in the late 1980s to bring air conditioning to Muscogee County public schools.
Blanchard's 31-year-old son Billy was in junior high when the "Cool our Kids" campaign delivered air conditioners. He says his father has always been involved at the grassroots level.
"People can have this perception of him as not being 'real people,'" says the junior Blanchard, vice president of CB&T. "He's the real deal. He's real genuine about what he's doing and what he says."
Over the years, Blanchard has emerged as a favorite to run for elected office. His name is bantered about "all the time" by locals, says Brenda Price, executive director of the Columbus Convention & Visitors Bureau. But Blanchard says he'll never run. "I am very comfortable in a supporting role. I'm very comfortable as an activist," he says. "It's a way to serve and be a player."
Blanchard has been a political activist at the state level for decades, and not only for economic development. He served on the state board of education for three years, during which he called for required parental participation in schools. He couldn't get a second for the motion.
"It was an idea whose time hadn't come. There is no question we should require parents to participate," says Blanchard, who also favors year-round school. "We're making a terrible mistake."
Blanchard supports the controversial education reform pushed by Gov. Barnes and passed by the legislature two years ago, even though it was a factor in Barnes' November defeat. "The fact that it's drawn so much backwash is the best evidence of how badly it was needed," Blanchard says.
Economic Development Focus
Blanchard counts Barnes among the people he most admires, along with Democratic Senator Miller. But for the first time, Blanchard will work with Republican leaders in top ranks. They're not strangers — Blanchard has known incoming Gov. Sonny Perdue for years.
Blanchard's political focus has been mostly on economic development, and he's the kind of ally any governor — Republican or Democrat — needs. Blanchard has crafted an aggressive agenda for the GDITT board, asking it to speak up on policy issues. That's a change from the board's past role.
"He has been setting the goals, focusing on the major things that need to be done," says board member Bo Callaway, chairman and CEO of Callaway Gardens. "We don't just talk about things, but he sets up what you need to do . . . I like working with someone who gets things done."
Blanchard is pursuing four major goals for GDITT, including increased tourism and the development of supersites to attract industry. "The big guys never came to Georgia, but we never had the land under ownership and available to make a deal," says Blanchard of the board's decision last year to pursue supersites. "It was a conceptual policy breakthrough." He points to the success of Georgia's first supersite investment, leading to the October announcement that DaimlerChrysler has chosen Georgia for its next plant site.
Blanchard says another goal is to get the American Free Trade Secretariat in Atlanta. Competition from Miami doesn't deter him. "That's what leaders do. They set high aspirations. They create man-on-the-moon projects, gear up enthusiasm and passion. That's what we've decided about the free trade agreement. We may win it, we may not. But I like our chances."
Blanchard's way of providing a rallying cry for big-picture projects is perhaps his greatest strength. His Tuesday-morning meetings at Synovus are legendary. He keeps files with his collection of fables about ethics and hard work in his top desk drawer, and uses them at his management meetings. They've become the "stories of Synovus" to many employees.
"He has a way from the podium to be very personal," says Chief People Officer Lee Lee James. "You really feel like he's talking to you. You want to win for Jimmy."
Synovus employees are familiar with Blanchard's emphasis on "servant leadership." The philosophy, shared by Blanchard mentor Bill Turner and others, emphasizes values and focuses on people, instead of solely on corporate goals. "Taking care of people is kind of a starting point. It's an 'enabler,'" he says. "If you don't treat folks right, you never get a chance to do most of that other stuff."
Blanchard has created programs to find and develop such leaders throughout company ranks. That pleases Turner, chairman of Synovus' executive committee. "For a number of years, Jimmy was working too hard, and not developing people under him," Turner says. "He's changed that. He's taking more time to enjoy himself."
Blanchard's reputation as the standard-bearer of ethics and leadership goes beyond Synovus. His Tuesday-morning stories are in demand, and he's regarded as a captivating speaker with a squeaky-clean reputation.
"When he gets in front of a group, the room gets silent and you can hear a pin drop," says Dean P. George Benson of UGA's Terry College of Business. "He can hold an audience in the palm of his hand."
At the behest of the Bradley-Turner Foundation, the University of Georgia has established a Synovus Chair in Servant Leadership. It's a testimony to Blanchard's style: humble and people-centered, but charged with lofty goals and expectations of excellence.
"Blanchard has been compared to George Bailey of 'It's a Wonderful Life,'" says Benson. "He will do anything to help others succeed, and he helps them get to a level of success that they wouldn't have gotten to otherwise. He is the epitome of servant leadership."
— Karen Ethridge contributed to this story.