The Buck Stops Here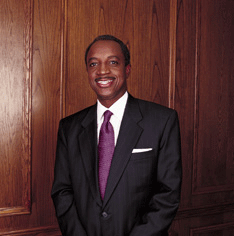 Michael Thurmond is all too familiar with Austrian economist Joseph Schumpeter's concept of creative destruction – industries dying but being replaced by others. In many circles it's viewed as a good thing. But that doesn't make Thurmond's job as state labor commissioner any easier.
"When people get thrown out of jobs, they come to us first," says Thurmond. "Our job is to get them up off the floor, refocus their psychology and emotions, and get them access to education and training so they can get back into the workforce in other jobs and careers."
Thurmond's department has done a lot of that since he took office almost four years ago. It's been particularly frenetic in the last couple of years, with a recession and NASDAQ implosion, the dot-com bust, Sept. 11 attacks and cheaper overseas labor combining to create a line of blue- and white-collar laid-off workers beating a path to his door.
Yet at the same time the commissioner's Rapid Response Team, created to help workers affected by plant closings and layoffs, continues to descend upon small towns torn apart by those closings and layoffs, Thurmond worries about a severe shortage of skilled labor he predicts is right around the corner.
Since the 1970s, Georgia's economy has been moving from a manufacturing base to services. Manufacturing represented 30 percent of the state's economy in 1970; today it represents 14.7 percent. Services moved from 11.71 percent to 8.4 percent in the same three-decade period.
Plant closings and other layoffs began hitting the telecom industry early last year, and the hospitality, tourism, airline and related industries had their share of challenges after Sept. 11. But textile and apparel manufacturing has pretty much gone the way of the horse and buggy. Blame NAFTA, the North American Free Trade Act that eliminated trade barriers between the U.S.,Mexico and Canada, along with an increased focus on technology.
"In the textile cut-and-sew industry, NAFTA has been devastating," says Thurmond. "We have seen thousands of jobs disappear over the last 10 years, particularly since I've been labor commissioner. What we are losing, really, is a way of life – a culture. And the trend will continue – jobs in the textile industry being lost and sent offshore."
Just from 1992 to 2001, employment in the apparel and other textile products sector dropped a whopping 65.4 percent in Georgia, from 59,500 employees to 20,600. During the same period, the textile mill products sector fell 12.6 percent, from 106,600 workers to 93,200. Paper and allied products dropped 9.7 percent in the same period, from 33,900 to 30,600 employees. All of thatduring a time when total manufacturing actually rose 0.84 percent, with heavy gains in industrial machinery and equipment, furniture and fixtures, lumber and wood products, fabricated metal products and stone, clay and glass products.
It's not only NAFTA that's causing a reduction in cut-and-sew textile operations in Georgia. An increased attention to technology has caused a need for fewer but more highly trained workers.
"Companies are moving more and more from looms to lasers," says John Lawrence, the DOL's assistant director for workforce information and analysis. "As we move out of the recession into recovery, we'll begin to see more attention to incumbent worker training. There will be a need for all workers to upgrade their skills, or companies will have a revolving door where workers who don'thave the skills they need are laid off and new workers with the necessary skills come in."
Plant Closings
The Georgia landscape is littered with closed plants and laid-off cut-and-sew textile workers. Thomaston Mills in Upson County was the granddaddy of them all, closing last year and eliminating 1,400 workers. That's in a town with a population of 9,411, according to the 2000 Census.
"People were in shock," says Pam Griffin, DOL's employment and training consultant for dislocation services, who coordinated the agency's Rapid Response Team for the mill's workers. "Some people had never worked anywhere but Thomaston Mills. We had people who had worked 50 years there saying, 'This can't be happening. What do I do now?' You could tell them what to do but it just wouldn't sink in."
Griffin, a 22-year veteran who commuted 160 miles roundtrip each day from Carrollton for more than four months, saw the normal grieving process take hold. Following shock, anger set in.
"When they got angry, they started moving a bit," says Griffin. "It kind of peps you up to be angry sometimes, and they started looking for a job a little bit better and got into training. Some looked at this as a wonderful opportunity, saying, 'I'd have been stuck at Thomaston Mills all my life butnow I can get a new career.' Overall, they maintained a good attitude and a view that it was an opportunity to make a better life."
More recently, the 1,210-population north Georgia town of Blue Ridge has been reeling from the June 10 closing of its Levi's plant. The unemployment rate for Fannin County, which includes Blue Ridge, was 3.8 percent in July of last year in the midst of a recession. Now that 400 employees at Levi's have been let go, the rate this July was 4.5 percent. Neighboring Gilmer County's storyis a similar one. In July of this year, Gilmer's unemployment rate was 4.3 percent, compared to 2.6 percent a year ago.
Still, in Blue Ridge as in Thomaston, workers who lost their jobs have shown a willingness to find a solution to their plight. "The people are bouncing back," says Thurmond. "The resiliency of the American worker is amazing."
The Labor Department's actions in Blue Ridge, as in Thomaston, mirror what the agency has done – and will continue to do – in small towns across Georgia when a plant, often the lifeblood of the area, shuts its doors. The Rapid Response team shows up within days of a closing. Transition centers are set up for the workers, and local committees made up of employees, company representatives, community and chamber of commerce leaders, and a neutral chairman areestablished.
The number of government agencies converging on the town rivals that of any natural disaster, establishing a one-stop-shop for laid-off workers. Among the state agencies that work with the Department of Labor to bring help are the Departments of Family and Children Services, Adult and Technical Education, and Insurance.
The first real dose of reality hits when workers are confronted with the paperwork it takes to begin getting help. "Thomaston Mills had traditionally done everything for its workers, including filling out paperwork," says Griffin. "Some employees needed more of a take-me-by-the-hand-and-lead-me-there assistance."
The next stark reality is often that these workers have lost their health benefits. That's where the Insurance Department tries to help, with counseling on health insurance available to workers.
Workers are encouraged to seek additional education and training, as well as consider looking for jobs outside their immediate geographical area. Particularly where NAFTA has forced the closing, federal legislation often provides funds for additional training and extended unemployment benefits. That can often mean a laid-off worker can spend time getting the necessary training for the new workplace.
Education Option
The Rapid Response Team also coordinates workshops critical to those who've lost their jobs. On just one day in August, Ann Shirra, the Labor Department's acting manager of the Dislocated Workers' Unit, who is coordinating the Blue Ridge operation, watched some 50 people take classes. These ranged from preparation for an admissions exam to get into Appalachian Tech to instructionon filling out paperwork to helping workers discover what their skills are. Other workshops can range from interviewing skills to developing a r?sum? to finding the right job.
"Some of these workers haven't applied for a job in 25 years," says Shirra. "If they worked on belt loops, it was a process of discovering what it took them to work on those belt loops. You discover that one may not have missed a day in five years, while another points out the concentration it took to work on the belt loop. It's about helping them pull together the good things thathappened on their job to move to the next one."
An employee group, tabbed "Talk Shop," was established in Blue Ridge as a way to discuss the job search and provide support for each other. They meet regularly for breakfast and make phone calls every couple of weeks to all of the 400 laid-off workers to check in and, again, provide support.
Another popular offering is the local literacy organization. "It's bursting at the seams," says Shirra, as people brush up on their reading and math skills in preparation for their GED.
Many of the Levi's workers are just now exhausting their severance and are having to focus on unemployment compensation. The fact that 70 of the laid-off employees enrolled for the fall quarter at Appalachian Tech tells Shirra her group is making progress.
The special center in Blue Ridge had been visited more than 900 times by September. The one in Thomaston was visited more than a thousand times.
Shirra says the Rapid Response Team shows up "when there's a huge impact on a local community from layoffs or plant closings." The teams have met with groups as small as eight or, in the case of Thomaston Mills employees, more than 1,000. Among the areas visited by the team this year are Rabun and Telfair counties, the Coosa Valley region, Doerun, Gainesville, Brunswick,Blackshear, Columbus and Darien.
The team has also been extremely busy in Metro Atlanta responding to out-of-work people in telecom and industries demoralized by 9-11, including airlines workers and those in retail, hospitality and conventions.
Lately, the Labor Department has been trying to steer the unemployed to health-care jobs. "That industry is desperate for workers," says Shirra. "If trained, you can go anywhere in the state and get a job in health care."
Jobless Recovery?
With all the woes of the cut-and-sew sector, Lawrence at the Department of Labor says some communities over the last few years have been able to diversify so they're not reliant on just the textile industry. He points to LaGrange as having recruited a number of different industrial companies to the area. Monroe, which has attracted a Wal-Mart distribution center and an auto parts manufacturer, is another.
Thurmond is only somewhat encouraged on a couple of fronts. Georgia has begun seeing a reduction in the number of new unemployment claims filed, meaning that employers are laying off fewer people. Also, between January and June, 60,000 new jobs had been created. The state lost 89,000 jobs last year.
"That's good news compared to 2001," he says, "but 60,000 jobs is still not a robust number. We're not creating enough jobs to provide employment for the new entries into the workforce – those who have graduated from high school and college, and those who lost a job over the last 18 months. And the long-term unemployed are finding it extremely difficult to find jobs."
Some economists have talked about the possibility of a jobless recovery, noting that the economy is recovering but the country isn't creating many new jobs. "I'm concerned about the possibilities of a jobless recovery," says Thurmond. "I'm pretty confident that the economy is getting stronger, but Iworry about the anemic creation of jobs and the prospects for people now unemployed. Fewer people being laid off and few new jobs means fewer employment opportunities for the people already out of work."
As for the future, Thurmond sees a somewhat different scenario on the not-too-distant horizon as companies re-tool their technology and baby boomers age out of the workforce. Concludes the commissioner, "It may be hard to conceive of right now, but we're getting ready to face severe shortages of skilled, trained labor."
Figuring Out What's Next
Pauline White was 18 years old when she went to work at the Levi Strauss & Co.plant in Blue Ridge. A lifetime later — 32 years — Levi's closed its Blue Ridge doors for the last time, and Pauline was out of a job.
"I had been there all my life, and I loved it," says White, 51, who started at Levi's as a sewing machine operator and ended as a supervisor. "It was a good living for me, and if I had to work that's where I wanted to be."
But instead, she is trying to figure out what's next. For now she has landed a temporary job with a transition center set up by Levi's and the Georgia Department of Labor that helps displaced Levi's workers with job training, unemployment claims and general issues faced by people out of a job through no fault of their own.
Working alongside her at the transition center inside a Blue Ridge shopping center is Sharon Spurling, who also worked alongside White at Levi's. "Pauline and I were neighbor coaches," says Spurling, 46. "We worked right next to each other. We did everything together every day, and then we wound up here."
Spurling worked at Levi's for a total of 13 years, beginning at a now-closed plant in Murphy, N.C., a short drive from Blue Ridge. "I wasn't really shocked" at the plant's closing, Spurling says, "but I was really sad. They paid good money. They had good benefits. You don't necessarily find that around here in other sewing facilities. You see these things happening and the work going offshore, and you feel totally helpless. There's nothing you can do about it. It's the unknown that's really so hard for us right now."
Spurling, in fact, has no idea what she's going to do after the transition center closes in 12 to 18 months. White thinks she'll get training in office work. The arrangement between Levi's and the Department of Labor entitles each former Levi's worker to one course of training for free.
Misti Crowder, 34, who was supervised by both White and Spurling while atLevi's, started a medical technician's course in October. The year-long program at North Georgia Technical College in Blairsville will teach her to be a phlebotomist.
Crowder, like so many Levi's workers, wasn't the only member of her family at Levi's. "My sister worked there, my nephew worked there and my brother's fianc?e worked there," Crowder says.
It was a family affair for Ann Lambert, too. Both Lambert and her son worked at Levi's. An amateur photographer, Lambert, 45, would like to start her own studio, but she can't figure out how to make ends meet while establishing a clientele.
"It's hard to start a business, and I'm single so there is no security other than myself," Lambert says. "The phrase that 'you have to have money to make money' is so true. I can afford to buy one roll of film, but what little profit I would make on that I would have to pay my electric. It is hard tolaunch out . . . on a dream."
One of the biggest problems, Spurling says, is that there are "not that many jobs up here. That is the key. You may go through a training course and have something to offer, but where do you offer your skills?
"There's this fear that wells up on the inside of you," she says. "It's just agripping fear." – Carol Carter
"This Isn't Your Daddy's Labor Office."
The image most people have of an unemployment office is probably of a drab and dreary room where the unemployable stand in long lines waiting for their number to be called. One goes there simply for the customary interview with indifferent government employees before getting authorization for an unemployment check.
That's not the picture in Georgia.
Enter the labor department's "career centers" today, and one of the first things you'll notice is an airy, color-coordinated facility with a friendly greeter at the door. Much is self-serve. "The key was to eliminate the waiting room and provide an information-rich environment, from signage to resources to labor department employees," says State Labor Commissioner Michael Thurmond.
To one side of the reception area are computers and office equipment where job seekers can fine-tune their r?sum?s, print them out and even fax them to a potential employer. On the other side are computer terminals tied directly into the Labor Department's G1 Network that allow Internet-savvy workers to take care of most of the business they have with the department online.
Also contained within the career centers' walls are places where employers can meet confidentially with job seekers, rooms conducive to a wide array of workshops and even VCRs where individuals or groups can watch training and job-fair videos. At the North Metro Career Center in Atlanta, for example, a support group of jobless $60,000-and-above executives, many the victims of the dot-com implosion, gather for camaraderie and strategizing about their nextcareer step.
"Years ago, they couldn't even use a staple machine," says Thurmond. "This isn't your daddy's labor office. We're evolving government into the 21st century where you don't have insensitive, 'don't-give-a-damn' bureaucrats standing around chewing gum, as long lines snake around the building."
Thurmond has established 53 career centers around the state, and they've opened to rave reviews and splashy attention in the media. Last year the centers received 645,000 visitors.
The commissioner has also developed the agency's Web site,www.dol.state.ga.us, so that much of the job seekers' business with the labor department – including searching for jobs – can be handled online from the comfort of their homes.
"We've built a statewide workforce-development system comprised of clicks and bricks," Thurmond boasts. "The click is the Internet Web site where you can go online and get services and information. The bricks are the career centers for people who need additional help."
In addition to efficiency and customer service, Thurmond says he has another reason for establishing the professional career centers. "Losing your job is tough enough," he says. "You shouldn't have to give up your dignity to find a new one. We use names, not numbers, and it's so blended that nobody knows why you're there. We've even spruced up the restrooms." – Tim Bentley