Looking For An Overhaul
Inside Politics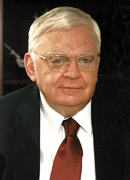 The one sure new face in a significant statewide elected position after November will be the new state school superintendent, since incumbent Superintendent Linda Schrenko ran for governor instead. State legislative leaders, even some of her fellow Republicans, are inclined to see her eight-year tenure as a disaster and are already pondering whether the General Assembly needs to consider legislation aimed at improving relations with the incoming superintendent. No one is proposing taking power away from the new superintendent, said one insider, but legislative leaders plan at least to consult with the new officeholder about eliminating some of the acrimony of the past seven years-plus.
Rep. Terry Coleman of Eastman, chairman of the powerful House Appropriations Committee, plans to draft his own ethics legislation for the next session. "It's frustrating when you ask the State Ethics Commission for guidance and you don't get it and then you get slapped again," says Coleman. Coleman is miffed in part because he was recently named in news articles, along with other influential legislators, as having bought condos in Atlanta with campaign funds, for use during the session and whenever legislative business brought them to Atlanta. Coleman went immediately to the State Ethics Commission and asked for guidance, saying he would pay for the condo personally, in full or in part, and handle the campaign money part of it as the Ethics Commission recommended. He has never gotten such a recommendation and a more recent news story, as he put it, "slapped him again."
Clark Atlanta University Press has just published Maurice C. Daniels' book Horace T. Ward, a scholarly account of Ward's attempt to integrate the UGA law school in the early 1950s. Ward, who later became a distinguished federal judge, is one of the unsung heroes of racial justice in the turbulent era before the civil rights movement of the 1960s.
Republicans, wary of what they perceived as balloting confusions in the Aug. 20 primaries, are keeping an eye on the actual voting process in November, says state House Minority Leader Lynn Westmoreland, R-Sharpsburg. There were at least half a dozen counties across the state where voters in some precincts received ballots without all the proper names of candidates. A complaint to the secretary of state's office, says Westmoreland, produced a reply that the failures were "minuscule" compared to the total votes cast. "That sounds good," says Westmoreland, "but it could truly make a difference in a close race." For that reason, the GOP plans heavy-duty "ballot security and poll watching" in November. "The Democrats have got their heads in the sand," he adds, in not believing the races are really so close. "I hope they keep them there."
The newest member of the five-member Georgia Board of Pardons and Paroles, Mike Light, brings unique credentials to the governor's effort to end the conflicts between Paroles and the Department of Corrections. No one person has ever worked for both agencies at such high levels for a period of 20 years. Light began as an investigator with the parole board in 1980, then worked as a parole officer, eventually becoming the chief parole officer and also chief spokesman for the board. In 1995, he became public information director for the Department of Corrections, where in May 1999 he was named executive assistant to Commissioner Jim Wetherington. "Like it or not," says Light, "Corrections and Paroles are joined at the hip. Over the years, the two entities drifted apart. Now, the people in place are determined to work together. We can help each other."
"Saxby Chambliss is a little perplexed. The Republican congressman from Georgia is chairman of the House Subcommittee on Terrorism and Homeland Security and a key player in the congressional investigation into the roots of the Sept. 11 attacks. He knows a lot about the subject. Yet it was not until he read a recent issue of Time magazine that he learned in late 2000 the Clinton administration came up with a new, aggressive, wide-ranging plan to topple the al-Qaeda terrorist network. The heroes of the article were Richard Clarke, a top anti-terrorism aide who is said to have put together the plan, and Samuel Berger, President Clinton's national security adviser. And that's what has Chambliss perplexed. 'I've had Dick Clarke testify before our committee several times, and we've invited Samuel Berger several times,' Chambliss says, 'and this is the first I've ever heard of that plan.'" – National Review
Financially troubled American Airlines and United Airlines both have asked the city of Chicago to postpone the $3.6 billion construction of two new terminals at O'Hare International Airport, leading to speculation that struggling Delta Air Lines may be taking a second look at supporting construction of a fifth runway at Atlanta's Hartsfield International Airport. However, some observers say the billion-dollar-plus Atlanta project is too far along and couldn't be scrapped or curtailed at this point.
"The open primary system should be a source of pride for Georgians. We have freedoms and choices that voters in some states can only imagine. Instead of fighting those independent voters who refuse to be limited by platforms or party lines, we should support them. After all, polls show more and more people feel disillusioned and disconnected with the traditional parties. If we want voters to continue going to the polls, we need to give them more choices, not fewer." – Editorial in the Athens Banner-Herald.
The governor's daughter, Allison Barnes Salter, has just completed a two-year stint as law clerk for Federal District Judge Thomas W. Thrash Jr. and has signed on with the Cobb County Solicitor's Office. "She'll do well wherever she goes," says Thrash. The younger Barnes attended the University of Georgia Law School, as did her father, and may have gotten the better grades in the family. She declines direct comment, except to note that she and her father had some of the same professors, including one who would write a letter of recommendation for any student getting an A in that class. The professor wrote such a letter for the more recent Barnes graduate. Not clear that he ever did for her Daddy.