A King's Wish List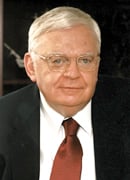 If I were king of Georgia with absolute power, governors would be allowed to serve only one four-year term, as in the pre-George Busbee era. With only one time at bat, the governor could carry out his agenda without having to cater to special interests and fret about re-election. And:
The state capital would be re-established in historic Milledgeville, near the geographic center of Georgia. State government would no longer be lost in the shuffle of bustling Metro Atlanta.
The old flag would be restored – not the one with the Confederate battle emblem in the middle, but the old, old solid blue banner with a single star in the center.
Sen. Zell Miller would be required to switch officially to the Republican Party and would be banned from campaigning for Democrats in Georgia while voting with Republicans in Washington.
Congressman Johnny Isakson would be asked to retire from Congress and run for governor in 2006. So would Congressman Charlie Norwood.
The office of state school superintendent would be appointive, and the state Board of Education elected. The office of secretary of state (and director of elections) would be nonpartisan. The posts of agriculture commissioner and labor commissioner would be abolished. And public service commissioners would be barred from receiving funds not only from utilities but also from any utilities' employees or family members of utilities' employees.
Political candidates who make hefty donations to activist African-American churches would be required to report them on their income tax returns as campaign expenditures – and not charitable donations.
Members of the state Ports Authority would have to pay their own expenses on overseas junkets or stay at Red Roof Inns and dine at Shoney's.
Full financial disclosure would be required of all elected officials and any government employees with regulatory duties. ("Full disclosure" would include family members.) However, the state would award special "combat pay" to anyone elected to a county commission or any other government subdivision with zoning power.
The speaker of the Georgia House would be barred from serving more than six years as presiding officer. Tom Murphy would be the last speaker-for-life to wave a gavel in the Legislature. He would be given his gavel to take home as a souvenir.
Tom Moreland would be brought out of retirement and reappointed chief of the Department of Transportation. DOT has never worked quite right since Moreland departed nearly 20 years ago.
The Northern Arc would be built. Opponents of the Arc would be relocated to Midtown Atlanta so they could be near their bird-and-bunny brothers and sisters.
The Georgia Regional Transportation Authority would be relegated to the state archives.
Georgia Tech would be required to abandon intercollegiate football so it could devote full time to being what it is: a fine engineering and science institution.
No one would be allowed to graduate from the University of Georgia who could not prove he was capable of writing a simple, declarative sentence in standard English. The president of UGA would be barred from boasting about the elitism on the land-grant school's campus.
Further development on Georgia's barrier islands would be banned.
Passenger train service would be restored between Atlanta and Athens, especially on football Saturdays.
No one could hold an unrestricted driver's license until reaching his or her 18th birthday. And every driver's license holder would be required to read English.
The city of Atlanta would be expanded to cover all territory inside I-285 and would function under a commission form of government. Such a plan might save Atlanta from becoming a declining metropolis inhabited only by the very poor and the very rich.
Telecom companies would be required to offer high-speed Internet service to every household at a price as low as present-day telephone service. AOL and AT&T Broadband employees would be required to learn the words "please" and "thank you."
And the Atlanta Falcons would be required to make it to at least one Super Bowl in the next decade or face losing their franchise.