Economist Sees Better Days Ahead
Inside Politics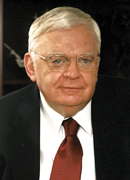 Dr. Henry Thomassen, economic adviser to Gov. Roy Barnes, seems quietly optimistic about Georgia's immediate economic future, though he cautions there is no immediate sign of any surging rebound from the current recession. "We are probably bumping along the bottom right now," he says. "Recession means going from a peak to a trough and we've done that, but there are fewer signs that we are going down any more." July and August and maybe a couple of months beyond are probably still at trough level, Thomassen believes, but there are some positive signs, such as strong automobile sales and a vigorous real estate market, which translates into sales of home furnishings. Individual income taxes are down more than sales taxes, he says, because even with the employment level not growing and actually down some, people still spend money by dipping into savings or receiving unemployment benefits. "If we had a jolt, like another Enron, that would affect the economy overall," he notes.
By 2005, Georgia stands to lose more than $100 million a year in revenue, thanks to the gradual elimination of the state death tax credit by President Bush and Congress. "For tax returns filed on estates this year, the state death tax has been reduced by 25 percent," says Larry Childers of the Georgia Department of Revenue. "In 2003, that amount increases to 50 percent, then 75 percent in 2004. By 2005, the state death tax will be eliminated altogether." During the last fiscal year, revenues collected from the state death tax comprised 1 percent of the state's total budget, or $128 million. In fiscal 2000, that figure was $130 million. Prior to this year, tax returns were required on all estates valued at $675,000 or more. This year, that figure was raised to $1 million. Some states have eliminated the death tax altogether.
Senate Minority Leader Eric Johnson of Savannah: "After reading the so-called audit of Senator Charles Walker's dealings in Augusta, I am reminded of Arthur Andersen's audit of Enron. It may have served somebody's purpose, but it wasn't the taxpayers! The audit failed to address the $110,000 going to his daughter's law firm. It never addressed the fact that the $240,000 lease of Walker's building is double the market rate (according to media accounts). The state auditor is a Barnes political appointee. Walker is the governor's main man in Augusta. Therefore, the audit says the funds were expended properly but not necessarily legally. That's bureaucratic speech for 'we ain't touching this with a 10-foot pole!'"
George Israel is the new CEO of the Georgia Chamber of Commerce. Some outsiders considered Former Secretary of State Lewis Massey the favorite, when he withdrew his bid. Said Massey, "We are in the middle stages of planning and building a Challenger Learning Center at SciTrek, and I want to continue to be a part of making that dream become a reality." Some insiders believe Massey is considering returning to politics, possibly as a senatorial candidate in 2004 if Sen. Zell Miller does not seek re-election.
The National Rifle Association's Political Victory Fund has officially endorsed Congressman Saxby Chambliss, R-Ga., Republican candidate for the U.S. Senate. The NRA advocates enforcement of existing gun laws to prosecute and punish criminals. The association has more than 4 million members across America.
If the Northern Arc reappears on the political screen next spring, look for the new plan to place the highway 40 to 50 miles north of its presently proposed location. Several ranking engineers say a transportation belt farther north would alleviate traffic more than the presently envisioned Cartersville-Canton-Lawrenceville connector.
"Now, maybe we'll have some real competition," observed Public Service Commissioner Lauren "Bubba" McDonald Jr., after the PSC approved in record time a retail gas marketing certificate for Southern Gas. The new company takes over NewPower's 210,000 gas customers and other assets in a $60 million deal, instantly becoming the fourth largest gas retailer in the state with roughly 15 percent of the market. The new company is a cousin of Georgia Power, also a subsidiary of the Southern Company. McDonald, like most everybody, has been critical of how gas deregulation worked in practice. But he has also insisted that the intent of deregulation was always more competition, with the potential for lower customer prices and better services.