Classy Coach, Classy Guy
Former Tech standout Bill Curry proves that nice guys don't finish last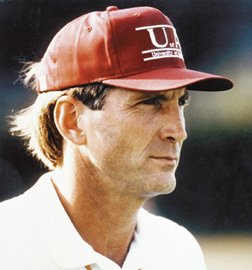 In the annals of college football, many coaches have better won-lost records than William Alexander (Bill) Curry, but none were more respected or more interested in the welfare of his players. Go as far back as Stagg, Rockne, Heisman or as recent as Dodd, Dooley or Jordan and you will find no one who preached that the human soul was worth much more than winning football games.
One of his former players, Delandual Conwell, said it best. "I was recruited by every college in the PAC-10, the Big Ten and the SEC. But none of the coaches came across as straightforward, as honest, as empathetic as Curry did."
"When a tumor ended my playing career and kept me hospitalized, Curry, despite all his coaching and administrative duties, was right there for me. I never met a finer human being."
This is not to say that Curry was a nice guy who finished last. He didn't. When Curry was named head football coach at Georgia Tech in 1980, the football program was flat on its back. "We were at ground zero," Athletics Director Homer Rice said. "Curry restored it to national prominence."
In seven seasons at Tech, he had only a 31-43-4 record. But in his first season, with his team 1-7-0, he entertained undefeated Notre Dame, the No.1-ranked team in America and stunned the Fighting Irish, 3-3. Explained Notre Dame coach Dan Devine, "I was out-coached. Tech was more motivated and better prepared."
The next Saturday Notre Dame was to play Alabama. On the Monday before the game, Curry got the thrill of his life. His secretary came into his office and said, "Coach Bryant is on the line."
"I thought she was kidding me," Curry says. "But Coach Bear Bryant got on the phone and said, 'What can you tell me about Notre Dame?' He was asking me, a rookie coach, for advice. I nearly fell out of my chair."
Five years later, Tech finished 9-2-1, was second in the Atlantic Coast Conference and Curry was the unanimous pick for ACC "Coach of The Year."
Not a bad start for a native son who came back to his alma mater where he had captained the 1960 team and was selected to the All-America team at center. Not a bad start for a coach who insisted his players attend class and pass their work. His players had an 85 percent graduation rate.
In writing about Bill Curry, three words come to mind — dignity, class and integrity. When he left Georgia Tech in 1987 and agreed to coach the University of Alabama football team, he did so only after a clear understanding with Alabama President Dr. Joab Thomas. If Curry had reason to kick the star player or any other player off the team, no matter how much pressure would be exerted by alumni, President Thomas would back him 100 percent. The agreement was sealed with a handshake.
In Curry's third season he led Alabama to the Southeastern Conference championship and its first Sugar Bowl berth since 1980. He did it by playing by the rules, and there was not the slightest sign of scandal. In his three years at Alabama, he led the Tide to a 26-10 record and three bowl appearances.
He was presented the 1989 "Bobby Dodd Coach of The Year" award, a national honor, "in recognition of a higher and more noble aspect of college coaching; a creed that emphasizes something more than winning; a belief that the game of football should be kept in perspective with college life in general."
Bill Curry is a renaissance man if ever there was one. When he was 10 years old, he announced to his father that he was going to marry his elementary school sweetheart, Carolyn Newton. This year they will celebrate their 40th wedding anniversary. He was an all-state football player at College Park High School. He played on four Super Bowl teams, two for Vince Lombardi at Green Bay and two for Don Shula at Baltimore. He was named twice to the All-Pro football team. He was president of the National Football League Players Association.
He is a member of the state of Georgia Sports Hall of Fame. He was a member of the American Football Coaches Association Ethics Committee. He co-authored a book with George Plimpton on professional football. He served on the Board of Directors of Scottish Rite Hospital. Twice he chaired campaigns in eastern Alabama to benefit cancer patients. You might say he has done everything but play in the band — except that he did that, too. He played the baritone in the College Park High School band three years before he made the varsity football team.
Today Curry is a respected football analyst for ESPN. He recently signed a new four-year contract. The Currys live during the weekdays in a Buckhead condominium; they also have a mountain home, near Murphy, N.C. "From our windows we can see three states," Bill says.
If you think the Currys have led a charmed life, think again. In the past 37 years, with his playing and coaching, they moved 31 times. Despite his success, what they endured from zealous Alabama fans was a horrible nightmare.
What happened at Alabama the Currys will forgive but never forget. When Ray Perkins, one of Bear Bryant's former players, gave up the head coaching job in 1987 to become coach of the Tampa Bay Buccaneers, the most likely candidates to succeed him were Bobby Bowden, Howard Schnellenberger and Danny Ford, all of whom had won NCAA national championships and had ties to Alabama or its late, legendary coach, Bear Bryant. The man President Dr. Joab Thomas picked was Bill Curry.
Curry bled gold and white and probably could have had a lifetime job at Georgia Tech. But his ego got the best of him. "Carolyn and I discussed it," he explains, "and she agreed that I ought to seize the opportunity of coaching a team which was a perennial national contender."
In making the announcement of Curry's selection, Thomas said, "He not only is a good football coach but he never has cheated, has no intention of cheating and can use the word 'study' and 'hall' in the same sentence. He is not only free of any scandal but has been an outspoken critic of coaches whose teams have been placed on probation. He can win and he can improve the academic performance of our athletes."
To say that some Tide fans and Bryant disciples were less than enthusiastic about President Thomas' choice would be an understatement. They were downright livid.
Before Curry even arrived on campus, he, his wife, Carolyn, and President Thomas all received death threats. There was a backlash from some of Bryant's former players.
Once Curry and his family settled into a home, the hostility increased. Rocks and assorted missiles were thrown through his office window. The unflappable Curry took it in stride.
"In dealing with criticism, I studied a lot of people like Abe Lincoln, Helen Keller, Jackie Robinson. When they were criticized they just kept going. What I have gone through is a Sunday picnic compared to what they endured."
In his first Tide football season, when his team was expected to be an also-ran, he came within one game of winning the SEC. In his second season, he took his team to the Sun Bowl. Still the harassment continued. Some members of the media called for his resignation.
Furman Bisher, as always straight as an arrow, wrote, in part, "Winning does not impress the Crimson Tide. The problem is Curry is not one of them. The crazies want another Bear Bryant and comparing Bryant to Curry would be like comparing W. C. Fields to Dr. Norman Vincent Peale."
In his third season, Curry accomplished more than his predecessor did in four seasons. And even Bryant could not match Curry in his last three years — getting Alabama to the Sugar Bowl. Curry's three-year record of 26-10-0 and three straight bowls was as good as that of any coach in Alabama history.
After winning the SEC crown in 1989 he resigned to become the head football coach at Kentucky. He left Alabama with the same class with which he arrived.
"Those rabble-rousers, those hangers-on, they are riff-raff who will turn on you in a minute." Curry didn't say it, Bear Bryant did.
Curry spent seven seasons at Kentucky. When his contract was not renewed, a columnist for the Lexington Leader, wrote, in part, "Curry is a good and decent man who told his players that if they were going to play football, they were going to classes."
"He gave them a model of gentlemanly conduct. He was an example of dignity in the face of shameful and unfair attacks. He had grace under fire. His departure is Kentucky's loss."