The Book Business – Everything But Money
Georgia's publishing houses offer their writers a fair amount of hand-holding and a lot of attention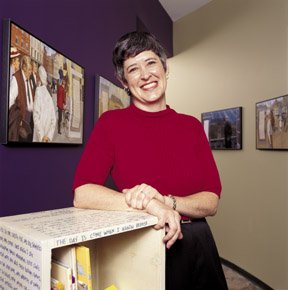 Book publishing in Georgia is a bittersweet business. For every happy tale of authors signing lucrative, multi-book deals with large New York houses or selling film rights to their work, there are stories of smaller state-based publishers who discovered them, loved them and published them but didn't have the money to keep them.
It's understandable that Georgia's publishers have a slight chip on their shoulders. Media conglomeration and money — or lack thereof — are to blame. If you're a writer and your options are: 1. Getting more money and bigger advances from a large publisher with the resources to help you sell more books and get reviewed at a time when newspaper book review space is shrinking, or 2. Earning modest royalties and having close relationships with editors from the small house that doesn't have the means to publicize the heck out of your book but gave you your big break, the chances are pretty good that you'll sign a deal when the big house comes knocking. And once that book deal is inked, who'll get credit for discovering you? Certainly not your ink-stained friends in Georgia who pored over your first manuscript.
"New York houses treat us as a farm team," says Kathy Landwehr, associate publisher of Peachtree Publishers, a company that specializes in children's books, regional guides and books on health and parenting. "We find the local talent and they try to take them. But what has happened with New York houses is that there's been a lot of centralization and they've gobbled each other up. So, as a result, they only focus on brand-name authors. They don't focus on the authors that are in the slow and steady midlist. We do, and we keep those books in print for years."
Many presses in the state are resigned to be masters of that midlist, attracting unknown talent that New York houses aren't ready to take risks on, and finding other creative ways to make money. Some have succeeded by narrowing the focus of the books they publish, while others use creative sales outlets, marketing tactics and easy-money projects such as crossword puzzle books to pay the bills.
Still, while geography has blessed state presses with proximity to Southern writing talent, it has cursed them, too. No matter how many times they maintain they're churning out important work that national and international audiences want to read, their claims aren't taken seriously until a large New York publisher swoops down to steal one of their prized commodities.
Talk about a Catch-22.
Big Tradition, Small Profits
Depending on the source, Georgia has anywhere from 10-60 publishing houses. Included in that number are university presses, privately owned general-interest trade publishers, vanity presses (which charge authors for the privilege of having their books published) and publishers that are part of not-for-profit organizations. Whatever the figure, it's a bustling industry that's steeped in tradition and not characterized by huge profits. Tom Payton, president and publisher of Hill Street Press in Athens, a four-year-old general interest-trade publisher, says Georgia's trade publishers have sales in the $12 – $15-million range.
"In general, the book business is laughably old-fashioned," says Payton. "Books and the people behind the books remain the same at a time when you're judged on how quickly you can adapt and move. There's an odd disconnect in terms of the infrastructure of how books are sold, the platforms, the way book content is being delivered via e-books and the Internet. A lot of this is changing real quickly and yet there's a lot of people in the book business who don't change how they do anything."
For instance, any manuscript received by the University of Georgia Press must go through an in-house screening before editors decide to reject or accept it. If a book is accepted, then the press enters into contract negotiations with a writer before they send that manuscript out for a peer review, says Nancy Grayson, associate director and editor-in-chief. Manuscripts are sent to two outside experts in the field, while creative works go to one expert. These experts — whether they're professors or lay people — get paid a fee (or sometimes are paid in books), Grayson says, but that fee is not nearly enough to compensate them for the time they spend with a given manuscript. Still, Grayson says the process is worthwhile, and common among university presses.
"That distinguishes us from commercial houses, and it's the reason university press books maintain a quality and readability you don't find anywhere else," she says. "If a reader is making comments that improve the manuscript and the author makes the suggested changes, you get a better book as a result."
The entire process of editing, designing, producing and getting a book into a bookstore takes anywhere from nine months to a year, Grayson says. That's no small task, considering that many of these presses push to publish close to 20 titles a year with an average of five people on their editing staff.
Once these books are published, bookstore consolidation and shrinking library budgets make it harder for publishers to sell them. The Atlanta-based Arthritis Foundation, which has been publishing arthritis and health books since 1998, sells its books through retail markets, and through its web site, 1-800 number and local chapters, says Susan Bernstein, the organization's director of book development. The consolidation of distributors and bookstores has made it difficult for the foundation to get its books into stores.
"Everything is concentrated in the hands of a few sellers, which means it just takes one person to not like your book," Landwehr says. "Retailers can return anything they want whenever they want. Just when you think you've sold them a lot, it all winds up in the warehouse. In our case, things have been good because we're conservative in our print runs. We tend to print small quantities and then reprint them frequently every year to 18 months. We don't want to have our cash tied up in inventory."
That's why many of these publishers are looking into books-on-demand technology. Books on demand stores books digitally and prints them only when requested so cash isn't tied up in inventory and unsold books aren't returned to publishers.
Technology, Market Research
Print runs vary and market research is an inexact science. If a general-interest trade publisher expects a book to do well, he might give it a run of 25,000 to 30,000 copies, Payton says, hoping to sell between 10,000 and 16,000.
"A company like mine can be very successful selling in that range," he says. "Technology being the way it is, it's quicker and easier to do second runs. It used to be that you had to wait five or six weeks if you ran out of a book. Now you can get those books in two weeks. So it helps us manage our inventory very efficiently."
Meanwhile, print runs at a university press range from 600 to 2,000 for a scholarly book, Grayson says, as much as 5,000 for regional trade books and up to 3,000 for creative nonfiction.
"We look at similar books and we look at print runs for those and see how well they've done," Grayson says. "Based on that, we might have to raise or decrease our run numbers. We gauge interest in the subject and of course hope that it has course adoption potential."
Meanwhile, Payton says he's banking on a second line of books: "Hot Cross Books," a branded group of crossword puzzle books with different subjects. Right now he says 50 of these books are in development and another 40 are ready to be published.
"This could be very lucrative for our company, especially since it moves well beyond bookstores," he says. "The life of these books is at a mix of places like Sam's Club and Target and places like airport gift shops that are great for impulse buys. [Maybe] we could sell 5,000 or 6,000 copies of this to the Metropolitan Opera as a membership premium. These will bring in money and give us the opportunity to take chances on some great books that are out there."
Another thing that will help Payton and some other publishers take chances on new books is the relationships they have with people in the literary community.
"Relationships matter mainly because at the end of the day you're acquiring books," he says. "At the end of the day you may be coming up against Algonquin or Random House and an agent may or may not be involved. My job is to convince you to do your book with me. That comes down to relationships and what kind of books I've already done. That comes down to who you know who says, 'Work with those people, they're good people.'"
Making a Living
Another reason why relationships matter: The majority of writers don't make a living writing for these regional presses because advances are modest and publicity dollars are scant. They have day jobs as journalists, professors or homemakers.
"In some cases, we pay advances if we feel there are some real expenses attached to the project that we can't expect the author to bear or if we feel it's a project for which we're competing with other presses and we have to give that in order to publish a project," Grayson says. "We don't have the kind of money large houses do."
Payton says he tries to work things out with authors in their contracts so they can get higher royalties than normal. (Royalties generally run 10 percent of the hardcover list price or 7 to 8 percent of the paperback price, he says.) But he didn't want to elaborate on how he works out a suitable royalty arrangement. Other things that will help bolster a writer's bank account: If a large press buys out their small press contract, publishes the paperback version of their book or if someone options the rights for a film or documentary. Nicole Mitchell, director of the Georgia Press, says New York houses also tend to pick up anyone who wins the press's Flannery O'Connor Award for Short Fiction.
New York publishing powerhouse Simon & Schuster recently bought the rights to Truelove & Homegrown Tomatoes, a Hill Street Press book by Julie Cannon that celebrates the emotional healing power of Southern gardens. Under the terms of the agreement (which, Payton says, worked out well for him and for Cannon), Cannon will be writing Truelove's sequel for Simon and Schuster. Another Hill Street hit has been Kirk Read's coming-out-in-a-small-town memoir, How I Learned to Snap. Payton says Penguin recently bought the paperback rights for Read's book. Though Hill Street hasn't sold anything for film yet, Payton says there's a lot of interest in a soon-to-be-published memoir by former Martin Luther King Jr. aide Dora McDonald called Sharing the Dream: Martin Luther King, the Movement and Me. The Georgia Press, meanwhile, has sold close to 3,000 copies of The Dangerous Lives of Altar Boys within the past couple of months after it was turned into a film by actress Jodi Foster's production company.
Other books with similar potential include: The Georgia Press's Deep Cuba, the soon-to-be-published story of the first American oceanographic expedition to the island nation; Peachtree's Grandma U, a picture book about a woman who has to go to Grandma University to learn how to be a grandmother; Hill Street's Music Makers, which explores how many living blues musicians are poor and in need of social services; and The Best of the Oxford American: Ten Years from the Southern Magazine of Good Writing.
If A Writer's That Good…
Still, there are challenges when it comes to getting attention for these books, Landwehr says, because book review space in most major newspapers has been cut or remains the same.
"A huge group of people have been pounding on the doors of the few people who do the reviewing," she says. "Our public relations and marketing departments have found creative ways to promote our books."
Those ways include putting Peachtree-generated content on web sites that are geared toward some of the publisher's audiences, and holding school drawing and writing contests where the winner gets a selection of Peachtree books.
"There's a bias out there that the New York houses are the ones doing the most important books," Payton says. "That's bunk and it's offensive and it's countered my entire life's work. I've put many people on the map who have gone on to critical acclaim and great sales and who have won awards. They were a talent when I was with them, too. And yet you can talk to some of these reviewers and they'll say 'Well, if she's such a great writer, why isn't a New York press publishing her?' I find that a sophomoric characterization by people who supposedly know the book business. They should know better."
For a Writer, "It's A Business"
Author Terry Kay believes that regional presses are an essential part of American book publishing. Paul Hemphill, another novelist, sees the regional pre sses as a great place to turn to when the big presses turn up their noses at one of his regionally influenced books. And first-time author Julie Cannon knows she wouldn't have gotten the same kind of hand-holding and support if she had worked with a large publisher on her first book.
"One of the great things about the regional houses is that they discover new writers," says Kay, whose fourth novel, To Dance with the White Dog, was rejected by New York houses before it was printed by Peachtree Publishers and went on to garner international acclaim. "After all, writing is not very hard. Getting published is."
Just ask Paul Hemphill, whose Southern football novel Nobody's Hero, out this month, was picked up by Montgomery, Ala.-based River City Publishing after being turned down by the New York presses. Hemphill says River City's editors understood the nuances of racial misunderstanding and understanding as well as the fever for high school football much better than New York editors did. So Hemphill is hoping that the book has some grass-roots sales success in the South.
"New York doesn't give much chance to midlist books," Hemphill says. "I didn't get the advance I might have gotten [for Nobody's Hero], but maybe I'll get it at the backend. Generally speaking, it's a great boon that these regional houses have come around. My hope for them is that they make some money, if not on my book, then someone else's, so they can continue to grow and compete for the works of regional writers."
Still, Kay says one goes with a New York house for the distribution and higher profile recognition.
"That's not to say anything detrimental about the regional houses," he says. "But if you're a writer, it's a business, and you'd be silly not to consider working with a larger house if you want an escalating path to your career."
He's talked with regional publishers about their frustration regarding writers who leave them for larger presses. He says regional presses just don't have the money behind them to make the distribution deals, or offer the marketing and promotion that are so necessary for books to have recognition.
"It's really no different than playing baseball for the Macon Braves when you really want to play for the Atlanta Braves," Kay says. "Working with a New York press is like going to the big leagues. And that's no criticism for the regional publishers. I published White Dog regionally, but if Pocket Books hadn't come along and published the paperback edition, it wouldn't have gotten the sales that it did. The bottom line is that this is a business."
Right now, Cannon, who signed a two-book deal with Simon and Schuster, is finding that business to be a little surreal.
"Are you familiar with the Bible verse in Proverbs, chapter 16, that goes: 'Pleasant words are as an honeycomb, sweet to the soul, and health to the bones?'" she says. "Those were some pleasant, healing words when Tom Payton informed me that Simon & Schuster wanted not just the paperback of Truelove & Homegrown Tomatoes, but also they wanted to bring out the sequel as well! When you've worked and prayed and hoped for something as hard as I did on these two books, it feels a little surreal when it actually happens.
I was quietly soaking it all in for quite a while after I heard it, and even after it sank in, the only time I let out a whoop was when I went outside to feed my dogs. I stood there beside Earl and Rose and I hollered with happiness."
The Myth And The Money
The Margaret Mitchell House's Mary Rose Taylor doesn't understand why Southern writers aren't an economic success story for Southern presses.
"If businessmen think in terms of the bottom line, they'd see that the Southern writer has been an economic success story for the New York presses," she says. "Why can't it be that way for presses in the South?"
Taylor believes the reason may be twofold. The first reason is that there's a Southern-fueled myth that the North is superior and that creatives haven't really "made it" until they become successful in New York City, she says. Combine that with lingering questions about whether corporate Atlanta cares about supporting the arts, and you've got another bleak story about the ongoing funding struggles faced by the arts.
That's why the Margaret Mitchell House is working with publishers, writers and other members of the literary community to get more business people investing in books, she says. The Mitchell House provides authors with connections to the publishing community; a place to launch, promote and sell their newly released books; occasional funding for interesting book projects (such as the Dora McDonald memoir Hill Street Press will be publishing); and occasional writing workshops.
What makes Southern writers interesting, Taylor says, is the fabric of their heritage.
"They became the conscience of the South and in many ways still are," she says. "The question is whether the state is willing to embrace its writers. Writers preserve our cultural identity. We have to nurture them, or else we lose our soul and our sense of who we are and where we came from."