Sea Change In Georgia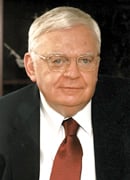 She ran twice for statewide office and won. Each time she received little money and no encouragement from her male colleagues, but she won anyway. The "good old boy" establishment wasn't as tough as it thought. She's left her relatively minor office behind. She's going for governor. Really big bucks are being funneled into the coffers of her rivals, but she is persistent. She knows she can become Georgia's first female governor.
No, we're not speaking of Republican Linda Schrenko. We're talking about Democrat Cathy Cox, Georgia secretary of state. The year is 2006. Gov. Roy Barnes, re-elected in a squeaker in 2002, is just finishing his second term and, by law, cannot run again.
The two leading Democratic candidates are Cox and Lt. Gov. Mark Taylor. Taylor has a multimillion-dollar war chest and has trimmed down to a mere 286 pounds. He looks almost good on TV.
Cox has amassed a generally good record as secretary of state. She computerized her offices and finally brought order out of chaos in a file-keeping department that was infamous for losing important documents. She automated the elections process amid some controversy. She is having difficulty raising campaign cash.
Both Democrats have deep roots in the legislature and south Georgia. Taylor of Albany served as Senate floor leader for Gov. Zell Miller. Cox of Bainbridge served six years in the House and three years as assistant secretary of state. Observers believe the Democratic primary will turn into a bloodbath, which could leave the standard-bearer crippled for the general election.
The picture is much brighter on the Republican side. Former state Sen. Sonny Perdue ran a masterful campaign in 2002 and barely missed snagging the big prize. He is back for another try. However, much of the GOP focus is on Rep. Johnny Isakson, now 61. Isakson has decided he has had enough of Washington and wants to come home to run for governor.
The hard-right wing still doesn't trust Isakson, and he may have difficulty winning the Republican nomination. If he can survive the primary against Perdue, Isakson will be the overnight favorite to become governor. If Perdue wins the primary, he will be on his way to the governor's mansion. Or so it appears. By almost any measure, Georgia is now a Republican state. Democrats managed to hang on to the governor's office and the legislature in 2002 mostly by dint of trickery and gerrymandering.
Political sleight-of-hand can't save them this year. The donkeys' best hope is that the lumbering Republican elephants will trip and fall, as they always do.
Isakson could have been governor in 1990 when he ran against Miller. But he couldn't raise enough money; and the very conservative wing of the GOP believed him to be a liberal. In 1996, he should have been a shoo-in for the U.S. Senate seat vacated by Sam Nunn. Again the Republican right-wingers said no. Isakson was pro-choice. That single factor cooked his goose in the Republican primary.
So the grand poobahs chose a gazillionaire — Guy Millner, the unelectable — to run against Democrat Max Cleland. Millner spent millions, but he lost by a mile. Shortly after that, House Speaker Newt Gingrich quit the House. Isakson took his place and immediately made a name in education reform. Still, years would pass before he could amass enough seniority to become a real power in the House.
Now, Isakson has a chance for a new career. He can make a real difference. He has the right stuff to be a great governor, he believes. And so do a lot of other people on both sides of the aisle. Johnny Isakson has always been the best Republican candidate who Republicans refused to support.
Though both Taylor and Cox are well known, the Democratic nominee will be the weakest candidate in decades, no matter who wins.
The Republicans' time has finally come. They have the numbers of voters and dollars, fairly weak opposition and a chance to make history and clean out the Gold Dome. Only two questions remain: How will the Republicans screw up this election? And how effective will Georgia's first woman governor be?