Murphy "More Aggressive" This Year
Inside Politics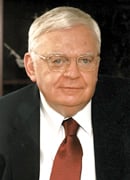 House Speaker Tom Murphy of Bremen says he is running a "much more aggressive" campaign this year compared to two years ago, when Republican candidate Bill Heath ran only 500 votes behind, coming close to the political upset of the year. "I tried to tell everybody it was going to be a close race," Murphy says, but his friends didn't take that seriously. Heath is running again this year. Murphy says he has already signed up more than 100 campaign volunteers. His opponent "hasn't started his lies about me yet," Murphy says, "but he will, and I ain't going to let them go unanswered this time." Tallest tale from the last campaign, says Murphy, was the rumor that Murphy wanted to get re-elected and then resign, letting the governor appoint his daughter to the legislative seat. "It didn't make any sense," Murphy adds, "because you would have had to have a special election, but that's what they were telling." There were some local issues in controversy last time which hurt him some, Murphy says, but these have been resolved and "people are coming back."
Some people still want to cremate their departed loved ones, says Rep. Chuck Sims of Douglas, a funeral director as well as a lawmaker, but "they are asking a lot more questions." Sims helped rewrite Georgia law after the abandoned bodies and parts of bodies were found in the Tri-State Crematory in north Georgia. The new law makes it a felony to abandon a corpse and requires regular inspection of crematories, something not required in the past unless the facility was also a funeral home. There is no real trend against cremation, says Sims, but "people want details, want to know exactly how the process works." Some larger funeral homes, with their own crematories, are urging people to view the process directly if they wish, Sims adds. "There is not a great deal to see — the flame, then how the ashes are gathered — but it seems reassuring to some folk."
Gov. Roy Barnes has appointed career state employee Mike Light, 46, of Lawrenceville, to the Board of Pardons and Paroles. Light succeeds Bobby Whitworth who, along with Chairman Walter Ray, was pressured to resign amid charges of conflict of interest. Earlier, former GBI Director Milton Nix was appointed to replace Ray as chairman. In naming Light, Barnes said, "His professionalism and his commitment to a well-run criminal justice system make him an ideal choice for this position." Meanwhile, friends of ousted paroles board members Whitworth and Ray are circulating a letter asking for contributions to pay for their legal services. Both men are under investigation on charges of conflict of interest involving receiving money as lobbyists while serving as board members. The letter says, "Our friends need our financial support to survive the unfounded legal attacks, prove their innocence, restore their reputations and to come out of the experience with some pieces of their lives intact."
Sen. Zell Miller as vice presidential candidate? On any one of three possible national tickets? Well, why not, opines the Rome News-Tribune. A perfect candidate for VP on almost any Democratic ticket because he "appeals to populist sentiments," and is a "strong orator" capable of landing "rhetorical body blows" on Republicans. Or suppose Vice President Dick Cheney can't run again because of his "known health problems." What better choice than President George W. Bush's favorite Democratic senator on a "we're in this war together" platform? Or what about a third-party ticket, maybe headed by Arizona Sen. John McCain? Both Miller and McCain are sometimes considered outlaws within their own parties and "both specialize in the sort of 'common sense' positions and solutions to major issues" that might appeal to a lot of voters.
After a years-long honeymoon with Democratic governors, the Georgia Association of Educators has declined to endorse Gov. Roy Barnes for re-election but says it looks forward to working with him if he is returned to office. GAE also refused to endorse Barnes in the 1998 Democratic primary but later joined the Barnes parade for the general election. Before Barnes, Democratic governors took GAE's endorsement for granted just as GAE took for granted the governors' pledges of big raises for teachers.