The Opportunity To Make A Real Difference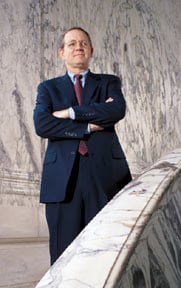 "I've had cancer three times, but I'm not doing this for my own sake," says Hamilton Jordan. "I'm doing it for my kids, who have the same cancer genes that I have."
What Jordan, former chief of staff for President Jimmy Carter, is doing is supporting cancer research — and playing a behind-the-scenes role in bringing cutting-edge cancer research and treatment to Georgia. Diagnosed with lymphoma in 1985, Jordan sought out the best treatment available, which meant moving his family to Bethesda, Md., where the National Cancer Institute is located. 10 years later, a bout with prostate cancer meant going to Johns Hopkins for treatment.
Others in Georgia aren't so lucky. More than one in three Georgians will be diagnosed with cancer during their lifetimes. The state death rate for men from lung and prostate cancer is 20 percent higher than the national rate, according to the Georgia Cancer Coalition (GCC). Cancer is the second leading cause of death in Georgia. And the death rates are highest in places like Rome, Augusta, and rural counties in south and east Georgia.
That's about to change, as the GCC helps the state jump from being behind in cancer research, screening and treatment to being one of the leaders. Credit Jordan with some quiet influence. In 1999, he was at a Christmas party with Mike Johns (former dean of Johns Hopkins, now head of the Woodruff Health Center) and Jonathan Simons (head of Emory's Winship Cancer Center). "We were talking about how terrible the cancer problem is in Georgia and what we could do about it," Jordan remembers.
The three men moved fast — the next month, the group asked Gov. Roy Barnes to devote millions of dollars to screening and prevention. "We said, "Governor, here is the problem. We have to do more in this state,'" Jordan recalls. "[Barnes] accepted our analysis and enlarged the vision. He said, "If the problem is this bad, we need to do more.'" Barnes decided to commit about $1 billion —$400 million from the tobacco settlement and the rest from the private sector and federal research grants.
The two-year-old GCC, headed by President Russ Toal (who was part of the group that met with Barnes), isn't promising to cure cancer. It is aiming to save lives and improve the chances of cancer patients (see page 24). And the approach — battling cancer on several fronts through collaboration between researchers and health care providers — is one that Andrew C. von Eschenbach, director of the National Cancer Institute, believes may one day lead to a cure. "Georgia has taken extraordinary leadership at this moment," von Eschenbach told a gathering at Atlanta' Grady Health System in May.
At The Helm
The man who leads the GCC, Russ Toal, is soft-spoken, preferring to talk process and achievement rather than personal experience. But like many of the people on the GCC board, Toal has been touched by cancer — his mother is a breast cancer survivor, and his best friend, Jim Phillips, died of lung cancer — and some emotion shows in his choice of words. Everyone who has been affected by cancer feels strongly about it in a "visceral" way, he says. "I think we have the opportunity to make a real difference."
Toal, who holds a Master's of Public Health Administration from Chapel Hill, wasn't sure he was the right person for the job. But Barnes was. "The governor had all of us in health care involved in the GCC's creation," Toal says. "I was Commissioner of the Department of Community Health, which administers the state health benefit plan. This covers not just state employees and retirees, but school personnel in every county in Georgia. One thing we learned was that in any given quarter of the year, the plan had more than 10,000 members receiving cancer treatment at a huge cost to the state.
"To be candid, my recommendation to the governor was to seek a national expert to run the GCC. But the governor felt strongly that it was more important to have someone who knew the Georgia system well, in addition to the population dynamics," Toal says. "He asked me, and I'm privileged ? this has been the most exciting thing I've done in my career."
A Network of Care
That knowledge is key to the initiative's success. Rather than creating a single institution such as Johns Hopkins or Sloan-Kettering, the GCC is building a network that includes three Centers of Excellence to treat the toughest cancer cases, and provides more resources, information and equipment to doctors and hospitals across the state so they can offer better screening and treatment. Barnes has said that he wants the three centers to be on a par with Johns Hopkins, and that every cancer patient in the state, "no matter where they live or what their resources," should have access to state-of-the-art treatment. This past June, Barnes announced that all major insurers in Georgia agreed to cover all nationally recommended cancer screenings and the routine care for all Georgians participating in cancer clinical trials.
"The good news is that in every corner of the state people have mobilized. I've been in health care many, many years, and I've never seen it come together in such singular focus. Virtually every hospital is looking at how they're treating cancer, and how to take advantage of the opportunities the GCC presents," says Toal.
His goals are ambitious but realistic, concentrating on areas where a difference can be made. Prevention and early detection are areas that are already bearing fruit. "In many corners of the state, we've funded prevention efforts through anti-tobacco use programs, and we've certainly invested in enhancing mammography capacity. All health care facilities have the equipment, and now we're focused on outreach," says Toal. The GCC has already split $3.4 million in grants among 64 rural counties for early detection equipment.
Ironically, in the short term, outreach and early detection will cause Georgia incidence rates to rise. But Toal expects that results will begin appearing fast — in breast cancer, for instance, quick detection makes a huge difference. There is hope of eradicating some cancers altogether. "We lose 140 women a year [from cervical cancer], and there's no excuse for a woman to die of cervical cancer today," Toal says. "I think we can stop cervical cancer—I don't know if some of the others can be wiped out, but we can create a significant reduction. Survivability rates for types such as lung, liver and pancreatic cancer have not changed in 20 years. But I perceive medical and pharmaceutical breakthroughs."
The Economic Impact
Those breakthroughs illustrate another facet of the cancer initiative —its economic potential. First, there's the straightforward money and jobs that come with the Centers of Excellence. Grady Health System in Atlanta is the first to receive the designation, along with $28.4 million for renovation and equipment. Savannah wants a Center of Excellence; so does Augusta. And other local leaders are queuing up to put their hometowns in the running. Toal expects applications from Rome, Gainesville, Athens/Augusta, Macon, Columbus, Southwest Georgia, Albany/Thomasville, Tifton/Valdosta and Southeast Georgia, including Savannah, Statesboro and Brunswick. Unlike the Grady Center, which is one facility, the others will be regional programs. "The center at Grady is unique, and essential," says Toal. "But we need to reach out to underserved populations."
The centers will conduct trials and have a tissue bank for research purposes, as well as screening equipment, according to Toal. "The focus is to look around the state, see which major centers have a large regional draw and number of providers, and then develop a full continuum of cancer care within all these regions. This will be done over time, but we don't have much to create these programs in every corner of the state. I think we'll get a fair number of applicants."
Then there is the economic multiplier. Research at the Centers for Excellence and other institutions draws top-notch talent who then bring in more federal dollars for cancer studies. It has the potential to transform a city's economy — just look at neighboring Alabama, where the University of Alabama at Birmingham's medical prowess has refashioned the city from a steel mill town into a leading medical center (UAB's cancer program was ranked 23rd in the country according to U.S. News and World Report).
Part of the GCC's mission is to attract that top talent; some 20 researchers have already been lured to Georgia, and the goal is to convince 150 stars in the field to call the state home. Most of the recruiting is done by academic institutions offering to host the scholars, with the GCC reviewing and recommending applications. The recruits receive $50,000 to $150,000 a year from the state for a five-year period, with the money to be matched by the institution. "We do this in the hopes that they'll be retained after the five years. We also want the institutions to give preference to the scholars who could generate extra funding support, and bring other scholars to join them," says Toal.
Most of the recruits will be clinical scholars, not practitioners, because as Toal notes, the GCC has a teaching responsibility as well. "We already have a strong medical oncology community," he says. "The scholars will be here to conduct research."Nearly all cancer care is provided by local oncologists, not academics, which is "as it should be," according to Toal.
More Research, More Jobs
That recruitment effort fits nicely with action already underway by the Georgia Research Alliance (to attract biotech leaders), and with the focus of many chambers of commerce across the state that want to attract "clean" high-tech industry. "It's all consistent with the governor's effort to develop intellectual capital in the state," says Toal. "They're trying to get businesses with a multiplier effect, which would cause research scientific breakthroughs here. That was one reason former Gov. Miller created the Research Alliance to begin with, and Barnes funded and encouraged it to expand its activities to the areas of life sciences."
Georgia has set an impressive precedent by using its tobacco settlement money to wage war against cancer — Tennessee, on the other hand, used its settlement to cover budget deficits. But what happens when the settlement money runs out?
Here Toal becomes emphatic. "The focus is not on our survivability, but that of cancer patients," he says. "We have to stay focused. Initial estimates were that we would have funding for 20 years. But the question is not how long, but how much? There are a lot of variables. Now, our concentration is on matching the $400 million the governor pledged. But I don't view the GCC shutting down as something that will happen in the short term. Cancer is a constant struggle, and there needs to be either the coalition or a similar entity to stay engaged in the battle."
After all, the GCC is a funnel through which monies flow, not an end in itself. Toal says he doesn?t think beyond the next five years. "I certainly hope the concentration on cancer will continue, and that the GCC will continue to function as a nonprofit," he says, "and I don't see it disappearing. But nearly all the things we're doing to raise funds are focused on getting businesses, philanthropists and health care providers to invest in local communities."The GCC is a nonprofit and accepts donations, but the money is usually earmarked for a specific purpose. "We see our role in virtually all areas as a catalyst for positive change," says Toal. The GCC offices are in Atlanta's Hurt Building, but other investments that have been made through the GCC wound up in Savannah, Rome, Albany, Columbus — and elsewhere in Atlanta, where the Woodruff Foundation made a $100 million investment to insure the Winship Cancer Institute at Emory has a state-of-the-art facility. Other donations from private groups include $7.5 million from Avon to build a new breast cancer facility that will be part of the Center of Excellence at Grady and $10 million from AFLAC to expand the oncology services at Children's Hospital of Atlanta.
The GCC will also benefit from the Tour de Georgia, an annual weeklong professional cycling race that will be inaugurated April 22-27, 2003. In addition to donating proceeds to the GCC and raising awareness for the cancer initiative, the bike race, one of five World Tour events in the country, will generate about $30 million for the state.
For all the challenges involved, Toal seems to enjoy leading this new entity into uncharted terrain. "No other states I'm aware of have an attack on this disease which is as broad as ours," he says. "Not only through research, but paying attention to prevention and early detection, increasing access to care, quality of care, and information about cancer care available to the public, and expanding the capacity of existing facilities to train more caregivers. Plus, we're investing in economic development that will spin off from research — bioinformatic, biotech and pharmaceutical. I also really think it is unusual for a chief executive to make such a commitment, dedicating such a large amount of funds for the initiative, and feel blessed that our General Assembly has the vision to understand the importance of the GCC to citizens of the state."
Although Toal's task is daunting and the GCC's goals ambitious, this is a good time to be taking on cancer. Advances in genomics and drug therapy are announced almost every day. Doctors now realize that certain types of cancers spread to certain places — prostate cancer spreads to the bones, lung cancer spreads to the brain — and are taking a more general approach to the taxonomy of cancer and its relation to other illnesses, in the hopes of stopping it from spreading.
In taking questions from the audience gathered at Grady, Toal and NCI Director von Eschenbach were caught up in the enthusiasm generated by the current fight against cancer, as well as Georgia's ambitions as new contestant in the arena. The NCI director took questions ranging from hemp regulation to privacy issues, and repeatedly stressed that the NCI was limited in what it could accomplish without the benefit of collaboration, such as that provided by the multi-level approach the GCC is taking.
Extending NCI money to rural areas, for instance, has been a struggle, said von Eschenbach, because the Institute can usually only fund research, while the cost to deliver health care is often perceived as "unfunded mandates." "We're not ignoring the problem, but I'd be lying if I said I had an answer," he says.
"Let me suggest that you give us the money, and we'll show you the answer!" said Toal.
"This Will Help Make It Happen"
Georgia received a pat on the back in May from the director of the National Cancer Institute, Dr. Andrew von Eschenbach, who spoke to a gathering at Grady Hospital on the latest updates and developments in the national fight against cancer.
The doctor's comments were sweeping, covering not only the disease, but describing a future in which cancer research may well become the hub of the American economy.
"This will be our economy," he said. "We face a great opportunity to exploit the evolution of cancer treatment, and seize the opportunity to put the endeavor on an exponential growth curve. The 21st century is our time!"
Addressing Georgia specifically, he applauded the state's recent efforts to come together around a common vision to cure the disease. "I believe this will help make it happen,"he said. "This is, for us, a call to action. It's time to take the gifts and resources at our disposal, and use them in a way to change the course of civilization for good."
Von Eschenbach stressed the need for collaboration in the future of cancer treatment and research similar to the network that the Georgia Cancer Coalition seeks to create through Centers of Excellence and other outlets. "Cancer centers need to partner with the pharmaceutical industry and biotech in order to rapidly discover the new stages of intervention," he said. "A number of partners must be in on the process. A national dialogue will help bring these disparate components to the table. Your government has played an extremely important role, by partnering with (former Governor of Pennsylvania and current Homeland Security Director) Tom Ridge to champion state cancer plans."
Specifically, systems such as the one proposed by the GCC will help link research to the challenging process of treatment delivery, which Von Eschenbach suggested be included as an extension of the centers. "There should be local monitoring and surveillance to better share the information and create a seamless bench to bedside to bench collaboration," he said. While the NCI "can't do it all," said von Eschenbach, "we will collaborate with you to be sure that all gets done."